Beaver Men's Hockey Gameday – Game 26 – January 19, 2019 – vs Michigan Tech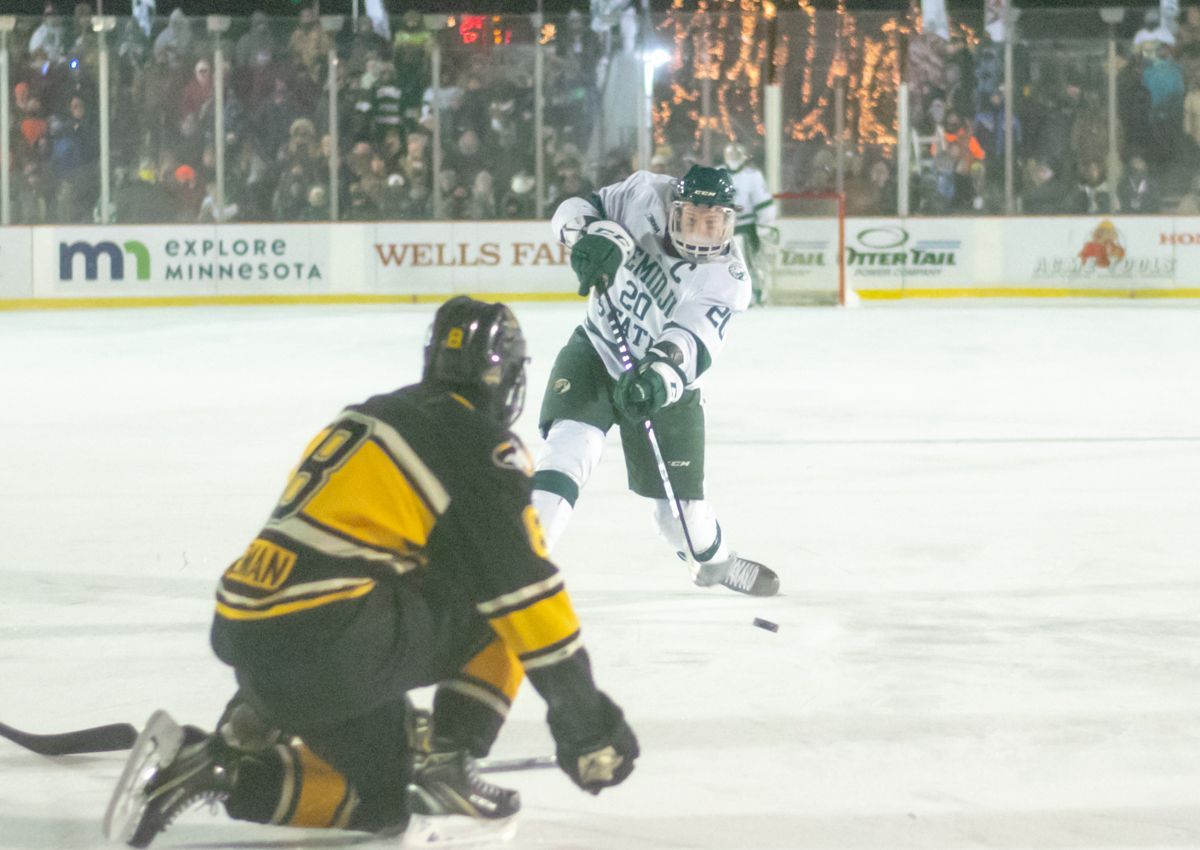 The Bemidji State University men's ice hockey team (11-11-3; 9-7-1-0 WCHA) is back inside the Sanford Center tonight after last night's thrilling game outside on the shores of Lake Bemidji. Bemidji native Dillon Eichstadt scored the game winner in overtime last night.
In three games this season, Bemidji State and Michigan Tech are 1-1-1. The rubber match of the season is tonight.
Our pregame coverage begins at 7:00pm CST, with the faceoff set for 7:37pm tonight on Mix 103.7 and online at beaverradionetwork.com.
Pregame Open Pregame Open
Tom Serratore Pregame Coaches Pregame
Dillon Eichstadt Pregame Pregame
Bucky's Legends #1 Bucky
Bucky's Legends #2 Bucky
Bemidji State Lines
Ethan Somoza – Ross Armour – Adam Brady
Jay Dickman – Brendan Harris – Nick Cardelli
Alex Ierullo – Owen Sillinger – Charlie Combs
Mike Soucier – Tyler Kirkup – Alex Adams
Extra Skater – Darby Gula
Tommy Muck – Dan Billett
Justin Baudry – Dillon Eichstadt
Tyler Vold – Brad Johnson
Zach Driscoll
Henry Johnson
Opponent Lines
Jake Lucchini – Dylan Steman – Gavin Gould
Jake Jackson (SJS) – Alex Smith – Brian Halonen
Alec Broetzman – Greyson Reitmeier – Thomas Beretta
Raymond Brice – Zach Noble – Justin Misiak
Seamus Donohue – Tyler Rockwell
Keegan Ford – Mitch Meek
Todd Kiilunen – Colin Swoyer
Robbie Beydoun
Devin Kero
Beaver Radio Network Ottertail Power Three Stars
1 – Ethan Somoza
2 – Brendan Harris
3 – Zach Driscoll
Tom Serratore Postgame Tom Serratore Postgame
Listen To / Download Whole Game

Boxscore provided by http://collegehockeystats.net
College Hockey Box Score (Final)
Michigan Tech at Bemidji State
Saturday, January 19, 2019

| | | | | |
| --- | --- | --- | --- | --- |
| Referees: | Bobby Lukkason | | Game Start: | 7:37 |
| | Brady Johnson | | Game End: | 9:53 |
| Linesmen: | Andy Dokken | | Game Length: | 2:16 |
| | Matt Ulwelling | | Attendance: | 3997 |
| | | | | |
| --- | --- | --- | --- | --- |
| Scoring | 1st | 2nd | 3rd | Final |
| Michigan Tech | 0 | 0 | 0 | 0 |
| Bemidji State | 0 | 2 | 1 | 3 |

| | | | | |
| --- | --- | --- | --- | --- |
| Shots on Goal | 1st | 2nd | 3rd | SOG |
| Michigan Tech | 8 | 5 | 5 | 18 |
| Bemidji State | 11 | 10 | 4 | 25 |

| | | | | |
| --- | --- | --- | --- | --- |
| | PP | PP % | PIM | SHGF |
| Michigan Tech | 0/1 | .000 | 2/4 | 0 |
| Bemidji State | 1/2 | .500 | 1/2 | 0 |
| | | | | | | | | | |
| --- | --- | --- | --- | --- | --- | --- | --- | --- | --- |
| # | Prd | Time | Team | Score | Type | Scored By | Assists | Offense On Ice | Defense On Ice |
| | 2nd | 10:59 | BMJ | 1-0 | PP GW | Jay Dickman (5) | Brendan Harris/11, Charlie Combs/8 | 6,21,11,19,29,G33 | 7,21,17,15,G35 |
| | 2nd | 19:01 | BMJ | 2-0 | EV | Adam Brady (7) | Ethan Somoza/4, Ross Armour/12 | 19,9,17,2,3,G33 | 2,14,8,15,22,G35 |
| | 3rd | 18:36 | BMJ | 3-0 | EV EN | Brendan Harris (2) | Ethan Somoza/5, Adam Brady/10 | 21,9,19,2,3,G33 | 15,24,2,7,14,20 |
##
Michigan Tech
G
A
P
PIM
SOG
+/-
2
Seamus Donohue
0
0
0
0/0
1
-2
7
Keegan Ford
0
0
0
0/0
0
-1
8
Dylan Steman
0
0
0
1/2
3
-1
10
Jake Jackson
0
0
0
0/0
2
E
11
Zach Noble
0
0
0
0/0
1
E
12
Brian Halonen
0
0
0
0/0
1
E
13
Thomas Beretta
0
0
0
0/0
1
E
14
Gavin Gould
0
0
0
0/0
1
-2
15
Jake Lucchini
0
0
0
0/0
1
-2
17
Justin Misiak
0
0
0
0/0
0
E
18
Greyson Reitmeier
0
0
0
0/0
2
E
20
Alex Smith
0
0
0
0/0
1
-1
21
Todd Kiilunen
0
0
0
0/0
0
E
22
Tyler Rockwell
0
0
0
0/0
1
-1
23
Raymond Brice
0
0
0
0/0
2
E
24
Colin Swoyer
0
0
0
0/0
0
-1
27
Mitch Meek
0
0
0
0/0
0
E
28
Trenton Bliss
0
0
0
0/0
0
E
29
Alec Broetzman
0
0
0
0/0
1
E
31
G Devin Kero
0
0
0
0/0
0
E
35
G Robbie Beydoun
0
0
0
0/0
0
-1
Bench
1/2
Michigan Tech Totals
0
0
0
2/4
18
-2

##
Bemidji State
G
A
P
PIM
SOG
+/-
2
Dan Billett
0
0
0
0/0
0
+2
3
Tommy Muck
0
0
0
0/0
0
+2
6
Jay Dickman
1
0
1
0/0
5
E
8
Darby Gula
0
0
0
0/0
0
E
9
Ethan Somoza
0
2
2
0/0
1
+2
11
Charlie Combs
0
1
1
0/0
3
E
12
Owen Sillinger
0
0
0
0/0
0
E
13
Mike Soucier
0
0
0
0/0
3
E
14
Alex Ierullo
0
0
0
0/0
2
E
17
Ross Armour
0
1
1
0/0
2
+1
18
Brad Johnson
0
0
0
0/0
0
E
19
Adam Brady
1
1
2
0/0
3
+2
20
Dillon Eichstadt
0
0
0
0/0
0
E
21
Brendan Harris
1
1
2
0/0
4
+1
22
Tyler Vold
0
0
0
0/0
0
E
25
Alex Adams
0
0
0
0/0
0
E
26
Nick Cardelli
0
0
0
0/0
1
E
27
Tyler Kirkup
0
0
0
0/0
0
E
29
Justin Baudry
0
0
0
1/2
1
E
30
G Jack Burgart
Did Not Play
33
G Zach Driscoll
0
0
0
0/0
0
+2
35
G Henry Johnson
Did Not Play
Bemidji State Totals
3
6
9
1/2
25
+2

##
Goaltending
MIN
GA
1
2
3
Saves
35
Robbie Beydoun (L, 4-6-1)
40:00
2
11
8
0
19
31
Devin Kero
18:48
0
0
0
3
3
Empty Net
1:12
1

| | | | | | | | |
| --- | --- | --- | --- | --- | --- | --- | --- |
| ## | Goaltending | MIN | GA | 1 | 2 | 3 | Saves |
| 33 | Zach Driscoll (W, 7-5-1) | 60:00 | 0 | 8 | 5 | 5 | 18 |
| | | | | | |
| --- | --- | --- | --- | --- | --- |
| Prd | Player | Team | Min | Infraction | Time |
| 1st | Bench | MTU | 2 | Too Many Players | 15:06 |
| 2nd | Dylan Steman | MTU | 2 | Hooking | 10:45 |

| | | | | | |
| --- | --- | --- | --- | --- | --- |
| Prd | Player | Team | Min | Infraction | Time |
| 3rd | Justin Baudry | BMJ | 2 | Tripping | 6:45 |
New Records: Bemidji State 12-11-3, Michigan Tech 11-13-2

Three Stars: 1. Jay Dickman (Bemidji State)
2. Zach Driscoll (Bemidji State)
3. Adam Brady (Bemidji State)