Beaver Women's Hockey Gameday – Game 28 – February 2, 2019 – vs Wisconsin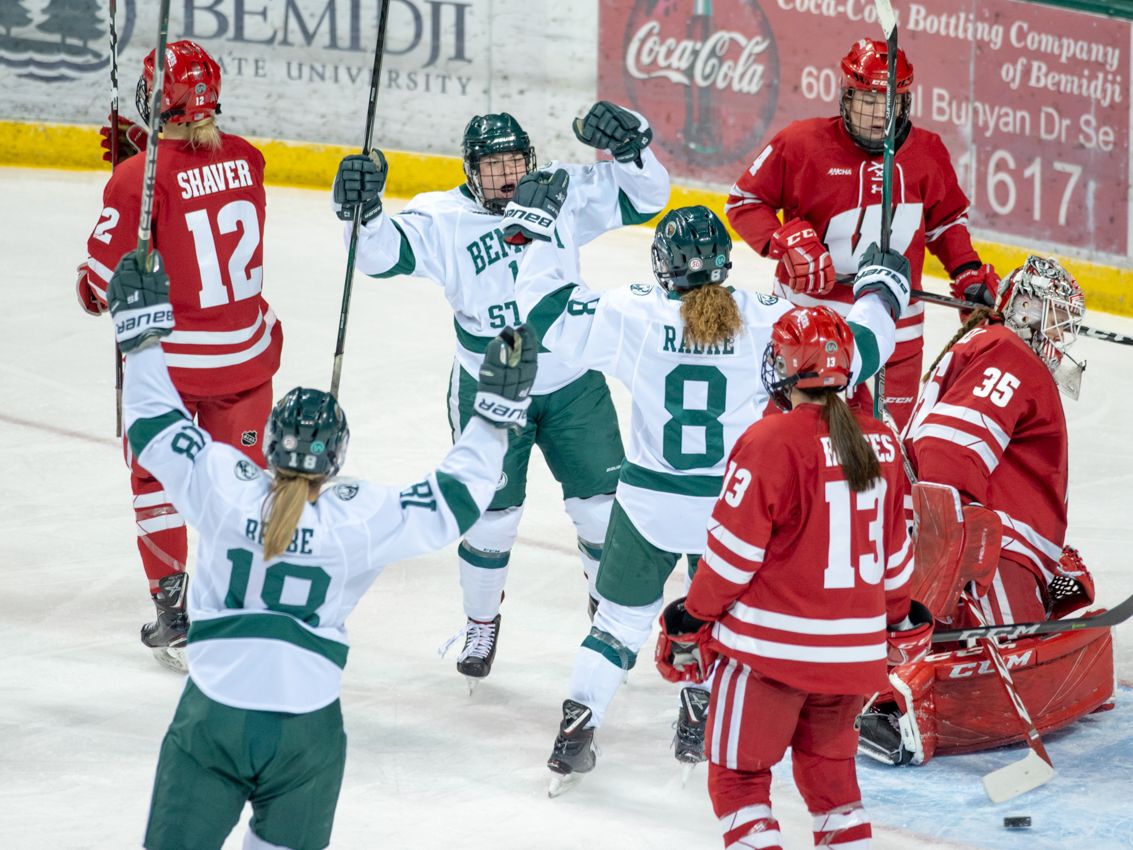 For the first time since 2014 the Bemidji State University women's hockey team defeated the No. 1 team in the nation after the Beavers (10-15-2, 7-8-2-0 WCHA) defeated No. 1 University of Wisconsin 2-1 Friday night at the Sanford Center. Sophomore Lydia Passolt scored the game-winning goal on the powerplay with 11:25 left in the final period to give Bemidji State its first win over Wisconsin since Jan. 16, 2015 (16-0-1).
With the win, Bemidji State head coach Jim Scanlan tied Steve Sertich (06-14) for most wins in program history with 81 career wins.
Redshirt-sophomore Lauren Bench was phenomenal in net stopping 29-of-30 shots by the Badgers to earn her sixth win of the season.
Bemidji State looks for another upset win and a sweep today when the puck drops at 3:07 p.m. in the season series finale against the University of Wisconsin. Our pregame coverage begins at 2:30 p.m. on KPMI 1300 AM & 94.3 FM The Legends.
Pregame Open Pregame Open
Jim Scanlan Pregame Coach Pregame
Jacqueline Kaasa Pregame Player Pregame
Bemidji State Lines
Abby Halluska – Emily Bergland – Paige Beebe
Jacqueline Kaasa – Kiki Radke – Lindsey Featherstone
Lydia Passolt – Clair DeGeorge – Ellie Moser
Claudia Verkerke – Graysen Myers – Abby Ecker
Extra Skater –
Briana Jorde – Mak Langei
Melissa Hunt – Tina Kampa
Kara Werth – Heather Olson
Kerigan Dowhy
Lauren Bench
Lexi Baker
Opponent Lines
Alexis Mauermann – Emily Clark – Annie Pankowski
Britta Curl – Abby Roque – Sophie Shirley
Sam Cogan – Sophia Shaver – Presley Norby
Delaney Drake – Brette Pettet – Caitlin Schneider
Mikaela Gardner – Maddie Rolfes
Grace Bowlby – Mekenzie Steffen
Nicole LaMantia – Natalie Buchbinder
Kristen Campbell
Breanna Blesi
Nikki Cece
Beaver Radio Network Ottertail Power Three Stars
Jim Scanlan Postgame Jim Scanlan Postgame
Listen To / Download Whole Game

Boxscore provided by http://collegehockeystats.net
College Hockey Box Score (Final)
Wisconsin at Bemidji State
Saturday, February 2, 2019

| | | | | |
| --- | --- | --- | --- | --- |
| Referees: | Gui Bradshaw | | Game Start: | 3:07 |
| | Duncan Ryhorchuk | | Game End: | 5:04 |
| Linesmen: | Jamie Arola | | Game Length: | 1:57 |
| | Sam Jerome | | Attendance: | 364 |
| | | | | |
| --- | --- | --- | --- | --- |
| Scoring | 1st | 2nd | 3rd | Final |
| Wisconsin | 0 | 3 | 1 | 4 |
| Bemidji State | 0 | 0 | 0 | 0 |

| | | | | |
| --- | --- | --- | --- | --- |
| Shots on Goal | 1st | 2nd | 3rd | SOG |
| Wisconsin | 6 | 13 | 7 | 26 |
| Bemidji State | 6 | 4 | 5 | 15 |

| | | | | |
| --- | --- | --- | --- | --- |
| | PP | PP % | PIM | SHGF |
| Wisconsin | 1/3 | .333 | 5/10 | 1 |
| Bemidji State | 0/4 | .000 | 4/8 | 0 |
| | | | | | | | | | |
| --- | --- | --- | --- | --- | --- | --- | --- | --- | --- |
| # | Prd | Time | Team | Score | Type | Scored By | Assists | Offense On Ice | Defense On Ice |
| | 2nd | 1:00 | WIS | 1-0 | EV GW | Sam Cogan (3) | Sophie Shirley/14, Abby Roque/23 | 7,9,18,22,27,G35 | 10,8,12,11,5,G33 |
| | 2nd | 8:39 | WIS | 2-0 | PP | Sam Cogan (4) | Emily Clark/8, Annie Pankowski/14 | 7,26,19,20,22,G35 | 9,26,11,2,G33 |
| | 2nd | 12:56 | WIS | 3-0 | EV | Britta Curl (14) | – | 17,19,26,2,21,G35 | 10,9,12,14,4,G33 |
| | 3rd | 10:51 | WIS | 4-0 | SH EN | Maddie Rolfes (3) | Annie Pankowski/15 | 13,19,22,G35 | 26,21,9,11,18,3 |
##
Wisconsin
G
A
P
PIM
SOG
+/-
2
Natalie Buchbinder
0
0
0
0/0
0
+1
4
Mikaela Gardner
0
0
0
1/2
0
E
6
Presley Norby
0
0
0
0/0
1
E
7
Sam Cogan
2
0
2
2/4
8
+1
9
Sophie Shirley
0
1
1
0/0
1
+1
10
Delaney Drake
0
0
0
0/0
0
E
12
Sophia Shaver
0
0
0
0/0
0
E
13
Maddie Rolfes
1
0
1
0/0
2
+1
14
Alexis Mauermann
0
0
0
0/0
1
E
15
Caitlin Schneider
0
0
0
0/0
0
E
16
Maddie Posick
0
0
0
0/0
0
E
17
Britta Curl
1
0
1
1/2
3
+1
18
Abby Roque
0
1
1
1/2
3
+1
19
Annie Pankowski
0
2
2
0/0
4
+2
20
Brette Pettet
0
0
0
0/0
0
E
21
Nicole LaMantia
0
0
0
0/0
0
+1
22
Mekenzie Steffen
0
0
0
0/0
0
+2
26
Emily Clark
0
1
1
0/0
2
+1
27
Grace Bowlby
0
0
0
0/0
1
+1
29
G Nikki Cece
Did Not Play
32
G Breanna Blesi
Did Not Play
35
G Kristen Campbell
0
0
0
0/0
0
+3
Wisconsin Totals
4
5
9
5/10
26
+3

##
Bemidji State
G
A
P
PIM
SOG
+/-
2
Mak Langei
0
0
0
0/0
0
E
3
Lydia Passolt
0
0
0
1/2
1
-1
4
Kara Werth
0
0
0
0/0
0
-1
5
Melissa Hunt
0
0
0
0/0
0
-1
6
Claudia Verkerke
0
0
0
0/0
0
E
7
Abby Ecker
0
0
0
0/0
0
E
8
Kiki Radke
0
0
0
1/2
0
-1
9
Emily Bergland
0
0
0
0/0
2
-2
10
Lindsey Featherstone
0
0
0
0/0
1
-2
11
Tina Kampa
0
0
0
0/0
1
-2
12
Jacqueline Kaasa
0
0
0
1/2
1
-2
14
Briana Jorde
0
0
0
0/0
0
-1
16
Ellie Moser
0
0
0
0/0
2
E
18
Paige Beebe
0
0
0
1/2
2
-1
20
Heather Olson
0
0
0
0/0
1
E
21
Abby Halluska
0
0
0
0/0
3
-1
23
Graysen Myers
0
0
0
0/0
0
E
26
Clair DeGeorge
0
0
0
0/0
1
-1
30
G Lexi Baker
Did Not Play
33
G Kerigan Dowhy
0
0
0
0/0
0
-2
35
G Lauren Bench
Did Not Play
Bemidji State Totals
0
0
0
4/8
15
-3

##
Goaltending
MIN
GA
1
2
3
Saves
35
Kristen Campbell (W, 24-4-0)
59:57
0
6
4
5
15
Empty Net
0:03
0

##
Goaltending
MIN
GA
1
2
3
Saves
33
Kerigan Dowhy (L, 4-8-0)
59:43
3
6
10
6
22
Empty Net
0:17
1
| | | | | | |
| --- | --- | --- | --- | --- | --- |
| Prd | Player | Team | Min | Infraction | Time |
| 1st | Lydia Passolt | BMJ | 2 | Tripping | 11:22 |
| 1st | Abby Roque | WIS | 2 | Tripping | 13:37 |
| 2nd | Sam Cogan | WIS | 2 | Tripping | 1:39 |
| 2nd | Paige Beebe | BMJ | 2 | High-Sticking | 7:33 |
| 2nd | Sam Cogan | WIS | 2 | Slashing | 18:37 |

| | | | | | |
| --- | --- | --- | --- | --- | --- |
| Prd | Player | Team | Min | Infraction | Time |
| 2nd | Jacqueline Kaasa | BMJ | 2 | Roughing | 18:37 |
| 3rd | Kiki Radke | BMJ | 2 | Boarding | 1:01 |
| 3rd | Britta Curl | WIS | 2 | Tripping | 9:12 |
| 3rd | Mikaela Gardner | WIS | 2 | Checking | 10:34 |
New Records: Wisconsin 24-4-0, Bemidji State 10-16-2

Three Stars: 1. Sam Cogan (Wisconsin)
2. Britta Curl (Wisconsin)
3. Annie Pankowski (Wisconsin)