Beaver Men's Hockey Gameday – Game 29 – February 8, 2019 – at Ferris State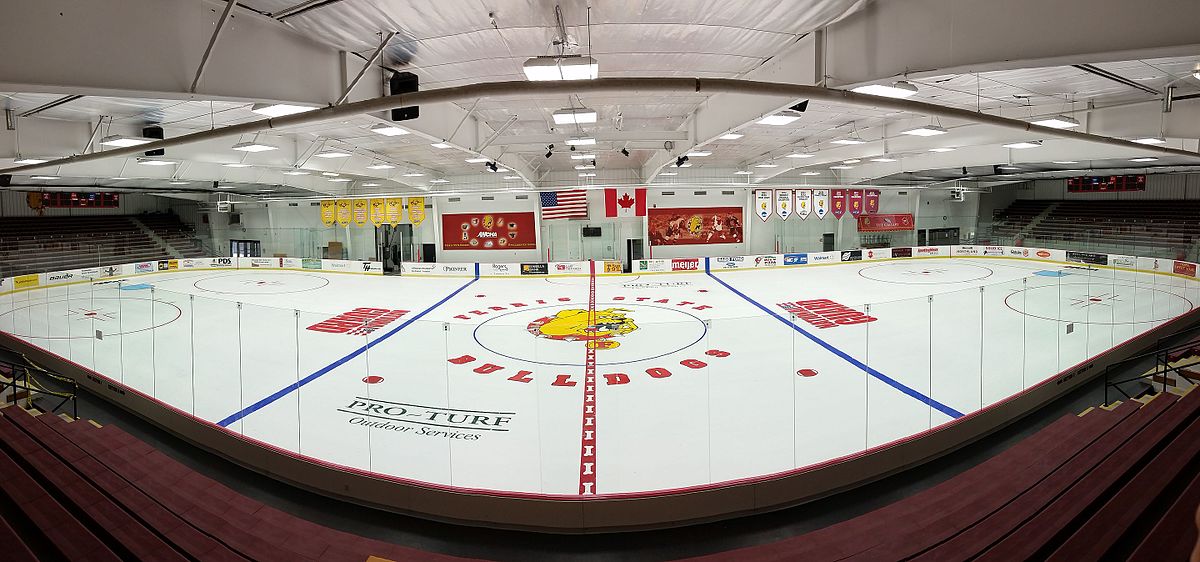 The Bemidji State University men's ice hockey team (13-12-3; 11-8-1-0 WCHA) stays ont he road this weekend at Ferris State in Big Rapids, Michigan.
The Beavers were off last weekend. The week before, the Beavers were at Lake Superior State. Ferris State Head Coach Bob Daniels has been at FSU for 27 years.
Our pregame coverage begins at 5:30pm CST, with the faceoff set for 6:07pm tonight on Mix 103.7 and online at beaverradionetwork.com.
Pregame Open Pregame Open
Tom Serratore Pregame Coaches Pregame
Darby Gula Pregame Pregame
Bemidji State Lines
Ethan Somoza – Ross Armour – Aaron Miller
Jay Dickman – Brendan Harris – Nick Cardelli
Adam Brady – Owen Sillinger – Charlie Combs
Alex Ierullo – Tyler Kirkup – Mike Soucier
Extra Skater – Darby Gula
Tommy Muck – Dan Billett
Dillon Eichstadt – Justin Baudry
Tyler Vold – Brad Johnson
Zach Driscoll
Henry Johnson
Opponent Lines
Corey Mackin – Craig Pefley – Trevor Recktenwald
Coale Norris – Lucas Finner – Hunter Wendt
Dominic Lutz – Jacob Hetz – Justin Michaelian
Liam MacDougall – Jake Transit – Ethan Stewart
Cooper Zech – Nate Kallen
Joe Rutkowski – Cameron Clarke
Zac Tierney – Ryker Killins
Justin Kapelmaster
Cullen Barber
Roni Salmenkangas
Beaver Radio Network Ottertail Power Three Stars
1 – Alex Ierullo
2 – Tyler Kirkup
3 – Dillon EIchstadt
Tom Serratore Postgame Tom Serratore Postgame
Listen To / Download Whole Game

Boxscore provided by http://collegehockeystats.net
College Hockey Box Score (Final)
Bemidji State at Ferris State
Friday, February 8, 2019
Bemidji State Scores in 3×3 Overtime

| | | | | |
| --- | --- | --- | --- | --- |
| Referees: | Brad Albers | | Game Start: | 7:07 |
| | Rick Nelson | | Game End: | 10:07 |
| Linesmen: | Marty Shaffer | | Game Length: | 3:00 |
| | Paul Tunison | | Attendance: | 1101 |
| | | | | | |
| --- | --- | --- | --- | --- | --- |
| Scoring | 1st | 2nd | 3rd | OT | Final |
| Bemidji State | 1 | 0 | 2 | 0 | 3 |
| Ferris State | 0 | 2 | 1 | 0 | 3 |

| | | | | | |
| --- | --- | --- | --- | --- | --- |
| Shots on Goal | 1st | 2nd | 3rd | OT | SOG |
| Bemidji State | 14 | 2 | 12 | 1 | 29 |
| Ferris State | 8 | 13 | 12 | 2 | 35 |

| | | | | |
| --- | --- | --- | --- | --- |
| | PP | PP % | PIM | SHGF |
| Bemidji State | 0/3 | .000 | 2/4 | 0 |
| Ferris State | 0/2 | .000 | 3/6 | 1 |
| | | | | | | | | | |
| --- | --- | --- | --- | --- | --- | --- | --- | --- | --- |
| # | Prd | Time | Team | Score | Type | Scored By | Assists | Offense On Ice | Defense On Ice |
| | 1st | 15:55 | BMJ | 1-0 | EV | Tyler Kirkup (2) | Justin Baudry/16, Charlie Combs/9 | 27,29,11,20,14,G33 | 24,21,28,23,12,G35 |
| | 2nd | 1:53 | FSU | 1-1 | SH | Hunter Wendt (7) | Zac Tierney/3, Coale Norris/7 | 27,10,7,18,G35 | 13,27,18,22,14,G33 |
| | 2nd | 5:36 | FSU | 2-1 | EV | Lucas Finner (4) | Coale Norris/8, Ethan Stewart/2 | 9,10,27,7,18,G35 | 14,27,26,8,29,G33 |
| | 3rd | 2:48 | BMJ | 2-2 | EV | Tyler Vold (3) | Brad Johnson/2, Alex Ierullo/2 | 22,18,14,13,27,G33 | 15,20,29,25,23,G35 |
| | 3rd | 6:09 | BMJ | 3-2 | EV | Alex Ierullo (5) | Dillon Eichstadt/10, Tyler Kirkup/3 | 14,20,27,3,13,G33 | 10,7,18,27,9,G35 |
| | 3rd | 19:50 | FSU | 3-3 | EV EA GT | Trevor Recktenwald (2) | Corey Mackin/12, Cooper Zech/20 | 12,21,25,23,24,10 | 9,21,3,19,2,G33 |
##
Bemidji State
G
A
P
PIM
SOG
+/-
2
Dan Billett
0
0
0
1/2
1
-1
3
Tommy Muck
0
0
0
0/0
1
E
6
Jay Dickman
0
0
0
0/0
1
E
8
Darby Gula
0
0
0
0/0
0
-1
9
Ethan Somoza
0
0
0
0/0
2
-1
11
Charlie Combs
0
1
1
0/0
2
+1
12
Owen Sillinger
0
0
0
0/0
1
E
13
Mike Soucier
0
0
0
0/0
2
+1
14
Alex Ierullo
1
1
2
0/0
1
+1
16
Aaron Miller
0
0
0
0/0
2
E
17
Ross Armour
0
0
0
0/0
2
E
18
Brad Johnson
0
1
1
0/0
0
E
19
Adam Brady
0
0
0
0/0
3
-1
20
Dillon Eichstadt
0
1
1
1/2
1
+2
21
Brendan Harris
0
0
0
0/0
0
-1
22
Tyler Vold
1
0
1
0/0
1
E
26
Nick Cardelli
0
0
0
0/0
2
-1
27
Tyler Kirkup
1
1
2
0/0
3
+1
29
Justin Baudry
0
1
1
0/0
4
E
33
G Zach Driscoll
0
0
0
0/0
0
E
35
G Henry Johnson
Did Not Play
Bemidji State Totals
3
6
9
2/4
29
E

##
Ferris State
G
A
P
PIM
SOG
+/-
3
Cameron Clarke
0
0
0
1/2
1
E
4
Zach Yoder
0
0
0
0/0
0
E
7
Ryker Killins
0
0
0
0/0
1
+1
9
Lucas Finner
1
0
1
1/2
2
E
10
Coale Norris
0
2
2
1/2
1
+2
11
Dominic Lutz
0
0
0
0/0
2
E
12
Trevor Recktenwald
1
0
1
0/0
2
E
15
Jake Transit
0
0
0
0/0
3
-1
16
Justin Michaelian
0
0
0
0/0
3
E
18
Hunter Wendt
1
0
1
0/0
2
+1
20
Liam MacDougall
0
0
0
0/0
3
-1
21
Corey Mackin
0
1
1
0/0
3
E
23
Nate Kallen
0
0
0
0/0
6
-1
24
Craig Pefley
0
0
0
0/0
1
E
25
Cooper Zech
0
1
1
0/0
2
E
26
Joe Rutkowski
0
0
0
0/0
0
E
27
Zac Tierney
0
1
1
0/0
2
+1
28
Jacob Hetz
0
0
0
0/0
1
-1
29
Ethan Stewart
0
1
1
0/0
0
-1
30
G Roni Salmenkangas
Did Not Play
31
G Cullen Barber
Did Not Play
35
G Justin Kapelmaster
0
0
0
0/0
0
-1
Ferris State Totals
3
6
9
3/6
35
E

##
Goaltending
MIN
GA
1
2
3
OT
Saves
33
Zach Driscoll (T, 8-6-2)
64:55
3
8
11
11
2
32
Empty Net
0:05
0

##
Goaltending
MIN
GA
1
2
3
OT
Saves
35
Justin Kapelmaster (T, 1-7-1)
64:10
3
13
2
10
1
26
Empty Net
0:50
0
| | | | | | |
| --- | --- | --- | --- | --- | --- |
| Prd | Player | Team | Min | Infraction | Time |
| 1st | Lucas Finner | FSU | 2 | Boarding | 19:58 |
| 2nd | Dan Billett | BMJ | 2 | Interference | 6:16 |
| 2nd | Dillon Eichstadt | BMJ | 2 | Interference | 9:51 |

| | | | | | |
| --- | --- | --- | --- | --- | --- |
| Prd | Player | Team | Min | Infraction | Time |
| 2nd | Cameron Clarke | FSU | 2 | Interference | 12:18 |
| 3rd | Coale Norris | FSU | 2 | High-Sticking | 3:38 |
New Records: Ferris State 7-20-2, Bemidji State 13-12-4