Beaver Fever Friday – Brendan Harris – @BSUBeaversMHKY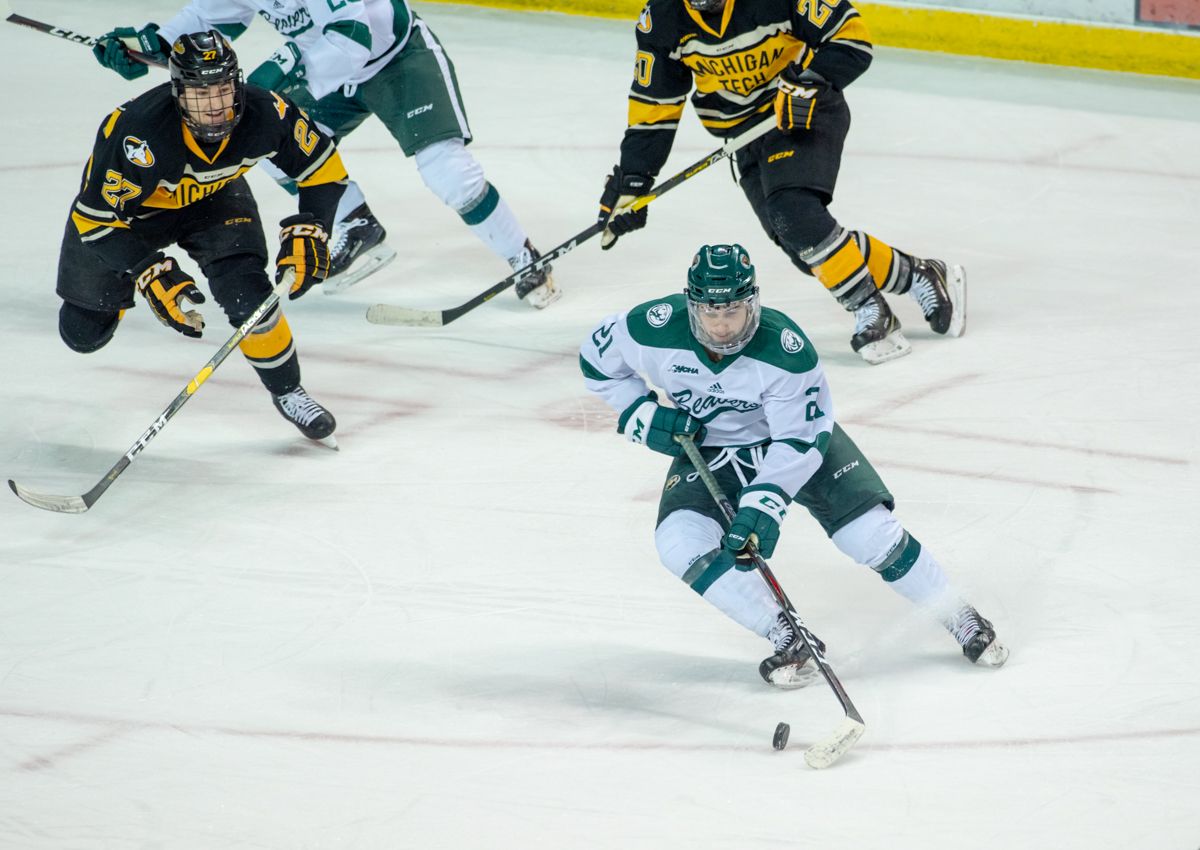 Beaver Men Return Home For Final Home-Ice Push
Bemidji State University blueliner Justin Baudry and forward Owen Sillinger have been selected for Western Collegiate Hockey Association weekly honors for their roles in Beavers' five-point WCHA series victory at Ferris State University, Feb. 8-9. Baudry earned the league's Defensive Player of the Week award, while Sillinger reeled in Rookie of the Week honors.
Baudry paced the BSU attack with a five-point performance in the Beavers' weekend series. The senior led BSU and the WCHA in scoring, posting a pair of goals and three assists, including a career-high four points on two goals and two assists in Saturday's 6-1 victory. A regular on the BSU power play, two of Baudry's five points (1g-1a) came on the man advantage Saturday, as the Beavers were 2-of-6. He is also a member of a BSU penalty kill unit that held FSU without a goal on six power-play attempts, including a five-minute major. The LaBroquerie, Manitoba, native also posted a team-high 10 shots on goal (.200) and a +1 plus minus rating and a blocked shot.
Baudry leads the Beavers in scoring this year with 25 points on seven goals and 18 assists. This is his first weekly honor this season.
Sillinger led all WCHA rookies with two goals in BSU's series at Ferris State. After appearing in Friday's opener without a point, he matched a career-high two goals to help the Beavers to a 6-1 series-clinching victory Saturday. He opened the game giving Bemidji State a lead just 3:04 after the opening faceoff. At 9:00 of the second period, the Regina, Saskatchewan, native found the back of the net for his first short-handed goal 44 seconds into a crucial five-minute major to keep the game in BSU's favor. It was his ninth goal of the season to lead all BSU rookies and tie for the lead among league newcomers. He added four shots on goal (.500) and was +2 in the series.
This marks the second WCHA honor for Sillinger. He was also selected as the league's Rookie of the Week Nov. 26.
In addition to the BSU duo, Minnesota State University, Mankato's Dryden McKay earned the league's Goaltender of the Week award and Marc Michaelis was named Offensive Player of the Week.
The Beavers, now 14-12-4 overall and 12-8-2-1 in WCHA play will return to Sanford Center this weekend for a league series with Northern Michigan University. BSU will host the Wildcats for a 7:07 p.m. opening face off Friday to get the series underway before the teams will clash again at 7:07 p.m. Saturday.