Beaver Men's Hockey Gameday – Game 32 – February 16, 2019 – vs Northern Michigan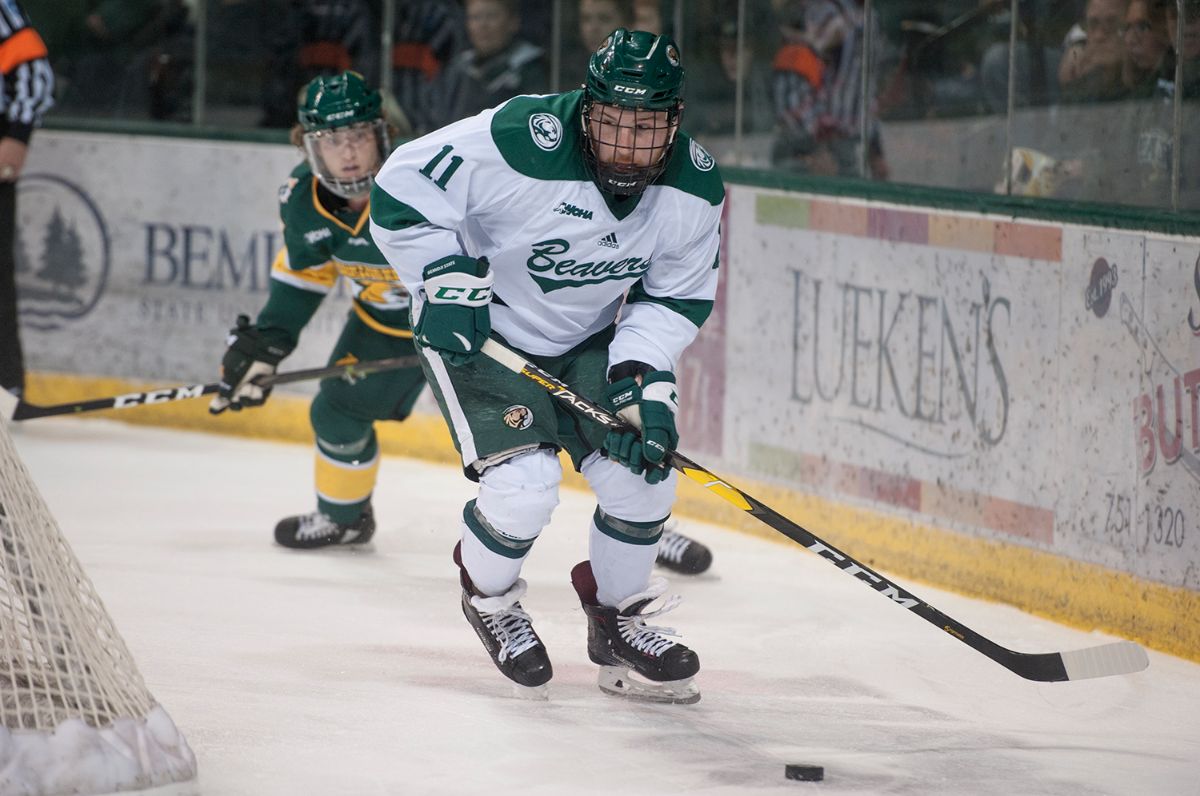 The Bemidji State University men's ice hockey team (14-12-5; 12-8-3-2 WCHA) looks to win five out of six points on the weekend at home against the Northern Michigan Wildcats. BSU and NMU tied 2-2 Friday night, with BSU winning the 3×3 overtime on an Ethan Somoza goal.
Our pregame coverage begins at 6:30pm CST, with the faceoff set for 7:07pm tonight on Mix 103.7 and online at beaverradionetwork.com.
Pregame Open Pregame Open
Tom Serratore Pregame Coaches Pregame
Charlie Combs Pregame Pregame
Bucky's Legends #1 Bucky
Bucky's Legends #2 Bucky
Bemidji State Lines
Jay Dickman – Brendan Harris – Nick Cardelli
Adam Brady – Owen Sillinger – Charlie Combs
Ethan Somoza – Ross Armour – Aaron Miller
Mike Soucier – Tyler Kirkup – Alex Ierullo
Extra Skater – Tyler Jubenvill
Tommy Muck – Dan Billett
Dillon Eichstadt – Justin Baudry
Tyler Vold – Brad Johnson
Zach Driscoll
Henry Johnson
Jack Burgart
Opponent Lines
Ty Readman – Joseph Nardi – Griffin Loughran
Troy Loggins – Grant Loven – Denver Pierce
Garrett Klee – Adam Rockwood – Darien Craighead
Jarrett Lee – Luke Voltin – Vincent de Mey
Adam Roeder – Philip Beaulieu
Tony Bretzman – Robert Fosdick
Ryan Black – Connor Frantti
Atte Tolvanen
Nolan Kent
Beaver Radio Network Ottertail Power Three Stars
1 – Adam Brady
2 – Zach Driscoll
3 – Brendan Harris
Tom Serratore Postgame Tom Serratore Postgame
Listen To / Download Whole Game

Boxscore provided by http://collegehockeystats.net
College Hockey Box Score (Final)
Northern Michigan at Bemidji State
Saturday, February 16, 2019

| | | | | |
| --- | --- | --- | --- | --- |
| Referees: | Josh Lupinek | | Game Start: | 7:07 |
| | Matthew Miller | | Game End: | 9:25 |
| Linesmen: | Matt Ulwelling | | Game Length: | 2:18 |
| | Tyler Landman | | Attendance: | 3308 |
| | | | | |
| --- | --- | --- | --- | --- |
| Scoring | 1st | 2nd | 3rd | Final |
| Northern Michigan | 0 | 0 | 0 | 0 |
| Bemidji State | 1 | 0 | 2 | 3 |

| | | | | |
| --- | --- | --- | --- | --- |
| Shots on Goal | 1st | 2nd | 3rd | SOG |
| Northern Michigan | 8 | 5 | 8 | 21 |
| Bemidji State | 13 | 12 | 7 | 32 |

| | | | | |
| --- | --- | --- | --- | --- |
| | PP | PP % | PIM | SHGF |
| Northern Michigan | 0/2 | .000 | 5/18 | 0 |
| Bemidji State | 1/4 | .250 | 2/4 | 0 |
| | | | | | | | | | |
| --- | --- | --- | --- | --- | --- | --- | --- | --- | --- |
| # | Prd | Time | Team | Score | Type | Scored By | Assists | Offense On Ice | Defense On Ice |
| | 1st | 10:21 | BMJ | 1-0 | EV GW | Adam Brady (8) | – | 19,12,16,18,22,G33 | 18,16,7,26,3,G41 |
| | 3rd | 6:03 | BMJ | 2-0 | PP | Brendan Harris (3) | Jay Dickman/9, Aaron Miller/9 | 21,6,16,19,29,G33 | 11,25,9,7,G41 |
| | 3rd | 18:19 | BMJ | 3-0 | EV EN | Nick Cardelli (8) | – | 26,2,12,3,9,G33 | 18,14,26,3,7,27 |
##
Northern Michigan
G
A
P
PIM
SOG
+/-
3
Robert Fosdick
0
0
0
0/0
0
-2
4
Connor Frantti
0
0
0
0/0
1
E
5
Jarrett Lee
0
0
0
0/0
0
E
7
Tony Bretzman
0
0
0
0/0
0
-2
8
Denver Pierce
0
0
0
0/0
2
E
9
Troy Loggins
0
0
0
0/0
0
E
11
Adam Rockwood
0
0
0
0/0
1
E
13
Luke Voltin
0
0
0
0/0
1
E
14
Vincent de Mey
0
0
0
0/0
0
-1
16
Griffin Loughran
0
0
0
2/12
2
-1
18
Joseph Nardi
0
0
0
0/0
0
-2
20
Garrett Klee
0
0
0
0/0
0
E
23
Mitchell Slattery
0
0
0
1/2
0
E
25
Philip Beaulieu
0
0
0
0/0
4
E
26
Ty Readman
0
0
0
0/0
1
-2
27
Adam Roeder
0
0
0
0/0
3
-1
29
Grant Loven
0
0
0
1/2
1
E
37
Darien Craighead
0
0
0
1/2
4
E
44
Ryan Black
0
0
0
0/0
1
E
34
G Nolan Kent
Did Not Play
41
G Atte Tolvanen
0
0
0
0/0
0
-1
Northern Michigan Totals
0
0
0
5/18
21
-2

##
Bemidji State
G
A
P
PIM
SOG
+/-
2
Dan Billett
0
0
0
0/0
0
+1
3
Tommy Muck
0
0
0
0/0
4
+1
6
Jay Dickman
0
1
1
0/0
2
E
9
Ethan Somoza
0
0
0
0/0
1
+1
11
Charlie Combs
0
0
0
0/0
2
E
12
Owen Sillinger
0
0
0
0/0
2
+2
13
Mike Soucier
0
0
0
0/0
2
E
14
Alex Ierullo
0
0
0
0/0
0
E
15
Tyler Jubenvill
0
0
0
0/0
0
E
16
Aaron Miller
0
1
1
0/0
1
+1
17
Ross Armour
0
0
0
0/0
2
E
18
Brad Johnson
0
0
0
0/0
0
+1
19
Adam Brady
1
0
1
1/2
4
+1
20
Dillon Eichstadt
0
0
0
0/0
1
E
21
Brendan Harris
1
0
1
0/0
6
E
22
Tyler Vold
0
0
0
0/0
0
+1
26
Nick Cardelli
1
0
1
0/0
2
+1
27
Tyler Kirkup
0
0
0
0/0
0
E
29
Justin Baudry
0
0
0
1/2
3
E
30
G Jack Burgart
Did Not Play
33
G Zach Driscoll
0
0
0
0/0
0
+2
35
G Henry Johnson
Did Not Play
Bemidji State Totals
3
2
5
2/4
32
+2

##
Goaltending
MIN
GA
1
2
3
Saves
41
Atte Tolvanen (L, 15-14-2)
57:32
2
12
12
5
29
Empty Net
2:28
1

| | | | | | | | |
| --- | --- | --- | --- | --- | --- | --- | --- |
| ## | Goaltending | MIN | GA | 1 | 2 | 3 | Saves |
| 33 | Zach Driscoll (W, 10-6-3) | 60:00 | 0 | 8 | 5 | 8 | 21 |
| | | | | | |
| --- | --- | --- | --- | --- | --- |
| Prd | Player | Team | Min | Infraction | Time |
| 1st | Justin Baudry | BMJ | 2 | Slashing | 4:52 |
| 1st | Mitchell Slattery | NMU | 2 | Hooking | 7:16 |
| 1st | Grant Loven | NMU | 2 | Interference | 12:07 |
| 2nd | Griffin Loughran | NMU | 2 | High-Sticking | 4:43 |

| | | | | | |
| --- | --- | --- | --- | --- | --- |
| Prd | Player | Team | Min | Infraction | Time |
| 2nd | Griffin Loughran | NMU | 10 | Misconduct | 4:43 |
| 2nd | Adam Brady | BMJ | 2 | Tripping | 8:27 |
| 3rd | Darien Craighead | NMU | 2 | Tripping | 5:48 |
New Records: Bemidji State 15-12-5, Northern Michigan 15-14-2

Three Stars: 1. Adam Brady (Bemidji State)
2. Zach Driscoll (Bemidji State)
3. Brendan Harris (Bemidji State)