Beaver Women's Hockey Gameday – Game 34 – February 23, 2019 – vs Minnesota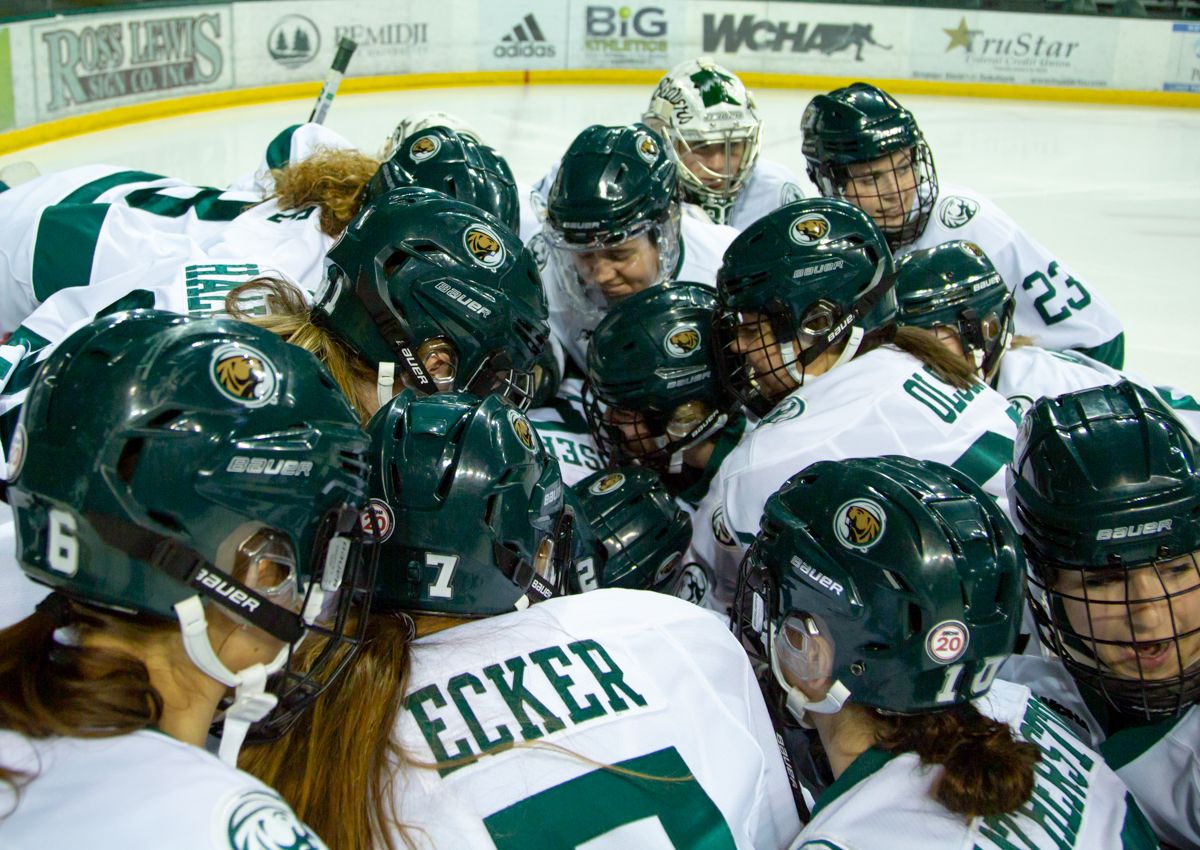 The Bemidji State University women's hockey team wraps up the 2018-19 regular season today at 3:07 p.m. against #2 University of Minnesota. The Beavers will honor its two seniors, Melissa Hunt and Emily Bergland, before today's game as part of senior day.
The Beavers still have a shot at home ice for the first round of the WCHA Playoffs, despite a 6-3 loss yesterday to the Gophers. BSU sits in 5th place just 1 point behind 4th place Minnesota Duluth. If BSU wins and UMD loses, the Beavers take over 4th place. The Beavers will either travel to Duluth next weekend for the best of three game series or host the playoff games at the Sanford Center.
Pregame Open Pregame Open
Jim Scanlan Pregame Coach Pregame
Lindsey Featherstone Pregame Player Pregame
Bemidji State Lines
Abby Halluska – Emily Bergland – Paige Beebe
Jacqueline Kaasa – Kiki Radke – Lindsey Featherstone
Haley Mack – Clair DeGeorge – Lydia Passolt
Claudia Verkerke – Graysen Myers – Ellie Moser
Extra Skater – Abby Ecker
Briana Jorde – Mak Langei
Melissa Hunt – Tina Kampa
Kara Werth – Heather Olson
Kerigan Dowhy
Lauren Bench
Lexi Baker
Opponent Lines
Nicole Schammel – Taylor Wente – Grace Zumwinkle
Sarah Potomak – Kelly Pannek – Amy Potomak
Taylor Williamson – Taylor Heise – Alex Woken
Emily Oden – Catie Skaja – Abigail Boreen
Emily Brown – Olivia Knowles
Sophie Skarzynski – Patti Marshall
Gracie Ostertag – Crystalyn Hengler
Sydney Scobee
Alex Gulstene
Emma May
Beaver Radio Network Ottertail Power Three Stars
Jim Scanlan Postgame Jim Scanlan Postgame
Listen To / Download Whole Game

Boxscore provided by http://collegehockeystats.net
College Hockey Box Score (Final)
Minnesota at Bemidji State
Saturday, February 23, 2019

| | | | | |
| --- | --- | --- | --- | --- |
| Referees: | Duncan Ryhorchuk | | Game Start: | 3:07 |
| | Tyler Olson | | Game End: | 5:04 |
| Linesmen: | Ron Laituri | | Game Length: | 1:57 |
| | Josh Brown | | Attendance: | 361 |
| | | | | |
| --- | --- | --- | --- | --- |
| Scoring | 1st | 2nd | 3rd | Final |
| Minnesota | 1 | 2 | 1 | 4 |
| Bemidji State | 1 | 0 | 2 | 3 |

| | | | | |
| --- | --- | --- | --- | --- |
| Shots on Goal | 1st | 2nd | 3rd | SOG |
| Minnesota | 11 | 9 | 7 | 27 |
| Bemidji State | 11 | 9 | 8 | 28 |

| | | | | |
| --- | --- | --- | --- | --- |
| | PP | PP % | PIM | SHGF |
| Minnesota | 0/1 | .000 | 1/2 | 0 |
| Bemidji State | 0/1 | .000 | 1/2 | 0 |
| | | | | | | | | | |
| --- | --- | --- | --- | --- | --- | --- | --- | --- | --- |
| # | Prd | Time | Team | Score | Type | Scored By | Assists | Offense On Ice | Defense On Ice |
| | 1st | 0:38 | BMJ | 1-0 | EV | Abby Halluska (8) | Paige Beebe/7, Emily Bergland/11 | 21,18,9,11,5,G33 | 28,24,2,25,12,G37 |
| | 1st | 16:33 | MIN | 1-1 | EV | Grace Zumwinkle (23) | Taylor Wente/14, Crystalyn Hengler/6 | 12,28,13,6,25,G37 | 20,3,4,26,19,G33 |
| | 2nd | 6:03 | MIN | 2-1 | EV | Emily Oden (9) | Patti Marshall/17, Abigail Boreen/5 | 21,27,22,3,5,G37 | 18,2,9,14,21,G33 |
| | 2nd | 6:16 | MIN | 3-1 | EV | Taylor Heise (13) | Alex Woken/6, Patti Marshall/18 | 9,5,7,27,20,G37 | 19,26,4,3,20,G33 |
| | 3rd | 5:47 | MIN | 4-1 | EV GW | Amy Potomak (10) | Sarah Potomak/12, Patti Marshall/19 | 16,26,27,5,28,G37 | 3,20,26,19,5,G33 |
| | 3rd | 8:19 | BMJ | 2-4 | EV | Haley Mack (7) | Lydia Passolt/7 | 19,3,26,4,14,G33 | 20,7,9,24,2,G37 |
| | 3rd | 18:07 | BMJ | 3-4 | EV EA | Abby Halluska (9) | Clair DeGeorge/13, Emily Bergland/12 | 21,26,9,2,14,19 | 12,24,2,21,25,G37 |
##
Minnesota
G
A
P
PIM
SOG
+/-
2
Emily Brown
0
0
0
0/0
3
-3
3
Catie Skaja
0
0
0
0/0
0
+1
5
Sophie Skarzynski
0
0
0
0/0
0
+3
6
Gracie Ostertag
0
0
0
0/0
1
+1
7
Taylor Williamson
0
0
0
0/0
0
E
9
Taylor Heise
1
0
1
0/0
6
E
12
Grace Zumwinkle
1
0
1
0/0
1
-1
13
Crystalyn Hengler
0
1
1
0/0
1
+1
15
Jackie Pieper
0
0
0
0/0
0
E
16
Amy Potomak
1
0
1
0/0
4
+1
19
Kelly Pannek
0
0
0
0/0
1
E
20
Alex Woken
0
1
1
0/0
1
E
21
Emily Oden
1
0
1
0/0
3
E
22
Abigail Boreen
0
1
1
0/0
1
+1
24
Olivia Knowles
0
0
0
0/0
2
-3
25
Nicole Schammel
0
0
0
1/2
0
-1
26
Sarah Potomak
0
1
1
0/0
2
+1
27
Patti Marshall
0
3
3
0/0
1
+3
28
Taylor Wente
0
1
1
0/0
0
+1
29
G Alex Gulstene
Did Not Play
31
G Emma May
Did Not Play
37
G Sydney Scobee
0
0
0
0/0
0
+1
Minnesota Totals
4
8
12
1/2
27
+1

##
Bemidji State
G
A
P
PIM
SOG
+/-
2
Mak Langei
0
0
0
0/0
0
E
3
Lydia Passolt
0
1
1
0/0
5
-2
4
Kara Werth
0
0
0
0/0
0
-1
5
Melissa Hunt
0
0
0
0/0
0
E
6
Claudia Verkerke
0
0
0
0/0
0
E
7
Abby Ecker
0
0
0
0/0
0
E
8
Kiki Radke
0
0
0
0/0
0
E
9
Emily Bergland
0
2
2
0/0
3
+1
10
Lindsey Featherstone
0
0
0
0/0
2
E
11
Tina Kampa
0
0
0
0/0
0
+1
12
Jacqueline Kaasa
0
0
0
0/0
3
E
14
Briana Jorde
0
0
0
0/0
0
+1
16
Ellie Moser
0
0
0
0/0
0
E
18
Paige Beebe
0
1
1
1/2
4
E
19
Haley Mack
1
0
1
0/0
5
-1
20
Heather Olson
0
0
0
0/0
2
-3
21
Abby Halluska
2
0
2
0/0
3
+1
23
Graysen Myers
0
0
0
0/0
0
E
26
Clair DeGeorge
0
1
1
0/0
1
-1
30
G Lexi Baker
Did Not Play
33
G Kerigan Dowhy
0
0
0
0/0
0
-2
35
G Lauren Bench
Did Not Play
Bemidji State Totals
3
5
8
1/2
28
-1

| | | | | | | | |
| --- | --- | --- | --- | --- | --- | --- | --- |
| ## | Goaltending | MIN | GA | 1 | 2 | 3 | Saves |
| 37 | Sydney Scobee (W, 11-2-1) | 60:00 | 3 | 10 | 9 | 6 | 25 |

##
Goaltending
MIN
GA
1
2
3
Saves
33
Kerigan Dowhy (L, 4-9-0)
58:15
4
10
7
6
23
Empty Net
1:45
0
| | | | | | |
| --- | --- | --- | --- | --- | --- |
| Prd | Player | Team | Min | Infraction | Time |
| 2nd | Nicole Schammel | MIN | 2 | Interference | 10:01 |

| | | | | | |
| --- | --- | --- | --- | --- | --- |
| Prd | Player | Team | Min | Infraction | Time |
| 2nd | Paige Beebe | BMJ | 2 | High-Sticking | 19:35 |
New Records: Minnesota 29-4-1, Bemidji State 13-19-2

Three Stars: 1. Patti Marshall (Minnesota)
2. Taylor Heise (Minnesota)
3. Abby Halluska (Bemidji State)