Beaver Fever Friday – Abby Haluska – @BSUBeaversWHKY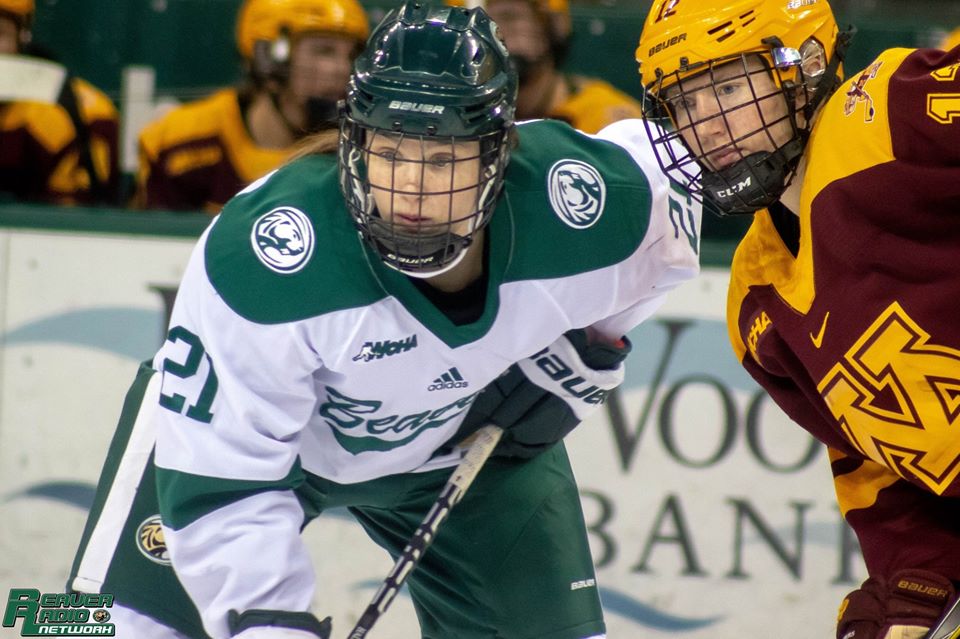 Women's Hockey falls to No. 8 Ohio State 3-1 in series finale, travels to Minnesota
The Bemidji State University women's hockey team fell to No. 8 Ohio State University 3-1 Saturday afternoon to fall in both games of its Western Collegiate Hockey Association series. The Beavers fall to 3-6-1 on the season and are now 2-4-0-0 in league play while the Buckeyes improved to 7-3-2 (5-3-2-0 WCHA).
Senior Abby Halluska scored the lone goal for the Beavers, her second of the season, 7:42 into the third period while redshirt sophomore Abby Ecker earned her first career point with the primary assist and senior Kiki Radke earned the secondary assist.
Redshirt junior Lauren Bench stopped 26-of-29 shots by the Buckeyes as the Beavers were out-shot in the game, 29-18.
The Buckeyes began the game with a two-goal first period starting with a power-play goal from Tatum Skaggs 11 minutes into the frame. Ohio State then went up 2-0 just 4:17 later when Liz Schepers scored an even strength goal.
After a scoreless second period, Ohio State extended its lead to 3-0 when Emma Maltais returned off of a penalty in team to break in on a breakaway and score her seventh goal of the season. Bemidji State responded with its only goal of the game at 7:42 of the final fream when Halluska deflected Ecker's shot from the point.
Bemidji State earned two power plays in the game but came up empty on both while its penalty kill allowed gave up a goal on the Buckeyes' lone power play chance in the first period.
The Beavers was off from action last weekend and returns to play Nov. 15-16 when they began a three-week road trip at No. 2 University of Minnesota this weekend.