Beaver Fever Friday – Abby Halluska – Womens Hockey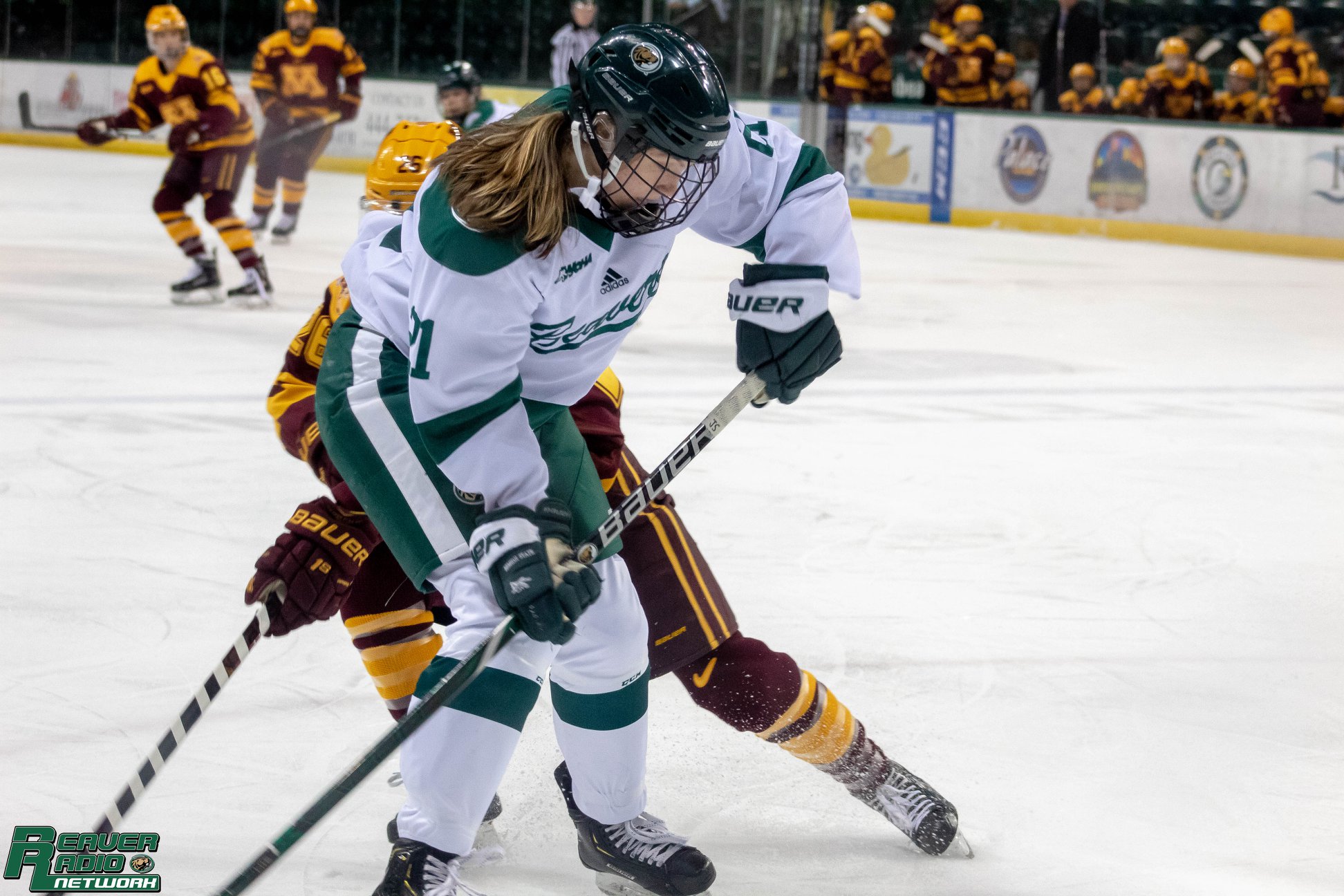 Radke's four-point effort leads Beavers to series sweep over Minnesota State
Bemidji State University women's hockey senior captain Kiki Radke scored two goals and posted two assists to help the Beavers to their first Western Collegiate Hockey Conference road series sweep over Minnesota State University, Mankato with a 5-2 win Saturday. Four different skaters scored for the Beavers (5-8-1, 4-6-0-0 WCHA) who scored a season-high five goals.
Radke finished the game with four points (2g-2a) in the game after having a hand in four-of-five Bemidji State goals setting a new career best. Lydia Passolt (1g-1a), Tina Kampa (0g-2a) and Heather Olson (1g-1a) each recorded two points in the game while Mak Langei (1a), Paige Beebe (1g) and Abby Halluska (1a) each recorded a point.
Bemidji State started the scoring halfway through the first period when senior Heather Olson fired the puck over the shoulder of Abigail Levy for her second goal of the season and second career goal at 9:11. Junior Lydia Passolt then followed Olson's goal with her second goal of the series, fourth of season, just 5:23 later. The first period ended with the two-goal lead for the Beavers and 11-8 lead in shots.
Minnesota State responded in the second period when Kelsey King scored just 5:31 into the middle frame. However, the Beavers responded with goals from junior Paige Beebe and senior Kiki Radke just 1:23 apart at 15:18 and 16:41 later in the period. Beebe put the Beavers up 3-1 with a tic-tac-toe power-play goal for her third marker of the season while Radke redirected a Tina Kampa shot for her second goal of the season. Bemidji State finished the period with a 20-14 shot advantage.
The Beavers carried their momentum into the third period and just 1:03 into the final frame, Radke scored her second tally of the game for her second career multi-goal game. Minnesota State responded 5:52 later when Madison Oelkers scored her third goal of the season to bring the score to 5-2. Bemidji State played shutdown defense from then on and held the Mavericks to just five shots in the remaining time.
Lauren Bench improved to 4-6-0 on the season after she made 20-of-22 saves during the game.
The Beavers finished the game out shooting the Mavericks 32-22. Bemidji State scored on its lone power-play chance of the game while its penalty kill held MSU 0-for-2.
Bemidji State takes a break of WCHA play and travels to Troy, N.Y., to face Rensselaer Polytechnic Institute (RPI) for a two-game, non-conference series over the Thanksgiving break.