Beaver Women's Hockey Gameday – Game 32 – February 8, 2020 – vs Minnesota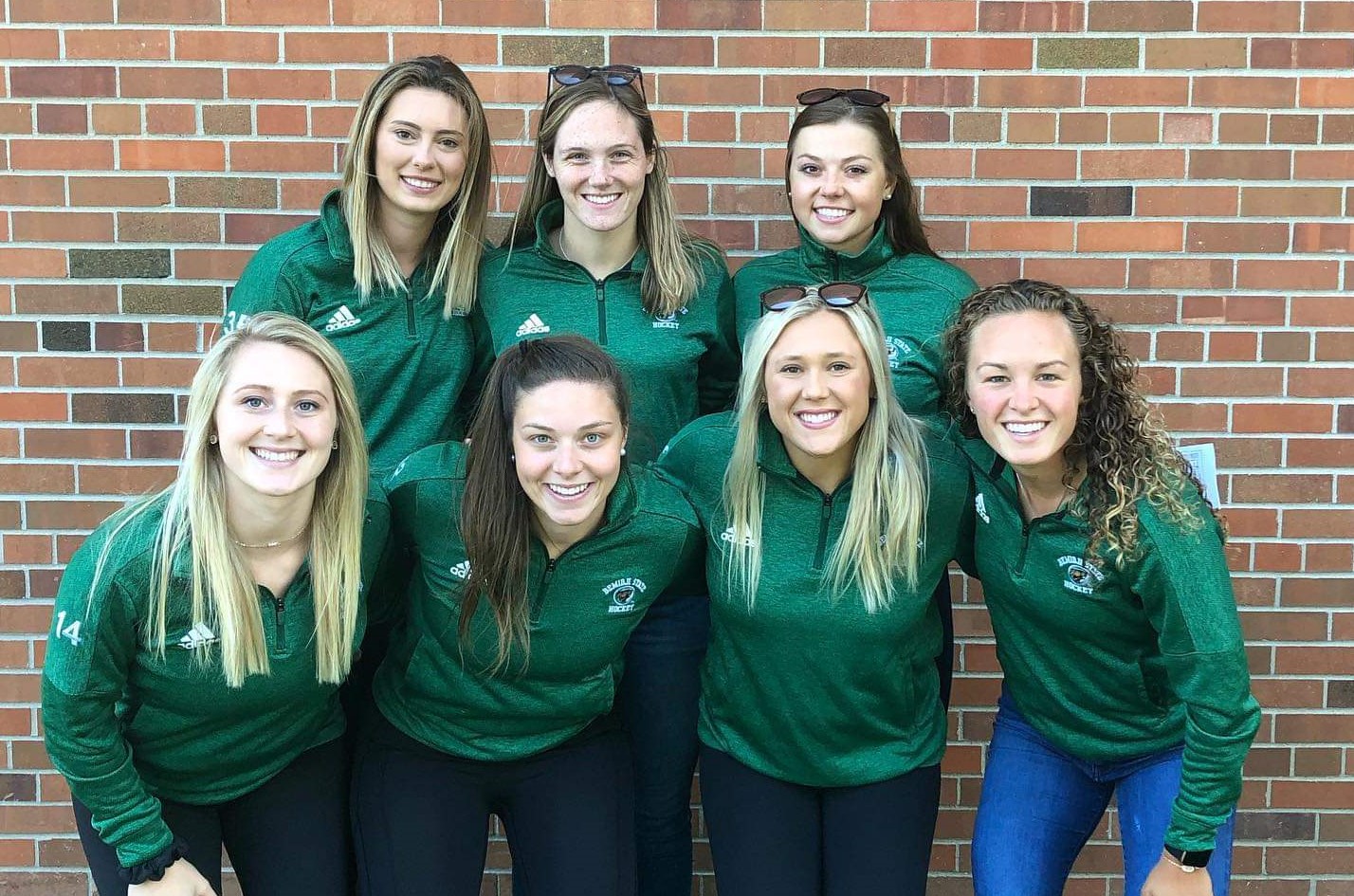 For its final home series of the regular season, the Bemidji State University women's hockey team prepares to host No. 4/3 University of Minnesota, Feb. 7-8 for a pair of Western Collegiate Hockey Association games. The Beavers honor their six seniors, Kiki Radke, Jacqueline Kaasa, Briana Jorde, Haley Mack, Abby Halluska and Heather Olson in part of Senior Day festivities Saturday, Feb. 8.
Tune into our pregame coverage beginning at 2:30pm on 94.3 FM The Legends in Bemidji or online at www.beaverradionetwork.com.
Pregame Open Pregame Open
Jim Scanlan Pregame Coach Pregame
Kiki Radke Pregame Player Pregame
Bemidji State Lines
Abby Halluska – Kiki Radke – Lydia Passolt
Haley Mack – Clair DeGeorge – Reece Hunt
Jacqueline Kaasa – Lindsey Featherstone – Paige Beebe
Claudia Verkerke – Cheyenne Abear – Ellie Moser
Extra Skater – Abby DeLaRosa
Briana Jorde – Mak Langei
Tina Kampa – Heather Olson
Kara Werth – Abby Ecker
Lauren Bench
Kerigan Dowhy
Lexi Baker
Opponent Lines
Alex Woken – Emily Oden – Amy Potomak
Sarah Potomak – Taylor Heise – Grace Zumwinkle
Abigail Boreen – Taylor Wente – Kippin Keller
Katie Robinson – –
Emily Brown – Olivia Knowles
Madeline Wethington – Patti Marshall
Gracie Ostertag – Crystalyn Hengler
Sydney Scobee
Makayla Pahl
Olivia King
Beaver Radio Network Ottertail Power Three Stars
1 – Reece Hunt
2 – Grace Zunwinkle
3 – Taylor Heise
Listen To / Download Whole Game

Boxscore provided by http://collegehockeystats.net
College Hockey Box Score (Final)
Minnesota at Bemidji State
Saturday, February 8, 2020

| | | | | |
| --- | --- | --- | --- | --- |
| Referees: | Mike Kaehler | | Game Start: | 3:07 |
| | Robert Ludwig | | Game End: | 5:12 |
| Linesmen: | Ron Laituri | | Game Length: | 2:05 |
| | Glenn Hagberg | | Attendance: | 429 |
| | | | | |
| --- | --- | --- | --- | --- |
| Scoring | 1st | 2nd | 3rd | Final |
| Minnesota | 1 | 2 | 3 | 6 |
| Bemidji State | 1 | 2 | 0 | 3 |

| | | | | |
| --- | --- | --- | --- | --- |
| Shots on Goal | 1st | 2nd | 3rd | SOG |
| Minnesota | 12 | 7 | 10 | 29 |
| Bemidji State | 6 | 12 | 4 | 22 |

| | | | | |
| --- | --- | --- | --- | --- |
| | PP | PP % | PIM | SHGF |
| Minnesota | 0/3 | .000 | 2/4 | 0 |
| Bemidji State | 0/1 | .000 | 4/8 | 0 |
| | | | | | | | | | |
| --- | --- | --- | --- | --- | --- | --- | --- | --- | --- |
| # | Prd | Time | Team | Score | Type | Scored By | Assists | Offense On Ice | Defense On Ice |
| | 1st | 11:48 | MIN | 1-0 | EV | Sarah Potomak (16) | Patti Marshall/9, Taylor Heise/20 | 26,9,12,27,5,G37 | 3,8,21,14,2,G35 |
| | 1st | 15:52 | BMJ | 1-1 | EV | Reece Hunt (2) | Clair DeGeorge/12, Haley Mack/9 | 29,19,26,11,20,G35 | 20,21,5,27,16,G37 |
| | 2nd | 5:25 | MIN | 2-1 | EV | Crystalyn Hengler (2) | Amy Potomak/16, Alex Woken/15 | 13,16,20,6,18,G37 | 3,21,14,20,18,G35 |
| | 2nd | 6:33 | BMJ | 2-2 | EV | Reece Hunt (3) | Haley Mack/10, Mak Langei/13 | 29,19,2,26,14,G35 | 8,5,22,27,9,G37 |
| | 2nd | 15:18 | MIN | 3-2 | EV | Grace Zumwinkle (19) | Sarah Potomak/21 | 12,26,28,2,24,G37 | 29,11,26,19,4,G35 |
| | 2nd | 18:18 | BMJ | 3-3 | EV | Reece Hunt (4) | Clair DeGeorge/13, Haley Mack/11 | 29,26,20,19,11,G35 | 20,16,24,21,2,G37 |
| | 3rd | 1:31 | MIN | 4-3 | EV GW | Taylor Heise (15) | Grace Zumwinkle/18 | 9,12,5,27,26,G37 | 19,20,14,26,29,G35 |
| | 3rd | 16:20 | MIN | 5-3 | EV | Grace Zumwinkle (20) | Gracie Ostertag/8 | 12,6,9,26,13,G37 | 19,14,2,29,26,G35 |
| | 3rd | 17:31 | MIN | 6-3 | EV EN | Kippin Keller (3) | Abigail Boreen/7, Olivia Knowles/10 | 8,22,24,28,2,G37 | 19,26,14,18,29,2 |
##
Minnesota
G
A
P
PIM
SOG
+/-
2
Emily Brown
0
0
0
0/0
1
+1
5
Madeline Wethington
0
0
0
0/0
0
E
6
Gracie Ostertag
0
1
1
0/0
0
+2
8
Kippin Keller
1
0
1
0/0
6
E
9
Taylor Heise
1
1
2
0/0
3
+2
12
Grace Zumwinkle
2
1
3
0/0
3
+4
13
Crystalyn Hengler
1
0
1
0/0
2
+2
16
Amy Potomak
0
1
1
0/0
2
-1
18
Katie Robinson
0
0
0
0/0
0
+1
20
Alex Woken
0
1
1
0/0
2
-1
21
Emily Oden
0
0
0
1/2
0
-2
22
Abigail Boreen
0
1
1
0/0
2
E
24
Olivia Knowles
0
1
1
0/0
3
+1
26
Sarah Potomak
1
1
2
0/0
2
+4
27
Patti Marshall
0
1
1
0/0
2
E
28
Taylor Wente
0
0
0
1/2
1
+2
1
G Olivia King
Did Not Play
33
G Makayla Pahl
Did Not Play
37
G Sydney Scobee
0
0
0
0/0
0
+3
Minnesota Totals
6
9
15
2/4
29
+3

##
Bemidji State
G
A
P
PIM
SOG
+/-
2
Mak Langei
0
1
1
0/0
1
-2
3
Lydia Passolt
0
0
0
1/2
0
-2
4
Kara Werth
0
0
0
0/0
1
-1
5
Abby DeLaRosa
0
0
0
1/2
1
E
6
Claudia Verkerke
0
0
0
0/0
0
E
7
Abby Ecker
0
0
0
0/0
0
E
8
Kiki Radke
0
0
0
1/2
0
-1
10
Lindsey Featherstone
0
0
0
0/0
2
E
11
Tina Kampa
0
0
0
0/0
1
+1
12
Jacqueline Kaasa
0
0
0
0/0
0
E
14
Briana Jorde
0
0
0
0/0
0
-4
16
Ellie Moser
0
0
0
0/0
0
E
18
Paige Beebe
0
0
0
0/0
1
-2
19
Haley Mack
0
3
3
0/0
3
-1
20
Heather Olson
0
0
0
0/0
3
E
21
Abby Halluska
0
0
0
1/2
2
-2
25
Cheyenne Abear
0
0
0
0/0
0
E
26
Clair DeGeorge
0
2
2
0/0
2
-1
29
Reece Hunt
3
0
3
0/0
5
-1
30
G Lexi Baker
Did Not Play
33
G Kerigan Dowhy
Did Not Play
35
G Lauren Bench
0
0
0
0/0
0
-2
Bemidji State Totals
3
6
9
4/8
22
-3

| | | | | | | | |
| --- | --- | --- | --- | --- | --- | --- | --- |
| ## | Goaltending | MIN | GA | 1 | 2 | 3 | Saves |
| 37 | Sydney Scobee (W, 22-5-3) | 60:00 | 3 | 5 | 10 | 4 | 19 |

##
Goaltending
MIN
GA
1
2
3
Saves
35
Lauren Bench (L, 11-13-2)
59:47
5
11
5
7
23
Empty Net
0:13
1
| | | | | | |
| --- | --- | --- | --- | --- | --- |
| Prd | Player | Team | Min | Infraction | Time |
| 2nd | Abby DeLaRosa | BMJ | 2 | Tripping | 2:50 |
| 2nd | Taylor Wente | MIN | 2 | Tripping | 9:59 |
| 2nd | Emily Oden | MIN | 2 | Roughing | 12:30 |

| | | | | | |
| --- | --- | --- | --- | --- | --- |
| Prd | Player | Team | Min | Infraction | Time |
| 2nd | Abby Halluska | BMJ | 2 | Roughing | 12:30 |
| 2nd | Lydia Passolt | BMJ | 2 | Hooking | 18:45 |
| 3rd | Kiki Radke | BMJ | 2 | Tripping | 18:03 |
New Records: Minnesota 23-5-3, Bemidji State 14-15-3

Three Stars: 1. Taylor Heise (Minnesota)
2. Reece Hunt (Bemidji State)
3. Grace Zumwinkle (Minnesota)