VIDEO – Courtney Fox – BSU Volleyball – Beaver Fever Friday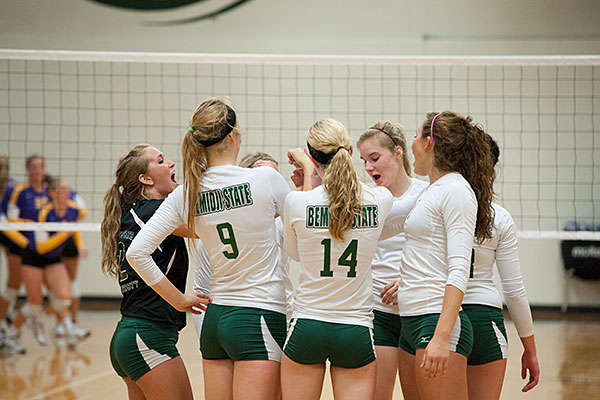 The Bemidji State University volleyball team dropped a Northern Sun Intercollegiate Conference matchup to Concordia-St. Paul by a score of 3-0, (25-12, 25-16, 28-26). BSU falls to 5-10 overall and 1-6 in conference play.
Notables
-Kelsi Crawford (OH, 5-9, Jr., Wadena, Minn.) sparked the Beavers in the third set. She had four kills on six attempts and added a block.
– Courtney Volkmann (S, 5-7, Jr., Wadena, Minn.) led BSU in assists (27) and digs (9).
– Jessica Yost (OH, 6-3, Fr., Bemidji, Minn.) led the Beavers in kills for the match with 10.
Set Recaps vs. CU
Set 1: The Golden Bears hit the ball with tremendous accuracy in the first stanza as they hit .500 in 28 attack attempts. BSU cut the CU lead to 6-4 on a Chelsea Frison (MB, 6-1, So., Whitewater, Wis.) kill, but that was as close as it got the rest of the set. Concordia-St. Paul won the first set, 25-12.
Set 2: After a 4-4 start to the match, the Golden Bears went on an 8-2 run to make their lead 12-6 and the Beavers could not get closer than six points the rest of the set. CU won the second set, 25-16.
Set 3: In the third set, it looked like more of the same at the start with the Golden Bears getting out to 6-1 lead on the Beavers. BSU came back to get the deficit to two points (13-11) on a Rachel Craig (MB, 6-2, Jr., Wadena, Minn.) kill, but CU went on another run to make it 18-12. After a key kill by Frison, Volkmann served five straight times to cut CU's lead to 19-17. After a point by Concordia-St. Paul, the Beavers got a spark from three straight kills from Crawford to tie the score 20-20. BSU had an opportunity to win the third set after a Craig kill making the score 24-23, but CU scored to extend the set. The Golden Bears had two chances to close out the set before they finally did it. Final score of set number three was 28-26.
What's Next?
Bemidji State (5-10 overall, 1-6 NSIC) returns to action next weekend on the road to take on Northern State University Friday at 7 p.m. and Minnesota State University, Moorhead Saturday at 4 p.m.