VIDEO – Vince Dinkel – BSU Football – Beaver Fever Friday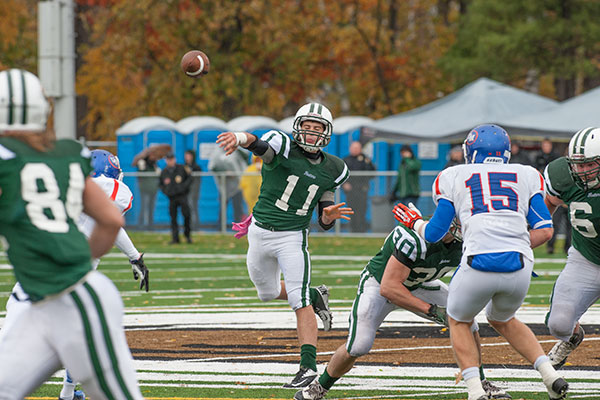 The Bemidji State University football team (2-4; 2-4 NSIC, 0-2 NSIC North) travels to Northern State University (2-4; 2-4 NSIC, 1-1 NSIC North) Oct. 19 for a 2:30 p.m. Northern Sun Intercollegiate Conference North tilt.
• Northern State is first in the NSIC and sixth in the nation in punt returns (20.3 yards per return). The squad has returned three punts for 61 yards and a touchdown. BSU ranks 10th in the NSIC in punt return defense (8.33 yards allowed per return).
• The Beavers have won seven of the last eight meetings versus the Wolves and in those eight games, BSU has outscored the Wolves 30.3 to 16.9.
• Sophomore linebacker Connor Quinn was named NSIC Defensive Player of the Week after 10 tackles (3.0 for loss) and a fumble recovery for a touchdown at Winona State (Sept. 5).
• With 58 tackles (22 solo) in 2013, he is third in the NSIC and tied for 40th nationally. His 7.5 tackles for loss is tied for fifth in the conference. He has scored twice, adding an interception for a touchdown against Southwest Minnesota State (Sept. 28).
• Senior K/P Zach Pulkinen was named NSIC Special Teams Player of the Week after his performance against Southwest Minnesota State Sept. 28, which included the game-winning field goal (37 yards) with 48 seconds left in regulation.
• Pulkinen leads the NSIC in punting average. His 43.6 yards per punt also ranks tied for 9th in the nation.
• Senior running back Avery Walker sits fourth in rushing in the NSIC with 121.5 yards per game. He has a 4.9 yards per rush average and five touchdowns on the ground.
• Junior safety Scott Christensen is tied for 11th in the NSIC in tackles with 47 (25 solo). He is third among defensive backs.
• Senior corner Larry Miller's seven passes defended is tied for fifth in the NSIC – one shy of tying his career-high set in 2012.
• BSU ranks third nationally in least penalty yards per game (21.7 ypg) and fourth in least penalties per game (3.0 per game).
• Both of the Beavers' wins have come as the result of a fourth quarter comeback. BSU is now 10-45 since 1999 when trailing after the third.
• BSU won 41-40 against Southwest Minnesota State (Sept. 28) to improve to 28-2 when scoring 40-49 points and 3-13 when allowing 40-49 points since 1999.
• With a 34-27 overtime victory at Winona State Sept. 5, BSU improved to 5-2 when playing an extra session under head coach Jeff Tesch.