VIDEO – Mikela Kowatsch – BSU Tennis – Beaver Fever Friday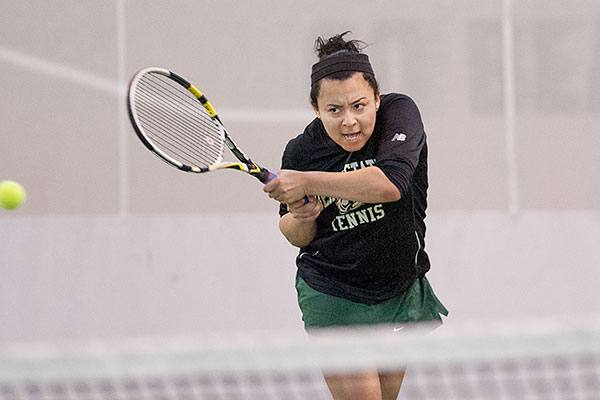 The Bemidji State tennis team went 1-1 in its 2014 home opening weekend. The Beavers bounced back from a 7-2 loss to Upper Iowa University Saturday, with a 5-4 victory over University of Minnesota Duluth Sunday at the Gillett Recreation/Fitness Center.
The Beavers opened the weekend with a 7-2 loss to Upper Iowa University. The Peacocks put the Beavers a 3-0 hole early earning decision at all three doubles positions. The BSU duo of Abby Vohaska (Jr., Chicago, Ill.) and Anna Markgraf (Fr., Champlin Park, Minn.) at No. 3 doubles, gave the Beavers their best change to score, but dropped the match, 8-3, to UIU's Laura Alvarez and Morgan Winnie.

Upper Iowa extended its lead to 6-0 after taking the top three singles matches, including a straights sets victory (6-3, 6-1) for Iris Verweij in the No. 1 position, marking Shaylin Prout's (So., Thunder Bay, Ontario) first singles loss of 2014.
The Beavers battled back to get a point from Mikela Kowatsch (So., Cashmere, Wash.) at No. four singles. She battled back from a 6-0 loss in the first set, to defeated UIU's Kelly Jachymowski 10-8 in a tie breaker (0-6, 6-3, 10-8).
In the No. 5 slot. Vohaska dropped the first set 6-1, but used a 6-4 win in the second to push to a tie breaker, but ultimately fell to Winnie, Winnie, 6-1, 4-6, 10-6.
Bemidji State picked up the final point of the match at No. 6 singles. Markgraf pulled out a straight-sets win, 6-3, 6-1, over Alvarez for her second singles victory of the season.