Video – Beaver Fever Friday – Brittni Mowat – Womens Hockey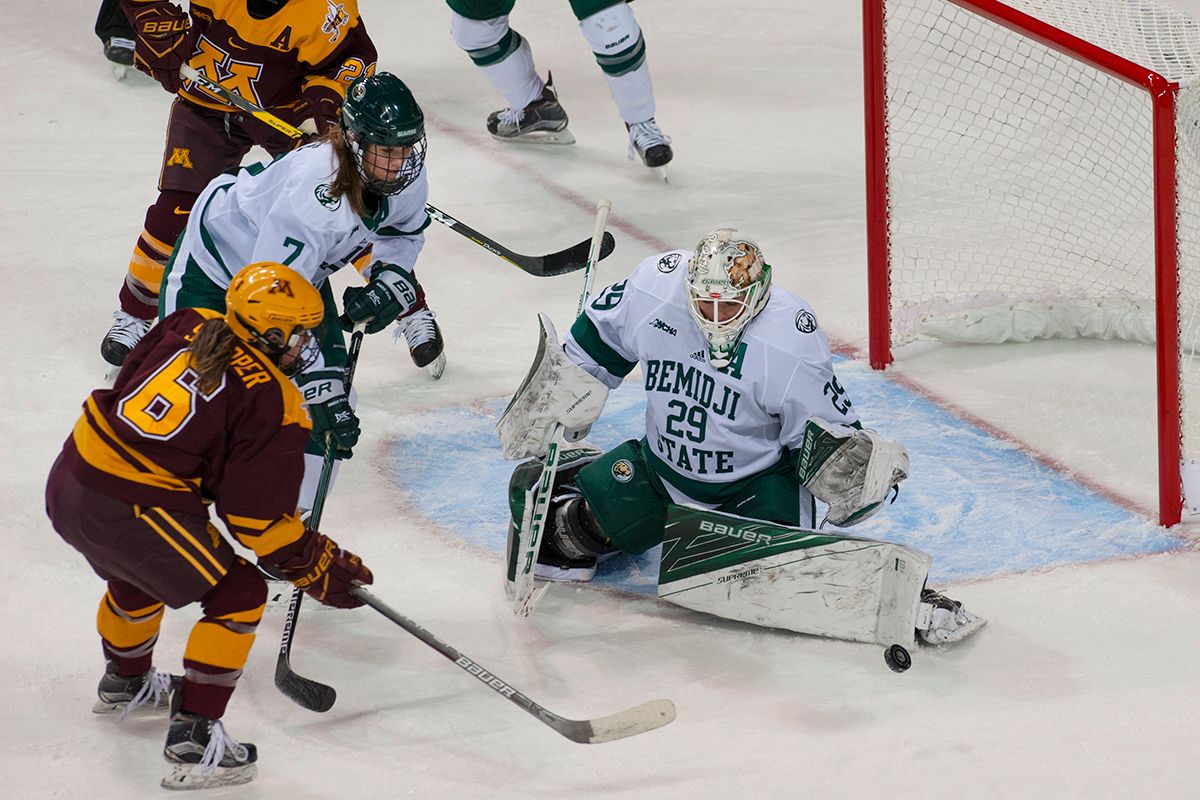 The Bemidji State University women's hockey team begins the 2017 postseason this weekend by traveling to Minneapolis, Minn., to face No. 4 University of Minnesota. The seventh-seeded Beavers (11-18-3, 7-18-3 WCHA) take on the second-seeded Gophers (23-5-5, 19-4-5 WCHA) in the first round of the WCHA Playoffs for a best-of-three series.
The Beavers and Gophers kick-off the series with game one Friday, Feb. 24 at 6:07 p.m. The two teams will then play game two Saturday, Feb. 25 at 4:07 p.m., followed by game three Sunday, Feb. 26 at 4:07 p.m., if necessary. All games in the series will be hosted by the Gophers at Ridder Arena.
Bemidji State is 7-67-7 all-time against Minnesota and went 1-3-0 against the Gophers during the regular season. The Beavers earned a split against UM in their first meeting at Sanford Center. BSU fell in game one of the series 3-1, but rebounded with a 2-0 shutout in game two. In their series at Minnesota, the Beavers were swept Nov. 26-27. Bemidji State was shutout in game one 4-0 and fell in game two 4-1.
The Beavers and Gophers have met in the Western Collegiate Hockey Association Playoffs eight times throughout the series history and are 1-7 in playoff meetings. BSU and Minnesota's most recent meeting during postseason play came March 7, 2015 where the Beavers beat the top-seeded Gophers 1-0 to advance to the WCHA Final Face-off Championship.
The Gophers are second and third in the WCHA in scoring offense (3.39) and scoring defense (1.76), respectively. Minnesota's power play is best in the conference and second in the nation after converting on .255 percent (24-of-94) of its chances. The Gophers' penalty kill is third in the league and fifth in Division I with a .902 kill percentage (83-of-92).
Minnesota is led by the nation's scoring leader and junior Kelly Pannek. Pannek has amassed 57 points (17g-40a) this season leading all of Division I. Sophomore Sarah Potomak follows with 46 points (17g-29a) while senior Dani Cameranesi leads the team with 18 goals (18g-14a=42). Junior Sidney Peters leads the Gophers' net-minders and has a 22-5-4 record this season. Peters is second in the league with a 1.65 goals against average but seventh in save percentage (.916).