Kunlun Hockey Journey: Stephanie Anderson's Blog Post #4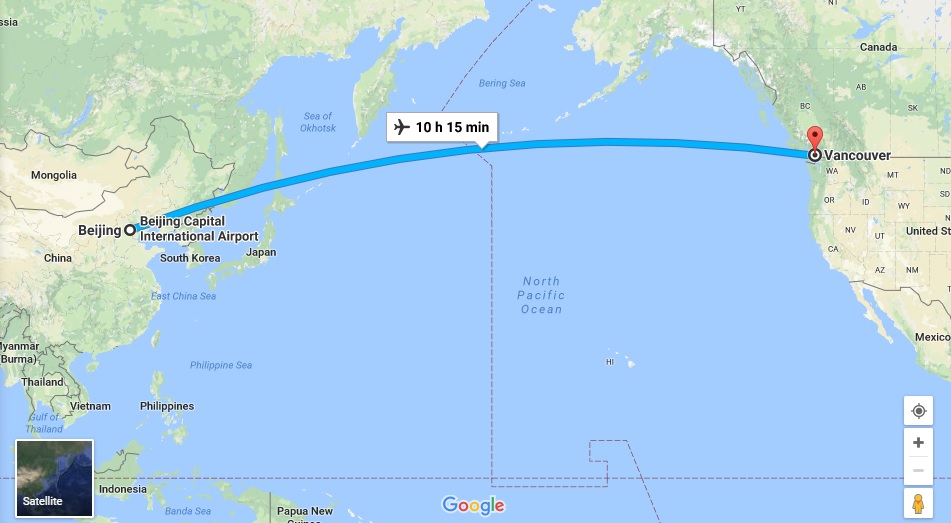 Here's a travel day for the books. Testing patience, calmness, understanding different countries, and looking at it from a different view. Through the eyes of our staff that booked the flights and showing them it's really okay with what happened. This journey is a learning experience from all levels of staff and players, and hopefully there were notes taken to fix the problem for future travel days. There are a few things I need to make clear before I start my story. When all of us originally arrived in Hong Kong at the very start we all applied for temporary visa's that expired on September 23rd, which is when we were originally planning to fly to Vancouver. We ended up staying an extra day in Beijing to catch the Vancouver vs. LA Kings NHL China games series, so flights were changed to the 24th. Which is one day past our expected stay, which caused hectic confusion trying to leave Beijing at the airport.
So here we go. There were multiple groups that went to the airport at different times. The group I was in consisted of 6 players; Cayley Mercer, Kelli Stack, Rachel Llanes, Taylor Marchin, Noora Raty, and myself. We were put on a strict sleeping schedule, which would acclimate us for the time change heading to Vancouver. We were only supposed to sleep the night before our flight from 2-4am and then stay awake until the bus left the hotel at 5:30am for the airport, then stay awake for the first flight to Korea and you were allowed to sleep the entire flight to Vancouver which was close to 9 hours. It would be 10am when we finally made it and you had to try your best to stay awake all day. If you stuck to the schedule it acclimated you very well. So like clockwork, that's what I did. I slept from 2-4am and then got on the bus heading to the airport. We got there and checked all our bags, everyone was so happy to head to Canada and get out of China for a couple months. We were walking to security and had to go through immigration checkpoint, which was a very long line, so we waited patiently and all of us went up to the window at the same time. One security officer after the next, they raised their right hand to get the attention of higher up officers. All of us looked at each other and wondered what was going on. We were all put into a waiting room, confused as to what was going to happen to us. After awhile an officer came in and told us we were not allowed on our flight due to our visas being expired by one day and the amount of time it would take to process for an extra stay would take awhile so therefore we missed our flight out. So here we go walking back to the ticketing gate, once we got there the girls who booked our flights, Sophia and Jojo, were torn up and felt terrible for what just happened to us.
Next step; booking new flights. Four of the girls decided to opt for flying in economy and booked a flight for 3:25pm. Rachel and myself wanted to stick with flying business to be able to sleep comfortably during the 9-hour flight. So we were told our flight was at 3:10pm, or so we thought. I had gotten an email on my new flight info and realized the flight was actually at 1:30pm. Panic mode. It was currently 11:45am and I knew we still had to get through security and immigration. As Rachel and I were panicking we noticed we were flying a completely different airline, which meant we had to take a bus to a different terminal. You can see where this travel day is starting to get very interesting. Rachel and I get to our new terminal to check in, and then we had to run to immigration, yes we were running. I had a thought of "we are going to get flagged again because the chances of our staff talking to this new airline about our visas was very slim." Rachel just told me to relax and pray that's not the case. As we walked up to the window at immigration I just had a terrible feeling. Sure enough deja vu, up goes his right hand and we were both flagged for the second time and told we would miss our flight. Not again!! Back on the bus we go to the main ticketing terminal.
We got back to our waiting area and the girls who opted for flying economy were just in the process of checking their bags again for the 3:25pm flight. At that time there were no remaining seats on this flight for Rachel and I to get on. So we were left with a total of 9 bags to check between the two of us, some were boxes of equipment that needed to go to Vancouver. As time went by, Sophia and Jojo were working their magic trying to find us another flight out. When the ticketing lady tells us that some passengers didn't check in to the 3:25 flight. So rushing to check in we got seats on this flight out. Once we got everything checked we ran to the immigration check in and fingers crossed we would get through because our extra day stay visa process should have been figured out by now. But guess what? Yes, you guessed it. Right hands go up, flagged for the third time and missed our flight. I remember sitting there with my head hanging low and I felt absolutely defeated for the day. Obviously neither of us were meant to leave Beijing that day. So once again, here we go making our way back to the ticketing gate, and on our way back someone stepped on my brand new white shoes. You can imagine how something so little made me absolutely furious because I was already so worked up from this day. Rachel and I went up to Sophia and Jojo and asked if we could try again tomorrow and regroup in the morning. Let me remind you, I hadn't slept much because I planned my sleep schedule around making that first flight. As we waited to book fights for the next morning, I fell asleep on a couple of chairs. I was so exhausted and stressed from this travel day. I guess you could say it all worked itself out because we were put up in a 5 star hotel through the airport and it was unbelievable. We got complimentary dinner and it may have been the best meal since I've left home.
Flight attempt #4. We woke up in the morning and tried again, our flight was at 8:10 and we already had our boarding passes so we went straight to immigration checkpoint. Praying today would go much better, that right hand was raised and we were flagged once more but we got there so early they were able to process the paperwork and let us on our flight. We got stamped documents warning us of our expired visas. If anything like this happens again, who knows what will happen to us.
And here's the cherry on top, once we landed in Vancouver, we lost one of our bags. Go figure.
~ Steph