Beaver Fever Friday – Womens Hockey – Lauren Bench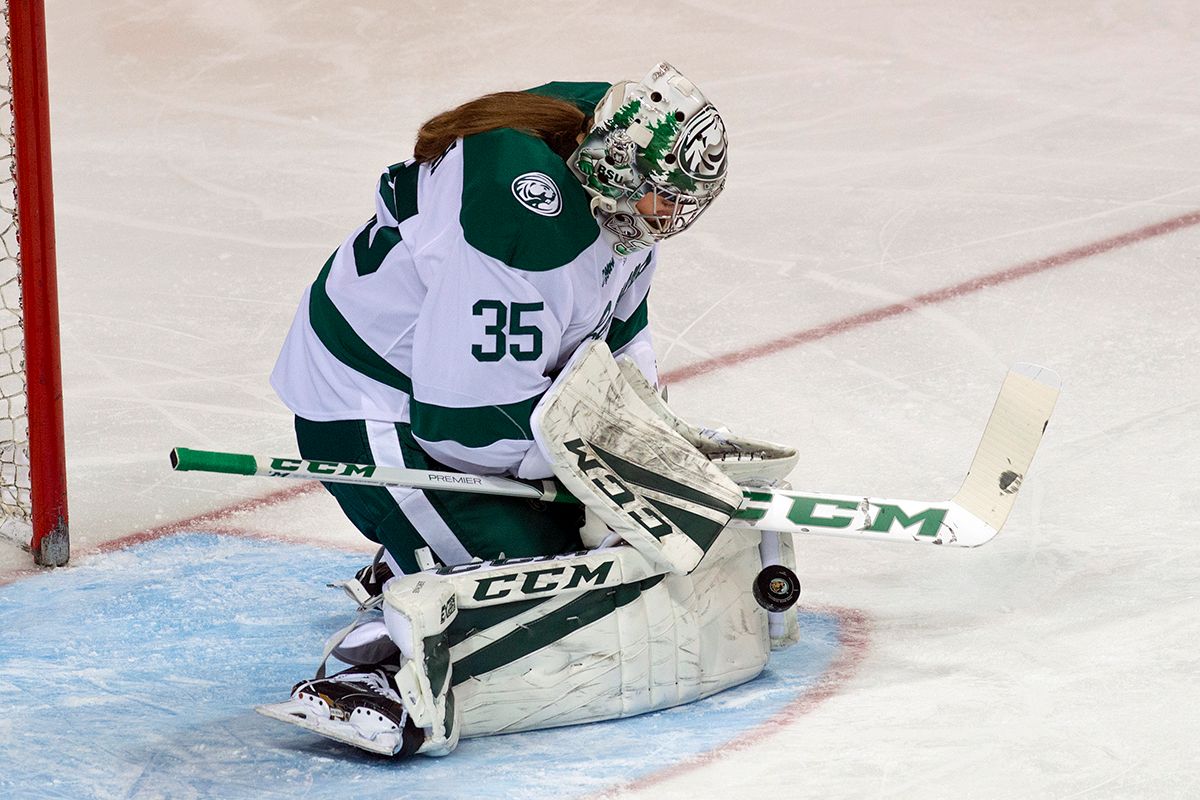 The Bemidji State University women's hockey team faces one of the top programs in Division I for its first road trip of the season in No. 2 Clarkson University. The Beavers (1-0-1, 0-0-0 WCHA) travel to Potsdam, N.Y., for a two-game series against the defending national champion Golden Knights (1-0-1, 0-0-0 ECAC), October 6-7.
The Beavers and Golden Knights will face-off for the first time in the two program's history. The Golden Knights were 2-2 against opponents from the Western Collegiate Hockey Association last season including defeating University of Wisconsin, 3-0, in the NCAA Frozen Four Championship Game. Head coach Jim Scanlan owns a 56-48-8 career record and is 1-0-0 against opponents from the Eastern College Athletic Conference previously defeating Rensselaer Polytechnic Institute in 2014-15. Clarkson head coach Mark Desrosiers boasts a 220-88-40 record during his nine seasons at the helm of the Golden Knights program.
Clarkson enters the weekend ranked second in the USCHO.com and USA Today/USA Hockey Magazine national polls after opening the season as the top-ranked team in the preseason poll. The weekend will be the first at home for the Golden Knights having opened the season on the road at Northeastern University last weekend. Clarkson and Northeastern skated to a 1-1 tie in the opening game of the series while the Golden Knights rebounded with a 5-1 win in game two. Clarkson was led by junior Loren Gabel who posted three points (2g-1a) during the series.
Clarkson returns 16 letterwinners from its national championship season and have added seven newcomers to its roster. The Golden Knights will need to replace its top two scorers from last season in Cayley Mercer and Genevieve Bannon. Mercer tied for the nation lead with 62 points (28g-34a) last season while Bannon followed with 53 points (15g-38a). Gabel has taken a leap forward to replace Mercer leading the team with three points (2g-1a) after tallying 42 points (22g-20a) in 2016-17. Freshman Elizabeth Giguere looks to be another key forward for the Golden Knights, posting two points (1g-1a) at Northestern. Senior Savannah Harmon is the Golden Knights top returning defenseman after posting 36 points (11g-25a) in 2016-17 and scored a goal at Northeastern.
The Golden Knights return one of the top goaltenders in Division I in senior Shea Tiley. Tiley led the nation in minutes played last season (2487:37), finished seventh in goals against average (1.58) and save percentage (.931) and posted a 28-4-5 record. Tiley started both games at Northeastern last weekend allowing two goals for a 0.96 GAA and made 55 saves for a .965 save percentage.