Beaver Fever Friday – Beaver Football – Christian Lunde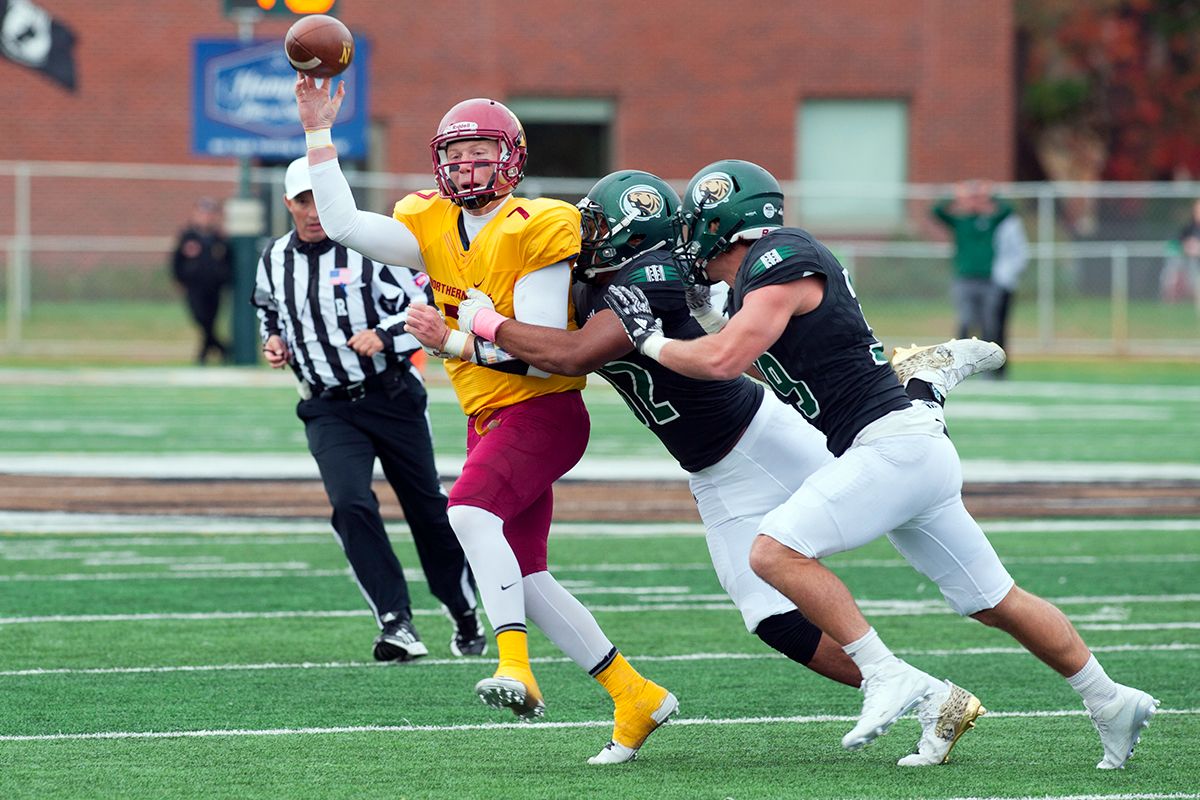 The @BSUBeavers football program wraps up a two-week road trip Saturday, Oct. 21 with a 2:30 p.m. game at Northern State University. The Beavers (5-2, 3-0 Northern Sun Intercollegiate Conference North) and Wolves (3-4, 2-1 NSIC North) head into the final half of the season from Swisher Field in Aberdeen, S.D.
The Series
The Beavers and Wolvers all-time series has been a tight one with BSU holding a slight lead, 20-19-1, since it began Sept. 27, 1957 in Bemidji, Minn. Bemidji State has won the last two games by a margin of 10 points per game, including a 31-28 overtime win last season in Bemidji.
Head Coach Brent Bolte, in his second season as BSU's head coach, is 14-5 since taking the reins of the program. His 14 wins since 2016 are the most for any BSU head coach in their first 19 games. Bolte has helped the Beavers average 46.3 points per game at home during his second year as head coach.
The Teams
Bemidji State: BSU continued to dominate its all-time series with another win against Minot State University Saturday, Oct. 14 in Minot, N.D. Bemidji State took the first leg of its two-game road trip with a 40-14 victory, extending the BSU's record to 18-1 against MiSU all-time. The running game again led the Beavers to a win with a season-high 343 yards on the ground, averaging 7.5 per carry as a team and adding three touchdowns. Bemidji State opened the game with 19 first-quarter points before heading into halftime with a 26-14 lead. The "Gang Green" defense improved in the second half to shut out Minot State and force two turnover on downs with the Beavers in the red zone. The BSU defense totaled eight tackles for a loss, two sacks, one fumble recovery and four pass breakups.
Junior running back Andrew Lackowski led the charge on the ground with his second consecutive game with at least 150 rushing yards, finishing the day with a career-high 166 on 19 carries for an average of 8.7 yards per touch. Saturday's game was Lackowski's first without a touchdown since the season opener at Winona State University. Senior running back Tahi Nomane flirted with another 100-yard rushing game, finishing the day with 96 yards on 13 carries while adding two touchdowns. Senior quarterback Jordan Hein totaled 184 yards through the air and on the ground, including a 42-yard touchdown run to begin scoring for the Beavers. Hein added three passing touchdowns, finding sophomore full back Matt Gross twice and senior wide receiver Christian Lunde, all from within the five-yard line.
The "Gang Green" defense has forced 20 three-and-outs over its last three games, seven more than the first four games combined, after recording four on six total punts against Minot State. The second half shutout was led by junior corner back Gunner Olszewski, who led BSU with a season-high 10 tackles and 1.5 tackles for a loss. Linebackers Niko Daniello and Gabe Ames followed with eight tackles each, while Ames added one tackle for a loss of seven yards. Senior safety Evan Tompkins recovered BSU's only turnover of the day, a fumble that set up the offense at the MiSU 8.