Beaver Football Gameday – Game 9 – October 26, 2017 vs Minnesota Duluth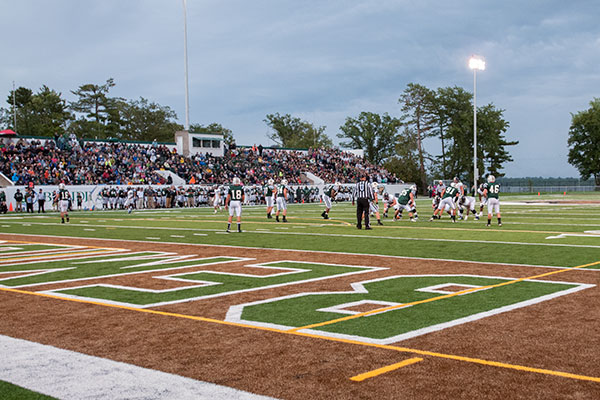 The Bemidji State football team looked to win their sixth straight game in the snow and wind at Chet Anderson Stadium. Gametime temperature was 32, with a wind chill of 14. The wind blew from the north at 20 miles per hour all night, and the snow never let up.
Either did the Minnesota Duluth defense. For the third straight game, the Bulldogs shutout their opponent, winning 17-0 Thursday night.
BSU could only muster 50 yards of offense the entire night. Duluth ran for over 220 yards.
UMD improves to 7-2 with the win. BSU falls to 6-3.
Pregame Open Pregame Open
Bemidji State Coach Brent Bolte Pregame Bemidji State Coach Brent Bolte Pregame
Alex Burgess Player Profile BSU Player Profile
Bucky's Legends for October 26, 2017 Bucky's Legends
| | | | | | |
| --- | --- | --- | --- | --- | --- |
| | 1st | 2nd | 3rd | 4th | Total |
| UMD | 7 | 7 | 0 | 3 | 17 |
| BSU | 0 | 0 | 0 | 0 | 0 |
First Quarter
07:17 Anthony Wood 2 Yd Run (Branger kick)
Second Quarter
12:00 Anthony Wood 16 Yd Run (Branger kick)
Third Quarter
No Scoring
Fourth Quarter
14:18 Dan Branger 22 Yd field goal
Other Highlights
Highlight Trysten Ross Fumble Recovery
Highlight Brent Bolte Postgame