Beaver Fever Friday – Jordan Hein – Football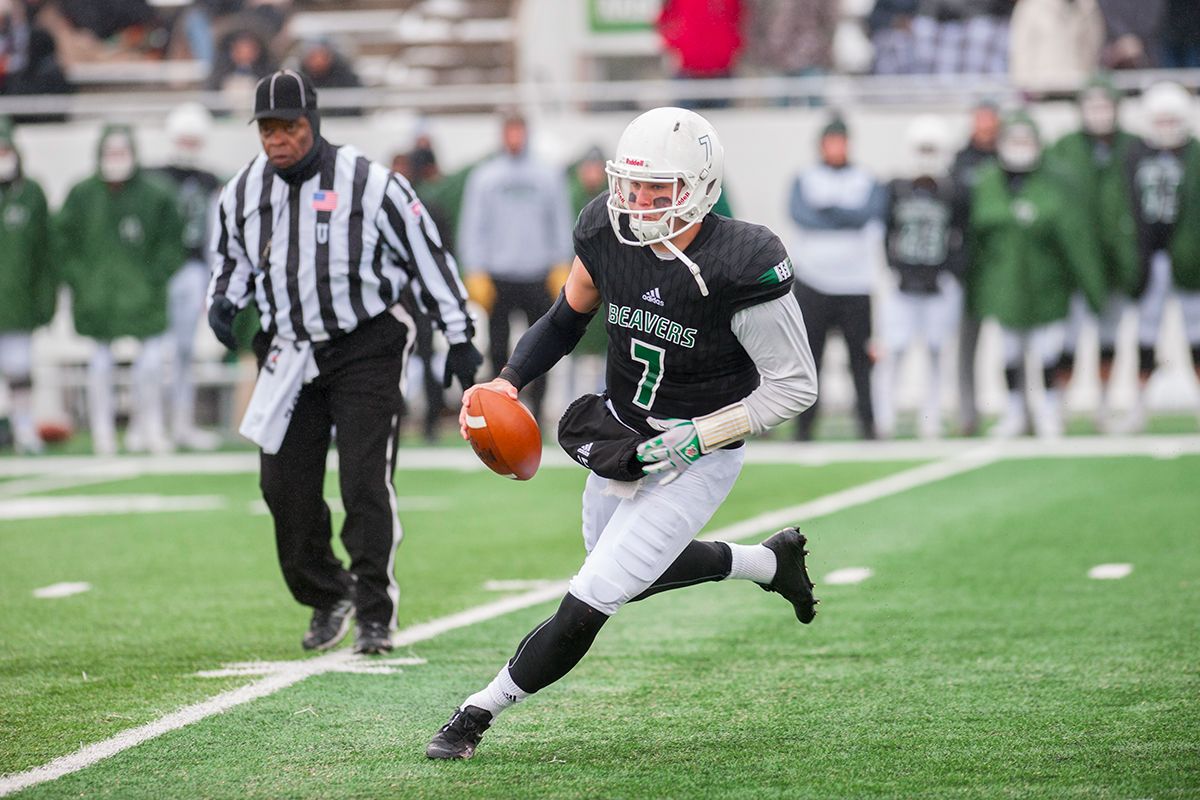 The Bemidji State University football program finishes the 2017 regular season with the 84th meeting all-time against Minnesota State University Moorhead. The Beavers and Dragons play for the "Battle Axe" rivalry at 1 p.m. Saturday, Nov. 11 at SCHEELS Field at Nemzek Stadium in Moorhead, Minn.
MSU Moorhead leads the all-time record against Bemidji State, 46-34-3, including three wins in the last four meetings. The Beavers went on a streak of 12-1 between 2000 and 2012 against the Dragons. BSU won its last game against MSUM in Moorhead, 42-28, led by a second-half shutout by the "Gang Green" defense.
Head Coach Brent Bolte, in his second season as BSU's head coach, is 16-6 since taking the reins of the program. His 16 wins since 2016 are the most for any BSU head coach in their first 21 games. Bolte has helped the Beavers average 39.9 points per game at home during his tenure as head coach.
The Beavers overcame an early hole Saturday, Nov. 4 to take down the Huskies of St. Cloud State and remain in second place of the Northern Sun Intercollegiate Conference North Division. BSU gave away three turnovers in the first quarter, the second of which led to SCSU's first touchdown of the game to take a 7-0 lead. A failed fake field goal attempt and another turnover on downs gave up points for SCSU and led to a 10-play, 79-yard drive for BSU to tie the game at 7-7. The Huskies opened the second half with a 13-play, 78-yard drive that ultimately led to three points and their final lead of the game. The second of SCSU's turnovers on the day allowed BSU to drive and score on back-to-back possessions in the third and fourth quarters to take the game-winning lead, 17-10.
MSU Moorhead: The Dragons won their third straight game with a 22-16 win over the Beavers of Minot State. It is the fifth consecutive year MSUM has had at least a three-game winning streak. Sophomore running back Herman Gray rushed for 78 yards and two scores, including the game-winning touchdown in the fourth quarter. Sophomore running back Jonathan Kabambi also added 90 yards on the ground. Freshman quarterback Jakup Sinani threw for 242 yards and rushed for 34 yards with one touchdown. Senior wide receiver Hunter Braaten totaled a game-high nine catches for 95 yards.