Beaver Fever Friday – Ian Janco – Mens Hockey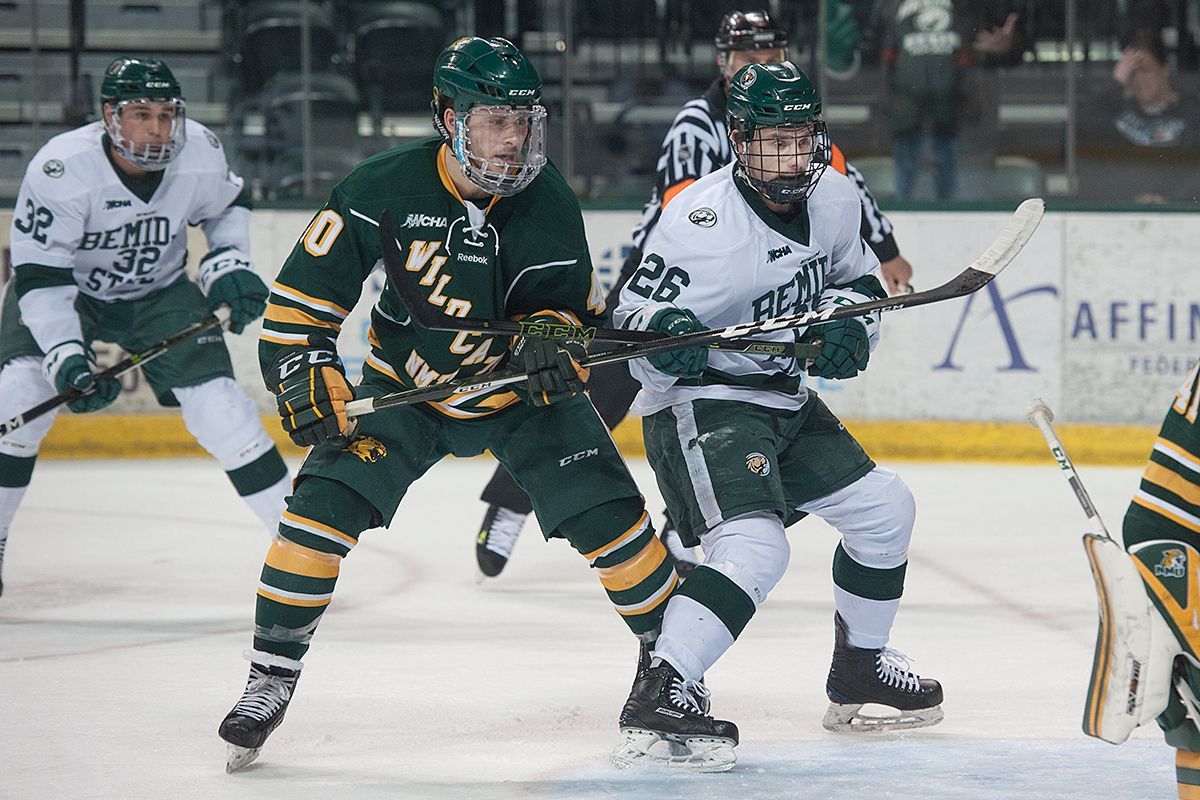 The Bemidji State University men's ice hockey team (5-6-3; 2-4-2-2 WCHA) shifts its focus back to Western Collegiate Hockey Association play this weekend as it hosts Northern Michigan University (8-8-0; 6-4-0-0 WCHA). With both teams looking to reverse recent losing stretches, the series could stand as a pivotal moment for both, win or lose.
The Beavers open the series seeking their first league win since a 3-2 victory in Fairbanks, Alaska, November 4. Since that time BSU is 1-4-1 and is 0-3-1 in WCHA play, which includes a 3-1 loss and 3-3 draw and shoot out win last weekend at Bowling Green State University. Third-Team All-WCHA forward, senior Gerry Fitzgerald continues to lead the team in scoring, averaging 1.00 point per game (4g-10a) in 14 appearances this season. Senior Kyle Bauman, who is second on the team with 13 points and a team-high six goals, is one of the Beavers' hottest players after logging three assists in BSU's last three games. He is joined by rookie Aaron Miller, who has more than doubled his career scoring total with three assists in BSU's last three outings. CCM All-America West First Team goaltender Michael Bitzer has backstopped a penalty-kill unit that is tied with Ohio State for the nation's lead through the first 10 weeks of the season. The team has snuffed out 43 of its opponents' 47 man advantage opportunities (.915). Bitzer has started in the Beavers' net for 13-of-14 games and is 5-5-3 with a .898 save percentage and a 2.73 goals against average.
Northern Michigan arrives at Sanford Center toting an 8-8-0 overall record and 6-4-0-0 mark in WCHA play under first-year head coach Grant Potulny. The Wildcats split with the University of Alabama-Huntsville (3-1 and 2-3) last weekend, but has dropped four of their last five games. While NMU ranks near the bottom of the league in offensive output (2.40 GPG), the Wildcats own the stingiest defense. Led by junior goaltender Atte Tolvanen, who is 6-4-0 on the season with a .945 save percentage and a 1.68 goals against average in six WCHA games, the Wildcats have surrendered a league-low 2.10 goals per WCHA game this season. The NMU offense is led by a veteran group of forwards. Senior Robbie Payne is the team's top scorer with 12 goals and 17 points (12g-5a). Junior Adam Rockwood has a team-high 11 assists and is third on the team with 13 points (2g-11a).
Despite combining for over 3,400 games and over 1,800 victories dating back to the 1940s, the Beavers and Wildcats have gone head-to-head on just 19 occasions and the first meeting came in 2009. Bemidji State owns an 11-5-3 edge in the all-time series, which includes a sweep of the Wildcats at Sanford Center (2-1 and 5-2) during the 2016-17 regular season and defeated NMU 2-1 (3-0, 2-4, 3-1) to advance to the semifinal round of the 2017 WCHA Playoffs. BSU opens the series unbeaten by the Wildcats in 11 of the last 13 meetings (9-2-2) between the teams.