Beaver Fever Friday – Jordan Heller – Mens Hockey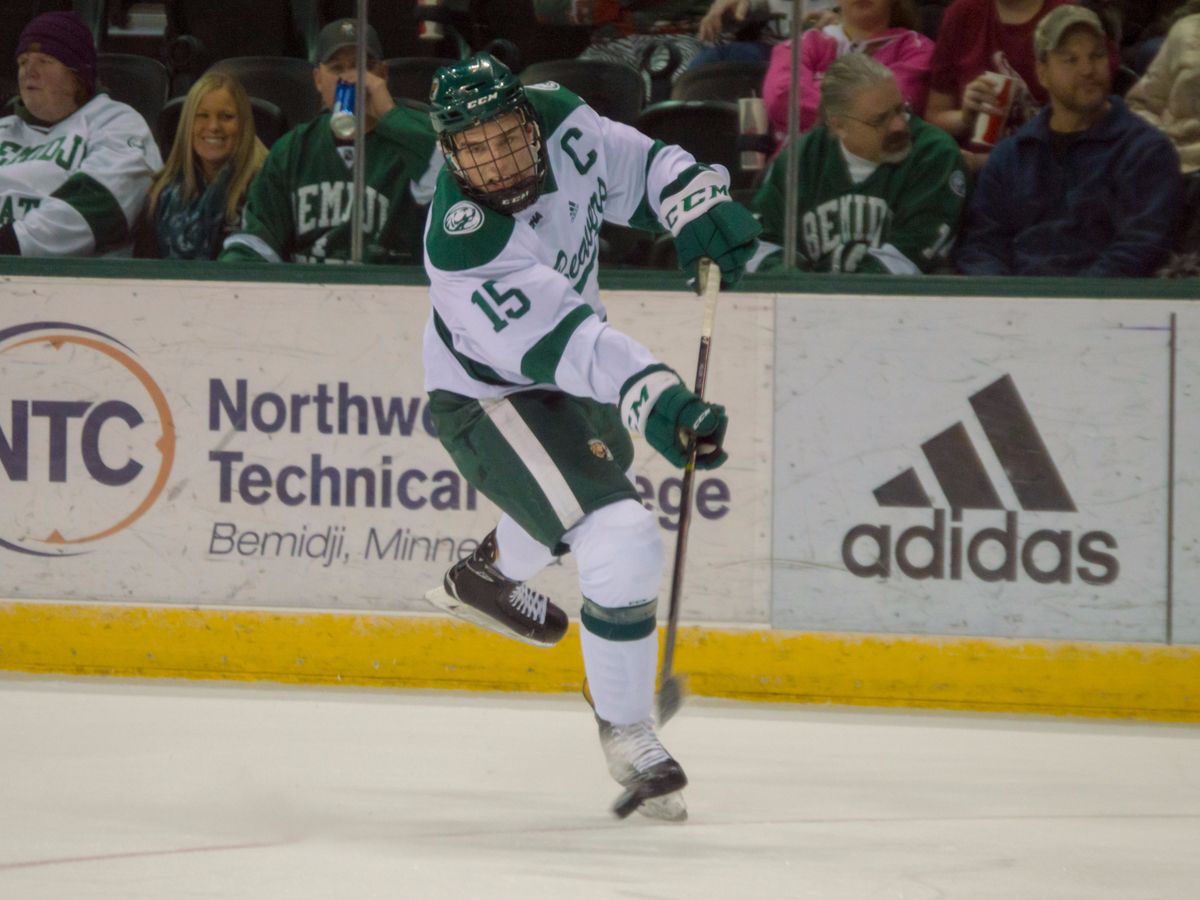 The Bemidji State University men's ice hockey team (7-6-5; 4-4-4-2 WCHA) returns to action this weekend to continue Western Collegiate Hockey Association play as it hosts the University of Alabama-Huntsville (2-6-2; 5-7-2-1 WCHA). Unbeaten in their last five contests (2-0-3), the Beavers' look to close out the 2017 calendar year riding a string of seven games without a loss.
The Beavers earned a series sweep of the University of Alaska Anchorage prior to the holiday break to establish its longest unbeaten streak since a 7-0-1 run from Oct. 28-Nov. 18 of last season. The nine-goal weekend versus the Seawolves stood as a high-water mark for BSU, led by Jay Dickman and Kyle Buaman, who each recorded five points in the series. With five assists, Bauman overtook Gerry Fitzgerald for the team's scoring lead with 19 points (6g-13a) in 18 appearances this season. After logging his second hat trick of the season, Dickman leads BSU in goal-scoring with a career-high 10. Linemate Myles Fitzgerald has been a catalyst to BSU's scoring since returning to the line up Dec. 8. Fitzgerald has scored in the Beavers' last four contests (4g-1a) and has a three-game goal-scoring streak. Senior goaltender Michael Bitzer has backstopped a penalty-kill unit that is third in the nation. The team has snuffed out 53 of its opponents' 58 man advantage opportunities (.914) and 35-of-39 in WCHA play to lead the league (.923). Bitzer has started in the Beavers' net for 17-of-18 games and is 7-5-5 with a .906 save percentage, a 2.41 goals against average and three shutouts.
The Chargers arrive in Bemidji, Minn., toting a 6-12-2 overall record and are 5-7-2-1 in WCHA play. After being swept my Minnesota State University, Mankato in its last action, Dec. 15-16, UAH is without a win in its last four (0-3-1) and seeks its first victory since Dec. 2. The Charger attack is averaging 2.71 goals per game and is led by Josh Kestner, who has 16 points (12g-4a) and includes 12 points (10g-3a) in 10 WCHA contests. Tyler Poulsen has a team-high 10 assists and is second on the UAH roster with 15 points (5g-10a). While the Chargers' goaltenders have shared netminding duties this season, senior Jordan Uhelski has made an appearance in 16-of-20 games for UAH. He is 6-8-2 with a 3.00 goals against average and .906 save percentage.