Beaver Men's Hockey Gameday – Game 21 – January 5, 2018 – at Lake Superior State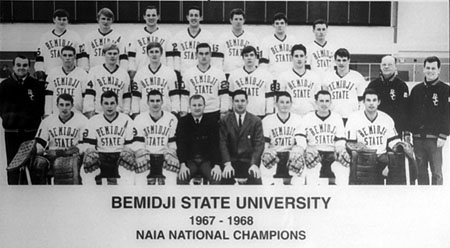 Bemidji State looks for its fifth straight win as they will travel to longtime rival Lake Superior State. BSU and LSSU played for four National Championships in the 60's and 70's. BSU won three of those games.
Our Benusa Pregame Show tonight starts at 5:30pm, with the faceoff set for 6:07pm.
Pregame Open Pregame Open
Tom Serratore Pregame Coaches Pregame
Zach Whitecloud Pregame Pregame
Bemidji State Lines
Adam Brady – Gerry Fitzgerald – Charlie Combs
Jay Dickman – Kyle Bauman – Dylan McCrory
Leo Fitzgerald – Brendan Harris – Aarron Miller
Ethan Somoza – T.J. Roo – Jordan Heller
Tommy Muck – Dan Billett
Justin Baudry – Zach Whitecloud
Dillon Eichstadt – Brad Johnson
Michael Bitzer
Jack Burgart
Opponent Lines
Anthony Nellis – J.T. Henke – Ian Johnston
Gage Torrel – Hampus Erikkson – Jake Hand
Max Humitz – Diego Cuglietta – Brayden Gelsinger
Aidan Wright – Alexandro Ambrosio – Chase Gamelin
Ryan Renz – Tyler Anderson
Steven Ruggiero – Kyle Chatham
Lukas Kaelble – Collin Saccoman
Nick Kossoff
Mareks Mitens
Beaver Radio Network Ottertail Power Three Stars
1 – Michael Bitzer
2 – Dylan McCrory
3 – Tommy Muck
Tom Serratore Postgame Tom Serratore Postgame
Listen To / Download Whole Game

Boxscore provided by http://collegehockeystats.net
College Hockey Box Score (Final)
Bemidji State at Lake Superior State
Friday, January 5, 2018

| | | | | |
| --- | --- | --- | --- | --- |
| Referees: | Ryan Gordon | | Game Start: | 7:07 |
| | Mike Forys | | Game End: | 9:27 |
| Linesmen: | Eric Froberg | | Game Length: | 2:20 |
| | Paul Tunison | | Attendance: | 893 |
| | | | | |
| --- | --- | --- | --- | --- |
| Scoring | 1st | 2nd | 3rd | Final |
| Bemidji State | 2 | 0 | 1 | 3 |
| Lake Superior State | 0 | 0 | 0 | 0 |

| | | | | |
| --- | --- | --- | --- | --- |
| Shots on Goal | 1st | 2nd | 3rd | SOG |
| Bemidji State | 10 | 9 | 6 | 25 |
| Lake Superior State | 5 | 5 | 11 | 21 |

| | | | | |
| --- | --- | --- | --- | --- |
| | PP | PP % | PIM | SHGF |
| Bemidji State | 1/5 | .200 | 4/8 | 0 |
| Lake Superior State | 0/2 | .000 | 6/12 | 0 |
| | | | | | | | | | |
| --- | --- | --- | --- | --- | --- | --- | --- | --- | --- |
| # | Prd | Time | Team | Score | Type | Scored By | Assists | Offense On Ice | Defense On Ice |
| | 1st | 1:04 | BMJ | 1-0 | EV GW | Dylan McCrory (1) | Tommy Muck/4, Kyle Bauman/15 | 12,14,2,3,6,G1 | 29,24,15,6,23,G33 |
| | 1st | 11:03 | BMJ | 2-0 | PP | Charlie Combs (7) | Zach Whitecloud/9, Adam Brady/8 | 11,32,27,21,6,G1 | 29,8,12,27,G33 |
| | 3rd | 18:14 | BMJ | 3-0 | EV EN | Gerry Fitzgerald (6) | Adam Brady/9 | 21,27,15,3,2,G1 | 6,4,21,11,9,7 |
##
Bemidji State
G
A
P
PIM
SOG
+/-
2
Dan Billett
0
0
0
0/0
4
+2
3
Tommy Muck
0
1
1
0/0
3
+2
6
Jay Dickman
0
0
0
0/0
1
+1
7
T.J. Roo
0
0
0
0/0
0
E
8
Brendan Harris
0
0
0
0/0
1
E
9
Ethan Somoza
0
0
0
0/0
0
E
11
Charlie Combs
1
0
1
1/2
3
E
12
Dylan McCrory
1
0
1
0/0
2
+1
14
Kyle Bauman
0
1
1
0/0
2
+1
15
Jordan Heller
0
0
0
0/0
2
+1
16
Aaron Miller
0
0
0
1/2
1
E
18
Brad Johnson
0
0
0
0/0
0
E
19
Leo Fitzgerald
0
0
0
0/0
0
E
20
Dillon Eichstadt
0
0
0
0/0
0
E
21
Gerry Fitzgerald
1
0
1
0/0
2
+1
27
Adam Brady
0
2
2
0/0
3
+1
29
Justin Baudry
0
0
0
1/2
0
E
32
Zach Whitecloud
0
1
1
0/0
1
E
1
G Michael Bitzer
0
0
0
0/0
0
+2
30
G Jack Burgart
Did Not Play
Bench
1/2
Bemidji State Totals
3
5
8
4/8
25
+2

##
Lake Superior State
G
A
P
PIM
SOG
+/-
2
Ryan Renz
0
0
0
0/0
0
E
4
Tyler Anderson
0
0
0
1/2
3
-1
6
Lukas Kaelble
0
0
0
0/0
1
-2
7
J.T. Henke
0
0
0
0/0
1
-1
8
Diego Cuglietta
0
0
0
0/0
2
E
9
Alexandro Ambrosio
0
0
0
0/0
0
-1
11
Brayden Gelsinger
0
0
0
2/4
6
-1
12
Kyle Chatham
0
0
0
0/0
1
E
13
Ian Johnston
0
0
0
0/0
1
E
15
Jake Hand
0
0
0
0/0
1
-1
17
Chase Gamelin
0
0
0
1/2
0
E
19
Anthony Nellis
0
0
0
0/0
0
E
21
Max Humitz
0
0
0
0/0
1
-1
22
Aidan Wright
0
0
0
0/0
0
E
23
Collin Saccoman
0
0
0
1/2
1
-1
24
Hampus Eriksson
0
0
0
0/0
1
-1
27
Steven Ruggiero
0
0
0
0/0
0
E
29
Gage Torrel
0
0
0
0/0
2
-1
30
G Mareks Mitens
Did Not Play
33
G Nick Kossoff
0
0
0
0/0
0
-1
Bench
1/2
Lake Superior State Totals
0
0
0
6/12
21
-2

##
Goaltending
MIN
GA
1
2
3
Saves
1
Michael Bitzer (W, 10-5-5)
59:42
0
5
5
11
21
Empty Net
0:18
0

##
Goaltending
MIN
GA
1
2
3
Saves
33
Nick Kossoff (L, 4-7-2)
59:46
2
8
9
5
22
Empty Net
0:14
1
| | | | | | |
| --- | --- | --- | --- | --- | --- |
| Prd | Player | Team | Min | Infraction | Time |
| 1st | Aaron Miller | BMJ | 2 | Hooking | 8:50 |
| 1st | Collin Saccoman | LSS | 2 | Hooking | 10:42 |
| 2nd | Chase Gamelin | LSS | 2 | Tripping | 9:13 |
| 2nd | Bench | LSS | 2 | Too Many Players | 10:00 |
| 2nd | Charlie Combs | BMJ | 2 | Goaltender Interference | 11:00 |

| | | | | | |
| --- | --- | --- | --- | --- | --- |
| Prd | Player | Team | Min | Infraction | Time |
| 2nd | Justin Baudry | BMJ | 2 | Hooking | 15:41 |
| 2nd | Brayden Gelsinger | LSS | 2 | Holding | 15:41 |
| 3rd | Brayden Gelsinger | LSS | 2 | Tripping | 14:58 |
| 3rd | Tyler Anderson | LSS | 2 | Cross-Checking | 18:14 |
| 3rd | Bench | BMJ | 2 | Too Many Players | 19:27 |
New Records: Bemidji State 10-6-5, Lake Superior State 5-14-4