Beaver Men's Hockey Gameday – Game 22 – January 6, 2018 – at Lake Superior State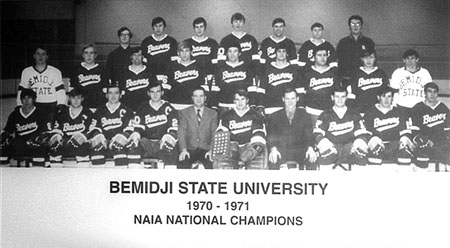 Bemidji State looks for its third straight series sweep in game two of the WCHA series at Lake Superior State tonight.
BSU won 3-0 last night. Michael Bitzer is now tied for 2nd all-time in the NCAA with 20 career shutouts.
Pregame Open Pregame Open
Tom Serratore Pregame Coaches Pregame
Tommy Muck Pregame Pregame
Bucky's Legends #1 Bucky
Bucky's Legends #2 Bucky
Bemidji State Lines
Adam Brady – Gerry Fitzgerald – Charlie Combs
Jay Dickman – Kyle Bauman –
Leo Fitzgerald – Brendan Harris – Aarron Miller
Ethan Somoza – T.J. Roo – Jordan Heller
Tommy Muck – Dan Billett
Justin Baudry – Zach Whitecloud
Dillon Eichstadt – Carter Struthers
Michael Bitzer
Henry Johnson
Opponent Lines
Max Humitz – Diego Cuglietta – Brayden Gelsinger
Anthony Nellis – J.T. Henke – Chase Gamelin
Gage Torrel – Hampus Erikkson – Jake Hand
Bryan Basilico – Alexandro Abrosio – Brendan McKay
Lukas Kaelble – Collin Saccoman
Steven Ruggiero – Kyle Chatham
William Riedell – Tyler Anderson
Nick Kossoff
Mareks Mitens
Beaver Radio Network Ottertail Power Three Stars
1 – Kyle Bauman
2 – Gerry Fitzgerald
3 – Jake Hand
Tom Serratore Postgame Tom Serratore Postgame
Listen To / Download Whole Game

Boxscore provided by http://collegehockeystats.net
College Hockey Box Score (Final)
Bemidji State at Lake Superior State
Saturday, January 6, 2018

| | | | | |
| --- | --- | --- | --- | --- |
| Referees: | Ryan Gordon | | Game Start: | 7:07 |
| | Mike Forys | | Game End: | 9:30 |
| Linesmen: | Eric Froberg | | Game Length: | 2:23 |
| | Paul Tunison | | Attendance: | 803 |
| | | | | |
| --- | --- | --- | --- | --- |
| Scoring | 1st | 2nd | 3rd | Final |
| Bemidji State | 1 | 5 | 0 | 6 |
| Lake Superior State | 2 | 1 | 0 | 3 |

| | | | | |
| --- | --- | --- | --- | --- |
| Shots on Goal | 1st | 2nd | 3rd | SOG |
| Bemidji State | 16 | 7 | 11 | 34 |
| Lake Superior State | 8 | 5 | 5 | 18 |

| | | | | |
| --- | --- | --- | --- | --- |
| | PP | PP % | PIM | SHGF |
| Bemidji State | 2/5 | .400 | 7/14 | 2 |
| Lake Superior State | 1/7 | .143 | 5/10 | 0 |
| | | | | | | | | | |
| --- | --- | --- | --- | --- | --- | --- | --- | --- | --- |
| # | Prd | Time | Team | Score | Type | Scored By | Assists | Offense On Ice | Defense On Ice |
| | 1st | 1:13 | LSS | 1-0 | EV | Jake Hand (5) | Hampus Eriksson/4, Collin Saccoman/2 | 15,16,23,8,29,G33 | 8,16,15,29,3,G1 |
| | 1st | 4:09 | LSS | 2-0 | EV | Jake Hand (6) | Lukas Kaelble/4, Gage Torrel/5 | 15,6,29,16,23,G33 | 2,3,16,8,19,G1 |
| | 1st | 9:36 | BMJ | 1-2 | PP | Justin Baudry (5) | Aaron Miller/7, Kyle Bauman/16 | 29,16,14,8,12,G1 | 4,27,19,21,G33 |
| | 2nd | 6:26 | BMJ | 2-2 | SH | Kyle Bauman (7) | T.J. Roo/4 | 14,7,29,3,G1 | 8,15,16,19,29,G33 |
| | 2nd | 10:41 | BMJ | 3-2 | EV | T.J. Roo (2) | Jordan Heller/6, Ethan Somoza/2 | 7,15,9,29,32,G1 | 6,8,11,21,23,G33 |
| | 2nd | 11:54 | BMJ | 4-2 | SH GW | Kyle Bauman (8) | Ethan Somoza/3 | 14,9,2,3,G1 | 4,8,15,16,29,G30 |
| | 2nd | 12:32 | LSS | 3-4 | PP | Max Humitz (10) | Lukas Kaelble/5, J.T. Henke/16 | 21,6,7,19,23,G30 | 7,15,29,32,G1 |
| | 2nd | 14:21 | BMJ | 5-3 | EV | Charlie Combs (8) | Gerry Fitzgerald/16, Adam Brady/10 | 11,21,27,20,4,G1 | 3,4,15,16,29,G30 |
| | 2nd | 19:41 | BMJ | 6-3 | PP | Zach Whitecloud (3) | Gerry Fitzgerald/17, Jay Dickman/6 | 32,21,6,11,27,G1 | 6,8,23,21,G30 |
##
Bemidji State
G
A
P
PIM
SOG
+/-
2
Dan Billett
0
0
0
0/0
0
E
3
Tommy Muck
0
0
0
0/0
2
E
4
Carter Struthers
0
0
0
1/2
1
+1
6
Jay Dickman
0
1
1
0/0
1
E
7
T.J. Roo
1
1
2
0/0
2
+2
8
Brendan Harris
0
0
0
1/2
1
-2
9
Ethan Somoza
0
2
2
0/0
2
+2
11
Charlie Combs
1
0
1
0/0
5
+1
12
Dylan McCrory
0
0
0
1/2
0
E
14
Kyle Bauman
2
1
3
0/0
6
+2
15
Jordan Heller
0
1
1
0/0
1
E
16
Aaron Miller
0
1
1
0/0
2
-2
19
Leo Fitzgerald
0
0
0
1/2
1
-1
20
Dillon Eichstadt
0
0
0
1/2
1
+1
21
Gerry Fitzgerald
0
2
2
0/0
4
+1
27
Adam Brady
0
1
1
0/0
3
+1
29
Justin Baudry
1
0
1
0/0
1
+1
32
Zach Whitecloud
1
0
1
0/0
1
+1
1
G Michael Bitzer
0
0
0
0/0
0
+2
35
G Henry Johnson
Did Not Play
Bench
2/4
Bemidji State Totals
6
10
16
7/14
34
+2

##
Lake Superior State
G
A
P
PIM
SOG
+/-
3
William Riedell
0
0
0
0/0
0
-1
4
Tyler Anderson
0
0
0
2/4
0
-2
6
Lukas Kaelble
0
2
2
0/0
0
E
7
J.T. Henke
0
1
1
2/4
2
E
8
Diego Cuglietta
0
0
0
0/0
0
-2
9
Alexandro Ambrosio
0
0
0
0/0
0
E
10
Brendan McKay
0
0
0
0/0
0
E
11
Brayden Gelsinger
0
0
0
0/0
2
-1
12
Kyle Chatham
0
0
0
1/2
0
E
15
Jake Hand
2
0
2
0/0
4
-1
16
Hampus Eriksson
0
1
1
0/0
1
-1
17
Chase Gamelin
0
0
0
0/0
1
E
18
Bryan Basilico
0
0
0
0/0
3
E
19
Anthony Nellis
0
0
0
0/0
0
-1
21
Max Humitz
1
0
1
0/0
4
-1
23
Collin Saccoman
0
1
1
0/0
1
+1
27
Steven Ruggiero
0
0
0
0/0
0
E
29
Gage Torrel
0
1
1
0/0
0
-1
30
G Mareks Mitens
0
0
0
0/0
0
-2
33
G Nick Kossoff
0
0
0
0/0
0
E
Lake Superior State Totals
3
6
9
5/10
18
-2

| | | | | | | | |
| --- | --- | --- | --- | --- | --- | --- | --- |
| ## | Goaltending | MIN | GA | 1 | 2 | 3 | Saves |
| 1 | Michael Bitzer (W, 11-5-5) | 60:00 | 3 | 6 | 4 | 5 | 15 |

##
Goaltending
MIN
GA
1
2
3
Saves
33
Nick Kossoff
30:41
3
15
2
0
17
30
Mareks Mitens (L, 1-8-2)
28:45
3
0
0
11
11
Empty Net
0:34
0
| | | | | | |
| --- | --- | --- | --- | --- | --- |
| Prd | Player | Team | Min | Infraction | Time |
| 1st | Tyler Anderson | LSS | 2 | Hooking | 5:13 |
| 1st | Kyle Chatham | LSS | 2 | Cross-Checking | 8:01 |
| 1st | Bench | BMJ | 2 | Too Many Players | 14:16 |
| 2nd | Tyler Anderson | LSS | 2 | Interference | 2:20 |
| 2nd | Carter Struthers | BMJ | 2 | Slashing | 5:30 |
| 2nd | Dillon Eichstadt | BMJ | 2 | Holding | 11:42 |

| | | | | | |
| --- | --- | --- | --- | --- | --- |
| Prd | Player | Team | Min | Infraction | Time |
| 2nd | Leo Fitzgerald | BMJ | 2 | Hooking | 15:23 |
| 2nd | J.T. Henke | LSS | 2 | Tripping | 18:53 |
| 3rd | Dylan McCrory | BMJ | 2 | Hooking | 4:32 |
| 3rd | J.T. Henke | LSS | 2 | Slashing | 9:01 |
| 3rd | Bench | BMJ | 2 | Too Many Players | 11:48 |
| 3rd | Brendan Harris | BMJ | 2 | Hooking | 19:26 |
New Records: Bemidji State 11-6-5, Lake Superior State 5-15-4