Regional Rivals clash in home-and-home series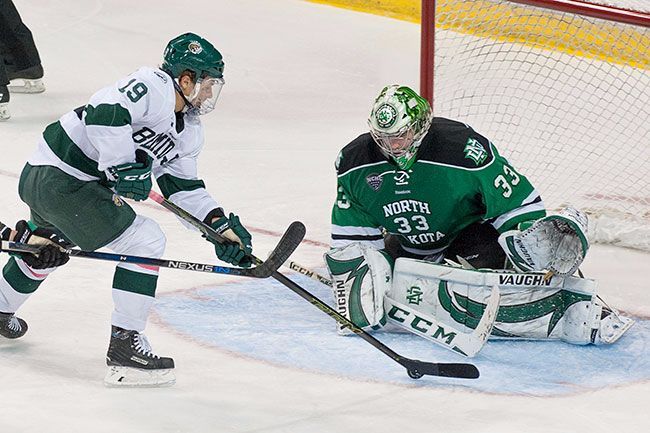 The Bemidji State University men's ice hockey team (11-6-5; 8-4-4-2 WCHA) returns to Sanford Center for its only home game in the month of January, Friday, as it hosts the University of North Dakota (2-6-2; 5-7-2-1 WCHA). Unbeaten in their last nine contests (6-0-3), the Beavers seek their first win over the Fighting Hawks since 2014.
The Beavers earned a series sweep of Lake Superior State Univerdity last weekend to record its fifth and sixth consecutive victories–coming within one of a BSU Division I-era record. The nine-goal weekend versus the Lakers matched a season-high for BSU, led by WCHA Offensive Player of the Week, Kyle Bauman, who recorded four points (2g-2a) in the series. With a career-high 24 points (8g-16a) Bauman leads the Beavers in scoring, which includes a career-best 16 assists, while Jay Dickman has a team- and career-high 11 goals and Gerry Fitzgerald has surpassed his career-best assist total with 17. Fitzgerald and Adam Brady have played a big role in BSU's recent success. In the last five games, Fitzgerald has nine points (2g-7a) and Brady has accounted for eight (3g-5a). Since Dec. 2, senior goaltender Michael Bitzer is 6-0-3 with a 1.51 goals against average and a .930 save percentage. He has backstopped a penalty-kill unit that enters the weekend second in the country snuffing out 65 of its opponents' 72 man advantage opportunities (.903). Bitzer has started in the Beavers' net for 21-of-22 games and is 11-5-5 with a .911 save percentage, a 2.19 goals against average and is second among all NCAA Division I goaltenders with four shutouts.
The Fighting Hawks arrive in Bemidji, Minn., toting an identical 11-6-5 record and share the top spot in the National Collegiate Hockey Conference standings with St. Cloud State at 6-4-2-2. Ranked 7/8 in the national polls this week, UND split with Omaha a week ago, bouncing back from a 4-1 loss to blow the Mavericks out, 7-0, in the finale. The Fighting Hawk attack is averaging 2.91 goals per game and is led by defender Christian Wolanin, who has 18 points (6g-12a) and includes team-high totals for goals (6) and assists (12). Forward Nick Jones also has six goals and nine assists for 15 points, while Shane Gersich has poured in six goals and eight assists. While the UND goaltenders have shared netminding duties this season, senior Cam Johnson has appeared in 13-of-22 games and has accounted for seven of the Fighting Hawks wins. He is 7-4-2 overall with a 2.00 goal against average and a .909 save percentage.