Beaver Men's Hockey Gameday – Game 23 – January 12, 2018 – vs North Dakota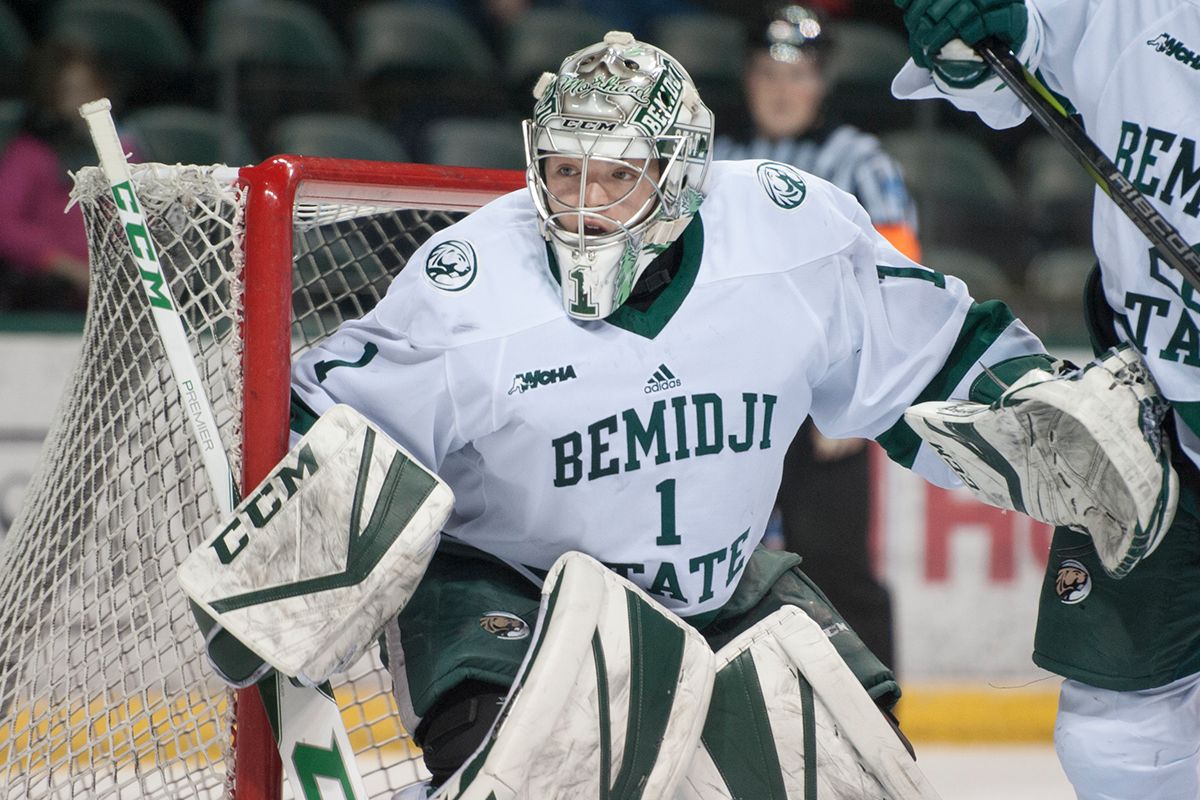 Bemidji State looks out of conference for its seventh straight win as the Beavers will host North Dakota. BSU and North Dakota are both 11-6-5 on the season.
BSU won 3-0 last Friday night, and 6-3 last Saturday night at Lake Superior State. North Dakota split with Omaha last weekend.
Pregame Open Pregame Open
Tom Serratore Pregame Coaches Pregame
Michael Bitzer Pregame Pregame
Bemidji State Lines
Adam Brady – Gerry Fitzgerald – Charlie Combs
Jay Dickman – Kyle Bauman – Myles Fitzgerald
Leo Fitzgerald – Brendan Harris – Aarron Miller
Ethan Somoza – T.J. Roo – Jordan Heller
Tommy Muck – Dan Billett
Justin Baudry – Zach Whitecloud
Dillon Eichstadt – Brad Johnson
Michael Bitzer
Henry Johnson
Jack Burgart
Opponent Lines
Shane Gersich – Rhett Gardner – Austin Poganski
Joel Janatuinen – Nick Jones – Jordan Kawaguchi
Cole Smith – Johnny Simonson – Trevor Olson
Grant Mismash – Ludvig Hoff – Dixon Bowen
Christian Wolanin – Colton Poolman
Hayden Shaw – Gabe Bast
Matt Kiersted – Casey Johnson
Cam Johnson
Peter Thome
Beaver Radio Network Ottertail Power Three Stars
1 – Austin Poganski
2 – Nick Jones
3 – Cam Johnson
Tom Serratore Postgame Tom Serratore Postgame
Listen To / Download Whole Game

Boxscore provided by http://collegehockeystats.net
College Hockey Box Score (Final)
North Dakota at Bemidji State
Friday, January 12, 2018

| | | | | |
| --- | --- | --- | --- | --- |
| Referees: | Brady Johnson | | Game Start: | 7:07 |
| | Brett Klosowski | | Game End: | 9:27 |
| Linesmen: | Andy Dokken | | Game Length: | 2:20 |
| | Matt Ulwelling | | Attendance: | 4483 |
| | | | | |
| --- | --- | --- | --- | --- |
| Scoring | 1st | 2nd | 3rd | Final |
| North Dakota | 1 | 2 | 2 | 5 |
| Bemidji State | 1 | 0 | 0 | 1 |

| | | | | |
| --- | --- | --- | --- | --- |
| Shots on Goal | 1st | 2nd | 3rd | SOG |
| North Dakota | 5 | 14 | 12 | 31 |
| Bemidji State | 7 | 7 | 15 | 29 |

| | | | | |
| --- | --- | --- | --- | --- |
| | PP | PP % | PIM | SHGF |
| North Dakota | 1/2 | .500 | 3/6 | 0 |
| Bemidji State | 0/3 | .000 | 2/4 | 0 |
| | | | | | | | | | |
| --- | --- | --- | --- | --- | --- | --- | --- | --- | --- |
| # | Prd | Time | Team | Score | Type | Scored By | Assists | Offense On Ice | Defense On Ice |
| | 1st | 0:18 | NDK | 1-0 | EV | Austin Poganski (7) | Rhett Gardner/10, Shane Gersich/9 | 22,24,14,19,6,G33 | 2,3,6,14,26,G1 |
| | 1st | 8:49 | BMJ | 1-1 | EV | Kyle Bauman (9) | Myles Fitzgerald/5, Jay Dickman/7 | 14,26,6,2,3,G1 | 14,19,28,22,2,G33 |
| | 2nd | 11:30 | NDK | 2-1 | EV GW | Nick Jones (7) | Matt Kiersted/3, Jordan Kawaguchi/6 | 8,3,29,5,25,G33 | 11,29,2,32,27,G1 |
| | 2nd | 14:26 | NDK | 3-1 | EV | Austin Poganski (8) | Nick Jones/10, Shane Gersich/10 | 14,8,19,28,24,G33 | 2,26,14,6,3,G1 |
| | 3rd | 1:33 | NDK | 4-1 | PP | Nick Jones (8) | Gabe Bast/8, Hayden Shaw/6 | 8,2,28,16,19,G33 | 14,26,29,32,G1 |
| | 3rd | 16:53 | NDK | 5-1 | EV EN | Trevor Olson (1) | – | 11,6,8,25,29,G33 | 11,9,2,29,27,21 |
##
North Dakota
G
A
P
PIM
SOG
+/-
2
Gabe Bast
0
1
1
0/0
3
-1
3
Matt Kiersted
0
1
1
0/0
3
+1
5
Casey Johnson
0
0
0
0/0
0
+1
6
Colton Poolman
0
0
0
0/0
1
+2
8
Nick Jones
2
1
3
0/0
3
+3
9
Dixon Bowen
0
0
0
0/0
0
E
10
Johnny Simonson
0
0
0
1/2
1
E
11
Trevor Olson
1
0
1
0/0
2
+1
14
Austin Poganski
2
0
2
0/0
2
+1
16
Grant Mismash
0
0
0
0/0
1
E
19
Shane Gersich
0
2
2
0/0
1
+1
22
Rhett Gardner
0
1
1
0/0
3
E
24
Christian Wolanin
0
0
0
0/0
3
+2
25
Joel Janatuinen
0
0
0
1/2
4
+2
26
Cole Smith
0
0
0
1/2
1
E
27
Ludvig Hoff
0
0
0
0/0
1
E
28
Hayden Shaw
0
1
1
0/0
1
E
29
Jordan Kawaguchi
0
1
1
0/0
1
+2
1
G Peter Thome
Did Not Play
33
G Cam Johnson
0
0
0
0/0
0
+3
North Dakota Totals
5
8
13
3/6
31
+3

##
Bemidji State
G
A
P
PIM
SOG
+/-
2
Dan Billett
0
0
0
0/0
3
-3
3
Tommy Muck
0
0
0
0/0
1
-1
6
Jay Dickman
0
1
1
0/0
1
-1
7
T.J. Roo
0
0
0
0/0
1
E
8
Brendan Harris
0
0
0
0/0
3
E
9
Ethan Somoza
0
0
0
0/0
0
-1
11
Charlie Combs
0
0
0
0/0
5
-2
14
Kyle Bauman
1
0
1
0/0
1
-1
15
Jordan Heller
0
0
0
0/0
1
E
16
Aaron Miller
0
0
0
0/0
5
E
18
Brad Johnson
0
0
0
0/0
0
E
19
Leo Fitzgerald
0
0
0
0/0
1
E
20
Dillon Eichstadt
0
0
0
2/4
0
E
21
Gerry Fitzgerald
0
0
0
0/0
1
-1
26
Myles Fitzgerald
0
1
1
0/0
1
-1
27
Adam Brady
0
0
0
0/0
1
-2
29
Justin Baudry
0
0
0
0/0
2
-2
32
Zach Whitecloud
0
0
0
0/0
2
-1
1
G Michael Bitzer
0
0
0
0/0
0
-2
30
G Jack Burgart
Did Not Play
35
G Henry Johnson
Did Not Play
Bemidji State Totals
1
2
3
2/4
29
-3

| | | | | | | | |
| --- | --- | --- | --- | --- | --- | --- | --- |
| ## | Goaltending | MIN | GA | 1 | 2 | 3 | Saves |
| 33 | Cam Johnson (W, 8-4-2) | 60:00 | 1 | 6 | 7 | 15 | 28 |

##
Goaltending
MIN
GA
1
2
3
Saves
1
Michael Bitzer (L, 11-6-5)
59:47
4
4
12
10
26
Empty Net
0:13
1
| | | | | | |
| --- | --- | --- | --- | --- | --- |
| Prd | Player | Team | Min | Infraction | Time |
| 1st | Joel Janatuinen | NDK | 2 | Boarding | 13:02 |
| 2nd | Cole Smith | NDK | 2 | Holding | 1:26 |
| 2nd | Dillon Eichstadt | BMJ | 2 | Tripping | 19:48 |

| | | | | | |
| --- | --- | --- | --- | --- | --- |
| Prd | Player | Team | Min | Infraction | Time |
| 3rd | Johnny Simonson | NDK | 2 | Boarding | 2:17 |
| 3rd | Dillon Eichstadt | BMJ | 2 | Slashing | 17:25 |
New Records: North Dakota 12-6-5, Bemidji State 11-7-5

Three Stars: 1. Nick Jones (North Dakota)
2. Austin Poganski (North Dakota)
3. Kyle Bauman (Bemidji State)