Beaver Women's Hockey Gameday – Game 28 – January 19, 2018 – vs Wisconsin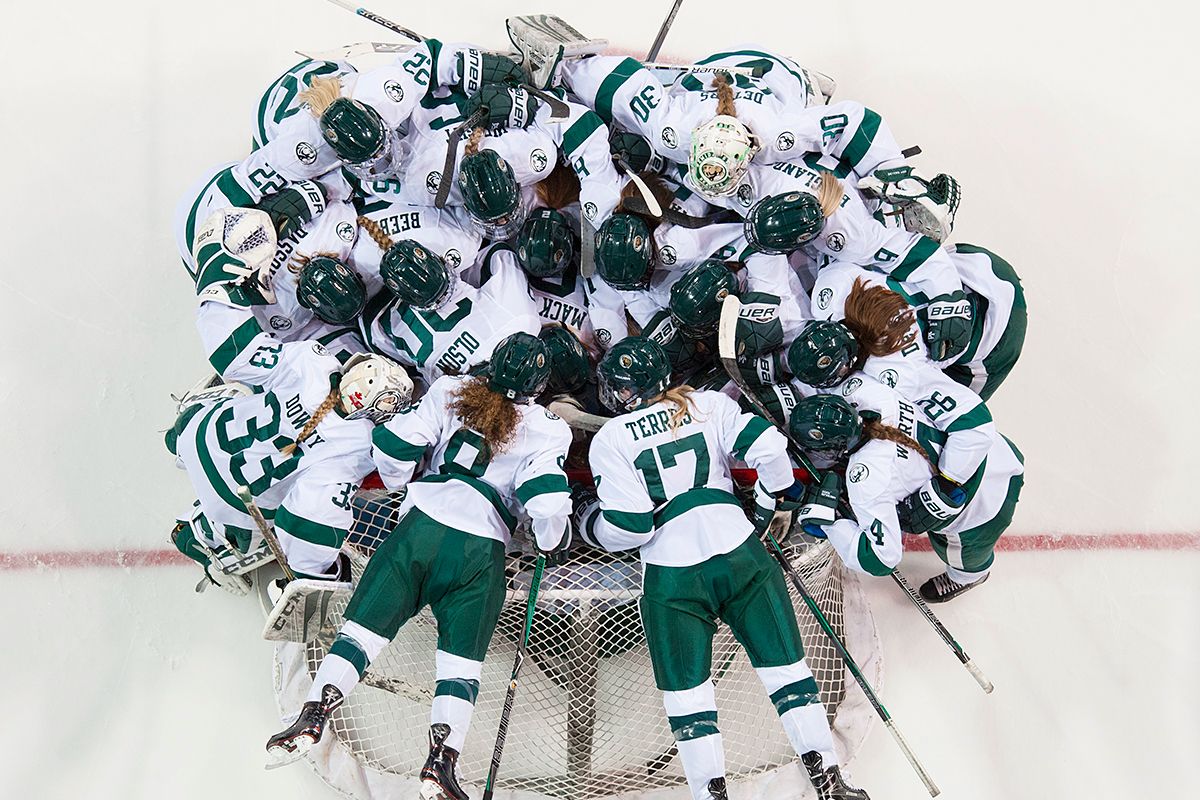 The Bemidji State women's hockey team returns home to take on the WCHA's only undefeated team in league play, the #1 Wisconsin Badgers in a Friday/Saturday series at the Sanford Center starting tonight at 7:07 p.m. The last time BSU defeated Wisconsin was on January 16, 2015 at Labahn Arena in a 2-1 win. This year's senior captain Emma Terres scored the game winning goal, her first career goal as a freshman with one of the assists coming from Alexis Joyce, also a rookie during that 2014-15 season.
The two-game series concludes tomorrow at 3:07 p.m. Our Benusa Pregame Show begins thirty minutes before each face off on KPMI AM 1300 The Legends and online www.beaverradionetwork.com.
Pregame Open Pregame Open
Jim Scanlan Pregame Coach Pregame
Kiki Radke Pregame Player Pregame
Bemidji State Lines
Jacqueline Kaasa – Emily Bergland – Bailey Wright
Emma Terres – Clair DeGeorge – Paige Beebe
Haley Mack – Kiki Radke – Abby Halluska
Sylvia Marolt – Lindsey Featherstone – Reilly Fawcett
Alexis Joyce – Mak Langei
Melissa Hunt – Tina Kampa
Briana Jorde – Heather Olson
Lauren Bench
Erin Deters
Kerigan Dowhy
Opponent Lines
Baylee Wellhausen – Abby Roque – Brette Pettet
Claudia Kepler – Sophia Shaver – Caitlin Schneider
Alexis Mauermann – Sam Cogan – Maddie Rowe
Maddie Posick – Delaney Drake – Kyleigh Hanzlik
Mikaela Gardner – Maddie Rolfes
Lauren Williams – Mekenzie Steffen
Natalie Buchbinder – Grace Bowlby
Kristen Campbell
Nikki Cece
Breanna Blesi
Beaver Radio Network Ottertail Power Three Stars
1 – Mikaela Gardner
2 – Claudia Kepler
3 – Paige Beebe
Jim Scanlan Postgame Jim Scanlan Postgame
Listen To / Download Whole Game

Boxscore provided by http://collegehockeystats.net
College Hockey Box Score (Final)
Wisconsin at Bemidji State
Friday, January 19, 2018

| | | | | |
| --- | --- | --- | --- | --- |
| Referees: | Gui Bradshaw | | Game Start: | 7:07 |
| | Craig Hedlund | | Game End: | 9:12 |
| Linesmen: | Ron Laituri | | Game Length: | 2:05 |
| | Josh Brown | | Attendance: | 412 |
| | | | | | |
| --- | --- | --- | --- | --- | --- |
| Scoring | 1st | 2nd | 3rd | OT | Final |
| Wisconsin | 1 | 2 | 0 | 1 | 4 |
| Bemidji State | 0 | 1 | 2 | 0 | 3 |

| | | | | | |
| --- | --- | --- | --- | --- | --- |
| Shots on Goal | 1st | 2nd | 3rd | OT | SOG |
| Wisconsin | 9 | 18 | 7 | 4 | 38 |
| Bemidji State | 10 | 16 | 6 | 0 | 32 |

| | | | | |
| --- | --- | --- | --- | --- |
| | PP | PP % | PIM | SHGF |
| Wisconsin | 1/2 | .500 | 1/2 | 0 |
| Bemidji State | 0/1 | .000 | 2/4 | 0 |
| | | | | | | | | | |
| --- | --- | --- | --- | --- | --- | --- | --- | --- | --- |
| # | Prd | Time | Team | Score | Type | Scored By | Assists | Offense On Ice | Defense On Ice |
| | 1st | 16:08 | WIS | 1-0 | EV | Claudia Kepler (15) | Maddie Rowe/8 | 24,17,2,22,8,G35 | 22,26,21,19,2,G35 |
| | 2nd | 8:32 | WIS | 2-0 | EV | Caitlin Schneider (3) | Delaney Drake/3, Sophia Shaver/10 | 15,10,2,21,12,G35 | 13,6,10,14,20,G35 |
| | 2nd | 14:37 | WIS | 3-0 | PP | Claudia Kepler (16) | Mekenzie Steffen/10, Sophia Shaver/11 | 24,22,12,21,8,G35 | 19,22,8,11,G35 |
| | 2nd | 15:51 | BMJ | 1-3 | EV | Abby Halluska (7) | Haley Mack/12, Kiki Radke/8 | 21,19,8,5,11,G35 | 18,20,21,27,2,G35 |
| | 3rd | 15:18 | BMJ | 2-3 | EV | Emily Bergland (8) | Jacqueline Kaasa/8, Alexis Joyce/11 | 9,12,22,2,16,G35 | 21,20,18,4,13,G35 |
| | 3rd | 16:59 | BMJ | 3-3 | EV | Paige Beebe (6) | Clair DeGeorge/13 | 18,26,11,17,22,G35 | 18,20,21,4,13,G35 |
| | OT | 1:58 | WIS | 4-3 | EV GW | Mikaela Gardner (6) | – | 4,13,12,14,8,G35 | 18,19,22,11,8,G35 |
##
Wisconsin
G
A
P
PIM
SOG
+/-
2
Natalie Buchbinder
0
0
0
0/0
1
+1
4
Mikaela Gardner
1
0
1
0/0
3
-1
7
Sam Cogan
0
0
0
0/0
5
E
8
Maddie Rowe
0
1
1
0/0
4
+2
10
Delaney Drake
0
1
1
0/0
0
+1
12
Sophia Shaver
0
2
2
0/0
3
+2
13
Maddie Rolfes
0
0
0
0/0
0
-1
14
Alexis Mauermann
0
0
0
1/2
7
+1
15
Caitlin Schneider
1
0
1
0/0
3
+1
16
Maddie Posick
0
0
0
0/0
0
E
17
Lauren Williams
0
0
0
0/0
2
+1
18
Abby Roque
0
0
0
0/0
2
-3
20
Brette Pettet
0
0
0
0/0
2
-3
21
Baylee Wellhausen
0
0
0
0/0
0
-2
22
Mekenzie Steffen
0
1
1
0/0
2
+1
23
Kyleigh Hanzlik
0
0
0
0/0
0
E
24
Claudia Kepler
2
0
2
0/0
3
+1
27
Grace Bowlby
0
0
0
0/0
1
-1
29
G Nikki Cece
Did Not Play
32
G Breanna Blesi
Did Not Play
35
G Kristen Campbell
0
0
0
0/0
0
E
Wisconsin Totals
4
5
9
1/2
38
E

##
Bemidji State
G
A
P
PIM
SOG
+/-
2
Mak Langei
0
0
0
1/2
0
E
5
Melissa Hunt
0
0
0
0/0
0
+1
6
Reilly Fawcett
0
0
0
0/0
0
-1
8
Kiki Radke
0
1
1
0/0
2
E
9
Emily Bergland
1
0
1
0/0
4
+1
10
Lindsey Featherstone
0
0
0
0/0
1
-1
11
Tina Kampa
0
0
0
0/0
0
+1
12
Jacqueline Kaasa
0
1
1
0/0
3
+1
13
Sylvia Marolt
0
0
0
0/0
0
-1
14
Briana Jorde
0
0
0
0/0
1
-1
16
Bailey Wright
0
0
0
0/0
3
+1
17
Emma Terres
0
0
0
0/0
0
+1
18
Paige Beebe
1
0
1
0/0
4
E
19
Haley Mack
0
1
1
0/0
3
-1
20
Heather Olson
0
0
0
0/0
1
-1
21
Abby Halluska
1
0
1
0/0
3
E
22
Alexis Joyce
0
1
1
0/0
5
E
26
Clair DeGeorge
0
1
1
0/0
2
E
30
G Erin Deters
Did Not Play
33
G Kerigan Dowhy
Did Not Play
35
G Lauren Bench
0
0
0
0/0
0
E
Bench
1/2
Bemidji State Totals
3
5
8
2/4
32
E

| | | | | | | | | |
| --- | --- | --- | --- | --- | --- | --- | --- | --- |
| ## | Goaltending | MIN | GA | 1 | 2 | 3 | OT | Saves |
| 35 | Kristen Campbell (W, 24-1-0) | 61:58 | 3 | 10 | 15 | 4 | 0 | 29 |

| | | | | | | | | |
| --- | --- | --- | --- | --- | --- | --- | --- | --- |
| ## | Goaltending | MIN | GA | 1 | 2 | 3 | OT | Saves |
| 35 | Lauren Bench (L, 7-6-0) | 61:58 | 4 | 8 | 16 | 7 | 3 | 34 |
| | | | | | |
| --- | --- | --- | --- | --- | --- |
| Prd | Player | Team | Min | Infraction | Time |
| 2nd | Mak Langei | BMJ | 2 | Hooking | 13:39 |
| 3rd | Alexis Mauermann | WIS | 2 | Tripping | 10:36 |

| | | | | | |
| --- | --- | --- | --- | --- | --- |
| Prd | Player | Team | Min | Infraction | Time |
| 3rd | Bench | BMJ | 2 | Too Many Players | 17:53 |
New Records: Wisconsin 24-1-0, Bemidji State 12-13-2

Three Stars: 1. Mikaela Gardner (Wisconsin)
2. Claudia Kepler (Wisconsin)
3. Paige Beebe (Bemidji State)