Beaver Fever Friday – Womens Hockey – Bailey Wright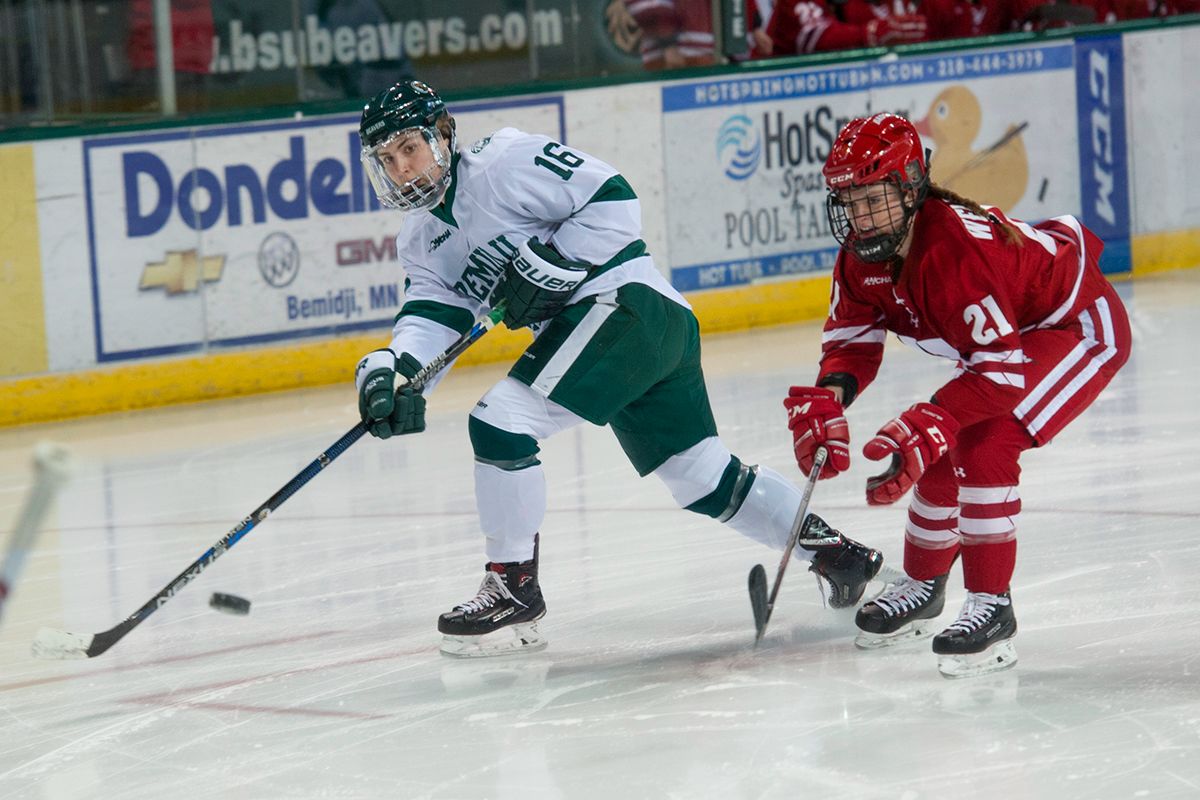 With just six games remaining on the regular season schedule, the Bemidji State University women's hockey team hits the road and travels to Minnesota State University, Mankato for a two-game Western Collegiate Hockey Association series, Feb. 2-3. The Beavers (12-13-3, 7-9-2-1 WCHA) and Mavericks (3-22-1, 1-17-0-0 WCHA) clash for the Friday-Saturday series at Verizon Center in Mankato, Minn.
The Beavers and Mavericks will meet for the 76th and 77th meetings in the two programs history's dating back to 1999. Bemidji State holds the series record at 39-26-10 including 19-15-3 in Mankato. The Beavers and Mavericks met earlier this season on Dec. 15-16 in Bemidji where the Beavers were able to earn the series sweep by scores of 4-2 and 5-0. Senior Alexis Joyce leads all active skaters with 13 points (2g-11a) in 14 career games against the Mavericks while Emma Terres follows with eight points (3g-5a) in 13 games. Head coach Jim Scanlan is 12-2-0 all-time against Minnesota State while third-year head coach John Harrington is 2-8-0 against the Beavers.
The Mavericks prepare to host the Beavers this weekend on a nine-game losing streak and last in the WCHA standings. The Mavericks' last win came on Dec. 8 against Lindenwood University. Minnesota State traveled to University of Minnesota last weekend, falling to the Gophers 4-2 and 2-0 in the series. Tristen Truax scored both goals for the Mavericks in the series.
Minnesota State enters the weekend sixth in scoring offense (1.58 g/gm) and seventh in scoring defense (3.73 g/gm) among teams in the league. The Mavericks also have the worst special teams in the league, ranking last in power play (.090) and penalty kill (.753).
Freshman Brittyn Fleming leads the Mavericks with 15 points (4g-11a) in her first season with the team while Jordan McLaughlin follows with 12 points (6g-6a) and leads the team in goals. The Mavericks have split time in net between junior Kathryn Bidulka and sophomore Chloe Crosby. Bidulka leads the team with 16 appearances and is 1-14-0 with a 3.74 goals against average and .879 save percentage. Crosby has the most wins in net and is 2-8-1 with a 3.57 goals against average and .879 save percentage in 13 games.