Beaver Fever Friday – Mens Hockey – Tommy Muck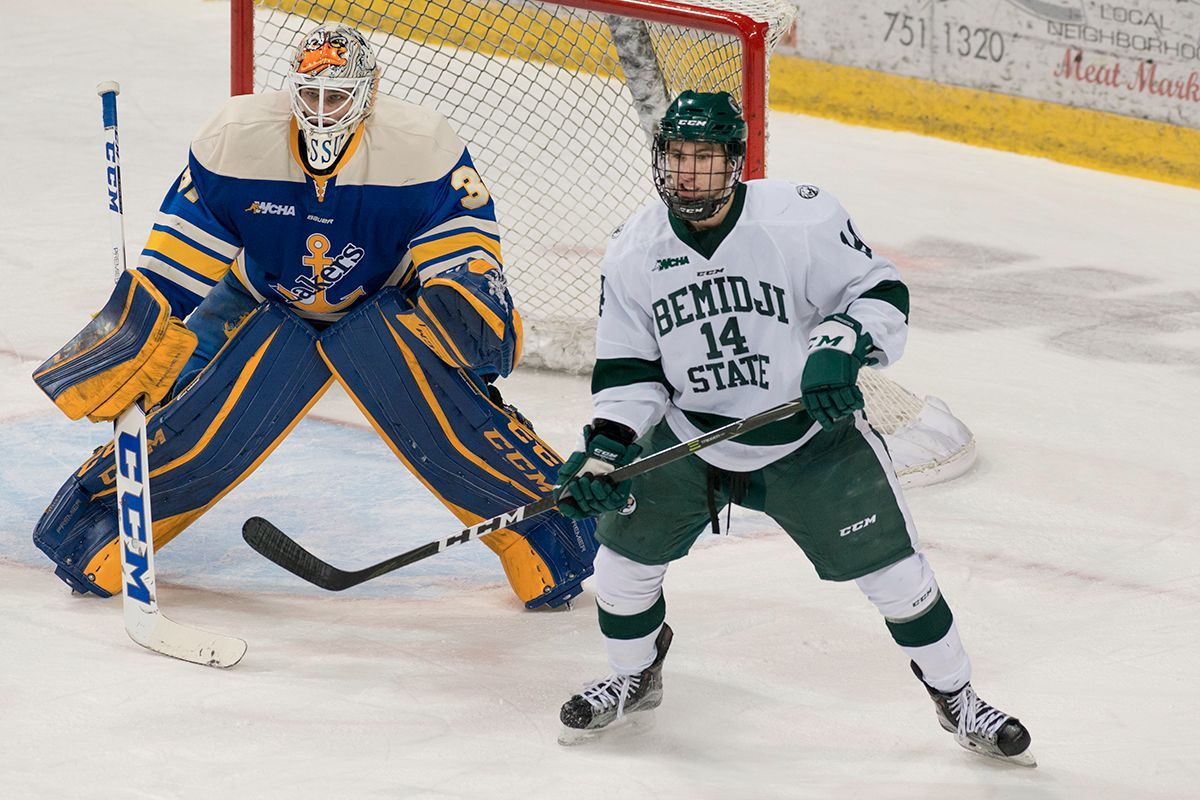 The Bemidji State University men's ice hockey team (14-8-6; 11-5-4-2 WCHA) returns to Sanford Center for the first time since January 12 and just the second and third games of 2018 this weekend as it hosts Lake Superior State University (6-20-4; 4-15-3-0 WCHA). The Beavers, who have lost just twice since Dec. 2 (9-2-4) and clinched a spot in the 2018 WCHA Playoffs last week, look to extend their current four-game (3-0-1) unbeaten streak versus the Lakers and remain in line to host their first round playoff match up.
The Beavers split a WCHA series at the University of Alabama-Huntsville a week ago. After dropping the opener, 5-1, BSU got two goals from defender Justin Baudry to bounce back with a 5-1 victory of its own. With a career-high 27 points (8g-18a) Bauman leads the Beavers in scoring, which includes a team-best 18 assists, while Jay Dickman has a team- and career-high 13 goals. Newcomers Charlie Combs and Adam Brady have played big roles in BSU's recent success. In BSU's last eight games, which includes its Jan. 5-6 series versus LSSU, Combs has a team-high four goals and six points, while Brady has accounted for seven assists. Senior goaltender Michael Bitzer has shouldered the bulk of the Beavers' goaltending duties. Second on BSU's all-time goaltending victories list to Blane Comstock (70) with 63 wins and trailing only Steve O'Shea (3,065) on BSU's all-time saves list (2,943), Bitzer is 14-7-6 this season. He own a goals against average of 2.14 and a .911 save percentage. In addition, he has backstopped a penalty-kill unit that enters the weekend second in the country snuffing out 81 of its opponents' 91 man advantage opportunities (.890).
The Lakers arrive in Bemidji, Minn. having dropped seven of their last eight games. LSSU was swept by Bowling Green a week ago, 5-3 and 3-2. Senior J.T. Henke leads the Lakers with 24 points (8g-16a), which includes a team-high 16 helpers. Sophomore Max Humitz has scored a team-best 11 goals, including four on the power play and a game-winner. Junior goaltender Nick Kossoff (5-12-2) has played in 23 games this season and leads the team with a goals against average of 3.22 and a save percentage of .906.
This weekend marks the continuation of a rivalry dating back to the 1960s. From 1966-1973 Bemidji State and Lake Superior State met on a yearly basis as members of the International Collegiate Hockey Association. In addition, the teams have a storied national championship history. BSU defeated the Lakers for NAIA national titles in 1968, 1969 and 1970. In all, BSU and LSSU have met on 57 previous occasions with the Lakers owning a 28-25-4 advantage and a 13-11-3 mark on the Beavers' home ice. The Beavers and Lakers met just a month ago in Sault Ste. Marie, Mich., with BSU skating away with a sweep (3-0 and 6-3) to extend its current unbeaten streak versus LSSU to four games (3-0-1).