Beaver Fever Friday – Melissa Hunt – Womens Hockey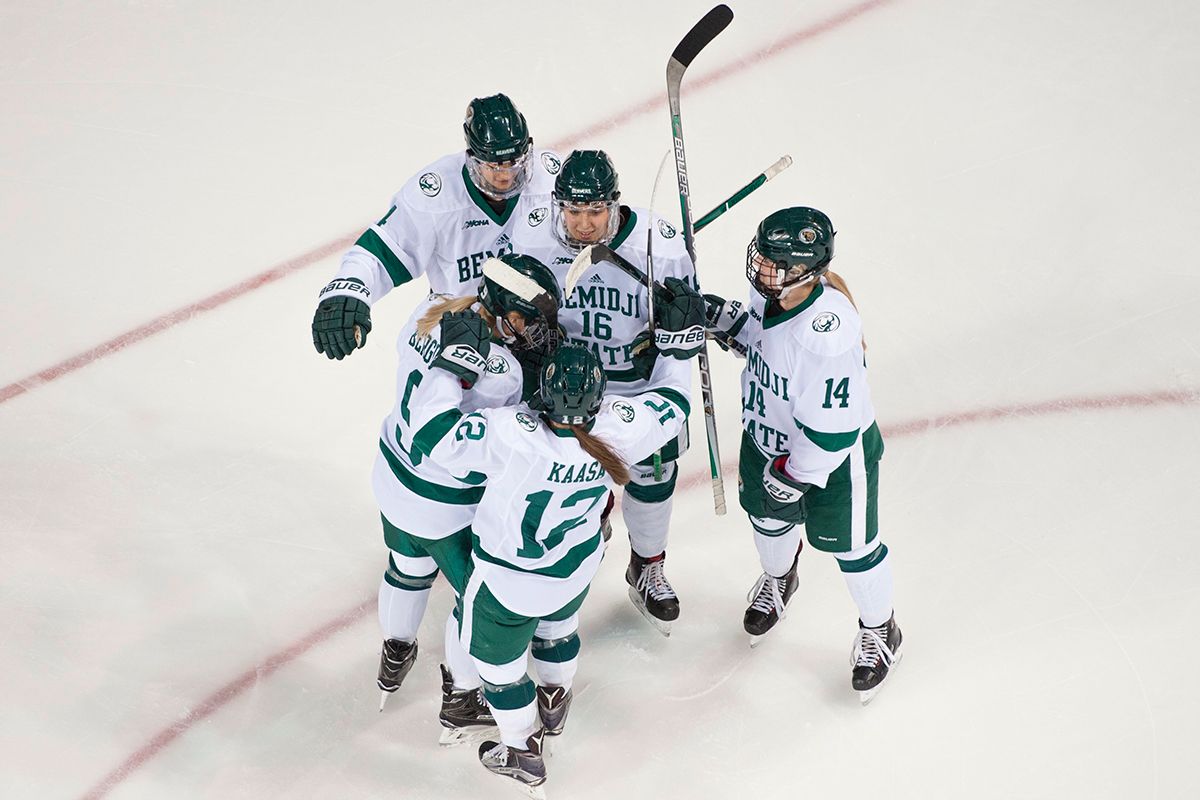 As the end of the 2017-18 regular season approaches, the Bemidji State University women's hockey team prepares to host its final home series this weekend and will face St. Cloud State University, Feb. 9-10, for the two-game Western Collegiate Hockey Association series. The Beavers (13-14-3, 8-10-2-1 WCHA) will honor six seniors on senior day Saturday, Feb. 10. Reilly Fawcett, Bailey Wright, Emma Terres, Alexis Joyce, Summer Thibodeau and Erin Deters will all be honored after the game.
The Beavers and Huskies will meet for the 84th and 85th meetings in the two programs' histories. Bemidji State owns the series record at 39-35-9 and is 2-1 against the Huskies this season after sweeping them on the road at SCSU Nov. 10-11 but fell in a non-conference game Nov. 22. Senior Alexis Joyce leads active skaters with nine points (2g-7a) in 15 games against the Huskies while junior Emily Bergland (5g-1a) and sophomore Haley Mack (0g-6a) follow with six points each. Head coach Jim Scanlan is 10-4-1 against St. Cloud State and 68-62-10 in his four-year career.
The Huskies (6-18-5, 4-14-4-1 WCHA) travel to Bemidji, Minn., for their final series of the regular season and have earned the sixth seed in the WCHA postseason. St. Cloud State, who is 0-3-2 in their last five games, return to action after earning two points against University of Minnesota after a shootout win in game one of their series. Minnesota rebounded with a 5-2 victory in game two. Seven Huskies recorded two points in the series and saw six different goal scorers.
SCSU ranks last in the league averaging only 1.45 goals per game and sixth in scoring defense by allowing 2.48 goals per game. However, the Huskies have the top-ranked penalty kill unit in the WCHA killing at a success rate of .901 (73-of-81). Their power-play unit is sixth in the league at .150 (9-of-60) and have allowed one short-handed goal.
St. Cloud State is led by freshman Laura Kluge who has tallied 21 points (7g-14a) in her first season with the Huskies. She is followed by sophomore Kayla Friesen with 12 points (4g-8a) and junior Julia Tylke with 11 points (7g-4a). Freshman Emma Polusny leads SCSU with 16 games played this season and is 4-8-4 with a 2.24 goals against average and .933 save percentage. Sophomore Janine Alder follows with 14 games played and is 2-10-1 with a 2.42 GAA and .935 save percentage. Alder will be absent from the team however, and will compete with Team Switzerland at the 2018 Winter Olympics as St. Cloud State's first Olympian.