Beaver Fever Friday – Michael Bitzer – Mens Hockey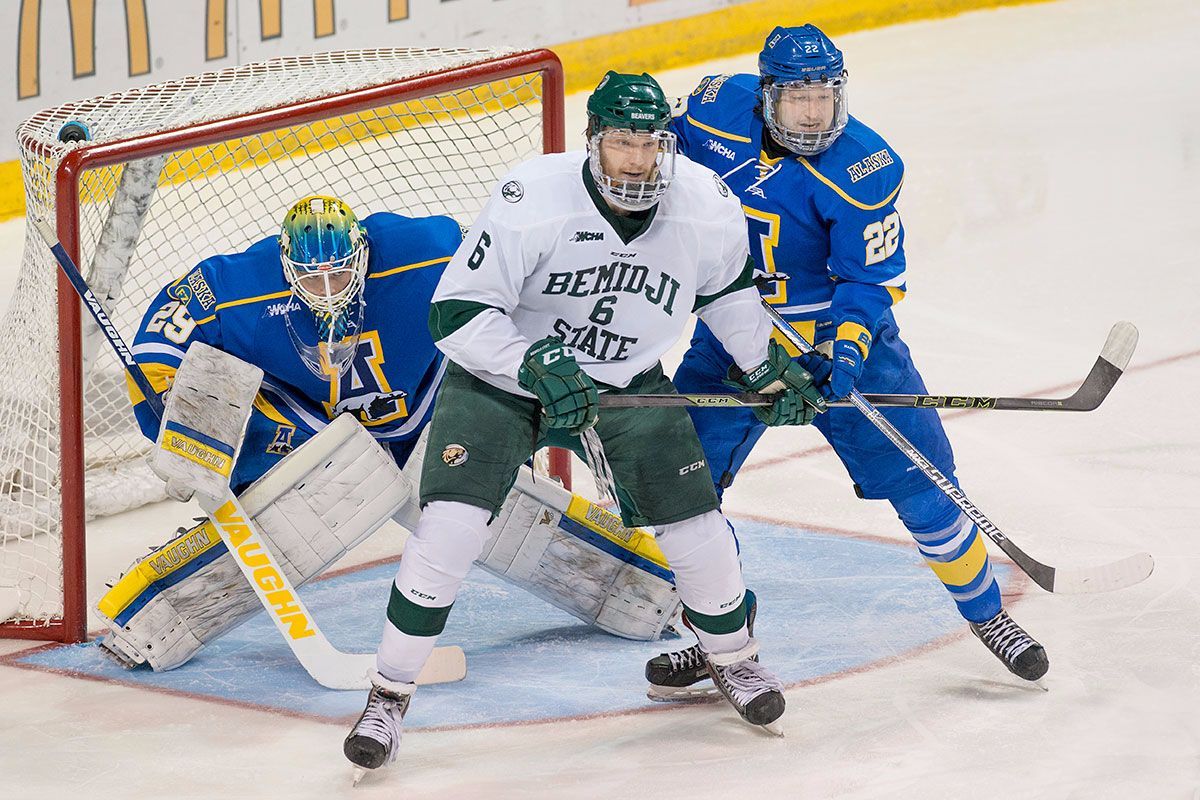 The Bemidji State University men's ice hockey team (15-11-6; 12-8-4-2 WCHA) returns to Sanford Center for its final regular-season home series of 2017-18 Thursday and Friday as it hosts University of Alaska (11-17-2; 9-14-1-1 WCHA) for a two-game WCHA set. The Beavers, who have won twice since Jan. 26 (2-4-0) hold down fourth place in the league standings and can clinch a home playoff birth this weekend with at least five points.
The Beavers split a WCHA series at Michigan Technological University a week ago. After riding a three-point effort from captain Jordan Heller to a 4-1 victory in the opener, MTU used the three-goal second period to salvage a series split, 5-1. With a career-high 27 points (8g-18a) Bauman leads the Beavers in scoring, which includes a team-best 18 assists, while Jay Dickman has a team- and career-high 13 goals. Currently, Heller (3g-1a) and defender Justin Baudry (2a) enter the weekend riding two-game scoring streaks. Senior goaltender Michael Bitzer has shouldered the bulk of the Beavers' goaltending duties. Second on BSU's all-time goaltending victories list to Blane Comstock (70) with 65 wins and trailing only Steve O'Shea (3,065) on BSU's all-time saves list (3,011), Bitzer is 15-10-6 this season. He owns a goals against average of 2.20 and a .908 save percentage. In addition, he has backstopped a penalty-kill unit that enters the weekend ranked among the nation's best snuffing out 92 of 105 man advantage opportunities (.876).
The Nanooks arrive in Bemidji, Minn. for the first time since Nov. 13-14, 2015. Winner of just two of their last seven games (2-5-0), Alaska is 11-17-2 overall and hold down seventh place in the WCHA standings with a record of 9-14-1-1. With just three points separating sixth place from ninth, the Nanooks are fighting for their postseason life this weekend. Senior defender Zach Frye leads the Nanooks in scoring with 27 points (8g-19a), which includes a team-best two game-winners. Averaging more than a point per game in league play, he leads all WCHA blueliners and is among the league's top 10 scoring threats. Sophomore Anton Martinsson has played in 27 of UA's 30 games this season. He is 10-15-2 with a 2.93 goals against average and a .898 save percentage.