Beaver Women's Hockey Gameday – WCHA Final Face Off Semifinal Game – March 3, 2018 – vs Wisconsin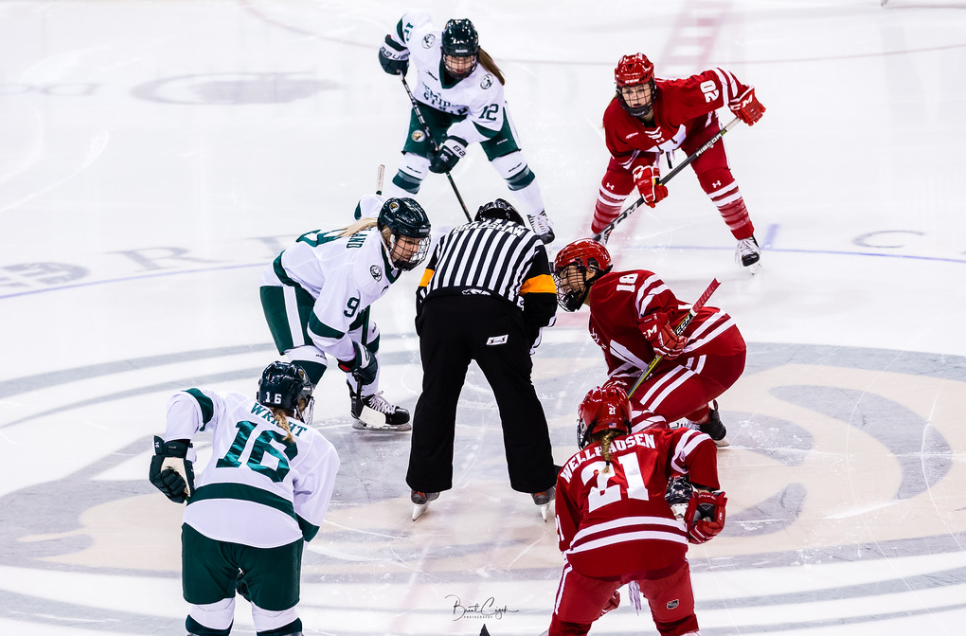 For just the third time in the 20-years since Bemidji State University started its women's hockey program, the Beavers make an appearance in the Western Collegiate Hockey Association Final Faceoff this weekend. The fourth-seeded Beavers (16-18-3) clash with No. 1 University of Wisconsin in the semifinal game March 3 with the winner advancing to the championship game March 4. The Beavers and Badgers (29-3-2) are slated for a 2:07 p.m. puck drop at Ridder Arena in Minneapolis, Minn., followed by third-seeded University of Minnesota and second-seed Ohio State University at 5:07 p.m.
Tune in to KPMI 1300 AM The Legends beginning at 1:30 p.m. for the Benusa Pregame Show.
(Photo by Brent Cizek Photography)
Pregame Open Pregame Open
Jim Scanlan Pregame Coach Pregame
Mak Langei Pregame Player Pregame
Bemidji State Lines
Jacqueline Kaasa – Emily Bergland – Bailey Wright
Emma Terres – Clair DeGeorge – Paige Beebe
Haley Mack – Kiki Radke – Abby Halluska
Lydia Passolt – Lindsey Featherstone – Reilly Fawcett
Alexis Joyce – Mak Langei
Melissa Hunt – Tina Kampa
Briana Jorde – Heather Olson
Kerigan Dowhy
Lauren Bench
Erin Deters
Opponent Lines
Baylee Wellhausen – Abby Roque – Maddie Rowe
Claudia Kepler – Alexis Mauermann – Presley Norby
Caitlin Schneider – Sam Cogan – Brette Pettet
Maddie Posick – Delaney Drake – Kyleigh Hanzlik
Mikaela Gardner – Maddie Rolfes
Lauren Williams – Mekenzie Steffen
Natalie Buchbinder – Grace Bowlby
Kristen Campbell
Nikki Cece
Breanna Blesi
Beaver Radio Network Ottertail Power Three Stars
1 –
2 –
3 –
Boxscore provided by http://collegehockeystats.net
College Hockey Box Score (Final)
Bemidji State vs Wisconsin
Saturday, March 3, 2018

| | | | | |
| --- | --- | --- | --- | --- |
| Referees: | Casey Enge | | Game Start: | 2:07 |
| | Tyler Olson | | Game End: | 4:00 |
| Linesmen: | Brenda Reinen | | Game Length: | 1:53 |
| | Sarma Ozmen | | Attendance: | 2499 |
| | | | | |
| --- | --- | --- | --- | --- |
| Scoring | 1st | 2nd | 3rd | Final |
| Bemidji State | 1 | 0 | 0 | 1 |
| Wisconsin | 1 | 1 | 2 | 4 |

| | | | | |
| --- | --- | --- | --- | --- |
| Shots on Goal | 1st | 2nd | 3rd | SOG |
| Bemidji State | 7 | 10 | 6 | 23 |
| Wisconsin | 8 | 13 | 10 | 31 |

| | | | | |
| --- | --- | --- | --- | --- |
| | PP | PP % | PIM | SHGF |
| Bemidji State | 1/3 | .333 | 3/6 | 0 |
| Wisconsin | 0/2 | .000 | 4/8 | 1 |
| | | | | | | | | | |
| --- | --- | --- | --- | --- | --- | --- | --- | --- | --- |
| # | Prd | Time | Team | Score | Type | Scored By | Assists | Offense On Ice | Defense On Ice |
| | 1st | 0:41 | WIS | 1-0 | EV | Baylee Wellhausen (8) | Abby Roque/27, Mikaela Gardner/16 | 21,18,8,17,22,G35 | 2,9,12,16,22,G33 |
| | 1st | 19:26.4 | BMJ | 1-1 | PP | Emma Terres (11) | Emily Bergland/13, Paige Beebe/10 | 17,9,18,22,26,G33 | 7,14,18,22,G35 |
| | 2nd | 11:06 | WIS | 2-1 | SH GW | Baylee Wellhausen (9) | Abby Roque/28 | 21,18,13,22,G35 | 9,17,21,22,26,G33 |
| | 3rd | 10:45 | WIS | 3-1 | EV | Maddie Rolfes (5) | Maddie Rowe/11 | 13,8,4,18,21,G35 | 2,17,18,22,26,G33 |
| | 3rd | 19:30.0 | WIS | 4-1 | EV EN | Baylee Wellhausen (10) | – | 21,7,13,18,22,G35 | 3,9,17,21,22,26 |
##
Bemidji State
G
A
P
PIM
SOG
+/-
2
Mak Langei
0
0
0
0/0
1
-2
3
Lydia Passolt
0
0
0
0/0
0
-1
5
Melissa Hunt
0
0
0
0/0
1
E
6
Reilly Fawcett
0
0
0
0/0
0
E
8
Kiki Radke
0
0
0
0/0
1
E
9
Emily Bergland
0
1
1
1/2
2
-3
10
Lindsey Featherstone
0
0
0
0/0
0
E
11
Tina Kampa
0
0
0
0/0
0
E
12
Jacqueline Kaasa
0
0
0
0/0
2
-1
14
Briana Jorde
0
0
0
0/0
1
E
16
Bailey Wright
0
0
0
0/0
1
-1
17
Emma Terres
1
0
1
0/0
4
-3
18
Paige Beebe
0
1
1
1/2
0
-1
19
Haley Mack
0
0
0
0/0
3
E
20
Heather Olson
0
0
0
0/0
0
E
21
Abby Halluska
0
0
0
1/2
5
-2
22
Alexis Joyce
0
0
0
0/0
1
-4
26
Clair DeGeorge
0
0
0
0/0
1
-3
30
G Erin Deters
0
0
0
0/0
0
E
33
G Kerigan Dowhy
0
0
0
0/0
0
-3
35
G Lauren Bench
Did Not Play
Bemidji State Totals
1
2
3
3/6
23
-4

##
Wisconsin
G
A
P
PIM
SOG
+/-
2
Natalie Buchbinder
0
0
0
0/0
0
E
4
Mikaela Gardner
0
1
1
1/2
1
+1
6
Presley Norby
0
0
0
0/0
3
E
7
Sam Cogan
0
0
0
0/0
3
+1
8
Maddie Rowe
0
1
1
0/0
1
+2
10
Delaney Drake
0
0
0
0/0
0
E
13
Maddie Rolfes
1
0
1
0/0
2
+3
14
Alexis Mauermann
0
0
0
0/0
4
E
15
Caitlin Schneider
0
0
0
0/0
1
E
16
Maddie Posick
0
0
0
0/0
0
E
17
Lauren Williams
0
0
0
0/0
2
+1
18
Abby Roque
0
2
2
1/2
1
+4
20
Brette Pettet
0
0
0
0/0
2
E
21
Baylee Wellhausen
3
0
3
0/0
6
+4
22
Mekenzie Steffen
0
0
0
0/0
3
+3
23
Kyleigh Hanzlik
0
0
0
0/0
0
E
24
Claudia Kepler
0
0
0
1/2
2
E
27
Grace Bowlby
0
0
0
0/0
0
E
29
G Nikki Cece
Did Not Play
32
G Breanna Blesi
Did Not Play
35
G Kristen Campbell
0
0
0
0/0
0
+4
Bench
1/2
Wisconsin Totals
4
4
8
4/8
31
+4

##
Goaltending
MIN
GA
1
2
3
Saves
33
Kerigan Dowhy (L, 5-2-1)
57:18
3
7
12
8
27
30
Erin Deters
0:30
0
0
0
0
0
Empty Net
2:12
1

##
Goaltending
MIN
GA
1
2
3
Saves
35
Kristen Campbell (W, 30-3-2)
59:57
1
6
10
6
22
Empty Net
0:03
0
| | | | | | |
| --- | --- | --- | --- | --- | --- |
| Prd | Player | Team | Min | Infraction | Time |
| 1st | Mikaela Gardner | WIS | 2 | Hooking | 17:43 |
| 1st | Abby Halluska | BMJ | 2 | Roughing | 18:47 |
| 1st | Abby Roque | WIS | 2 | Roughing | 18:47 |
| 2nd | Bench | WIS | 2 | Too Many Players | 10:57 |

| | | | | | |
| --- | --- | --- | --- | --- | --- |
| Prd | Player | Team | Min | Infraction | Time |
| 2nd | Paige Beebe | BMJ | 2 | Cross-Checking | 18:19 |
| 3rd | Emily Bergland | BMJ | 2 | Tripping | 11:51 |
| 3rd | Claudia Kepler | WIS | 2 | Tripping | 16:53 |
New Records: Wisconsin 30-3-2, Bemidji State 16-19-3

Notes: WCHA Final Face-Off Semifinal at Minnesota