Beaver Fever Friday – Brooke Mimmack – Tennis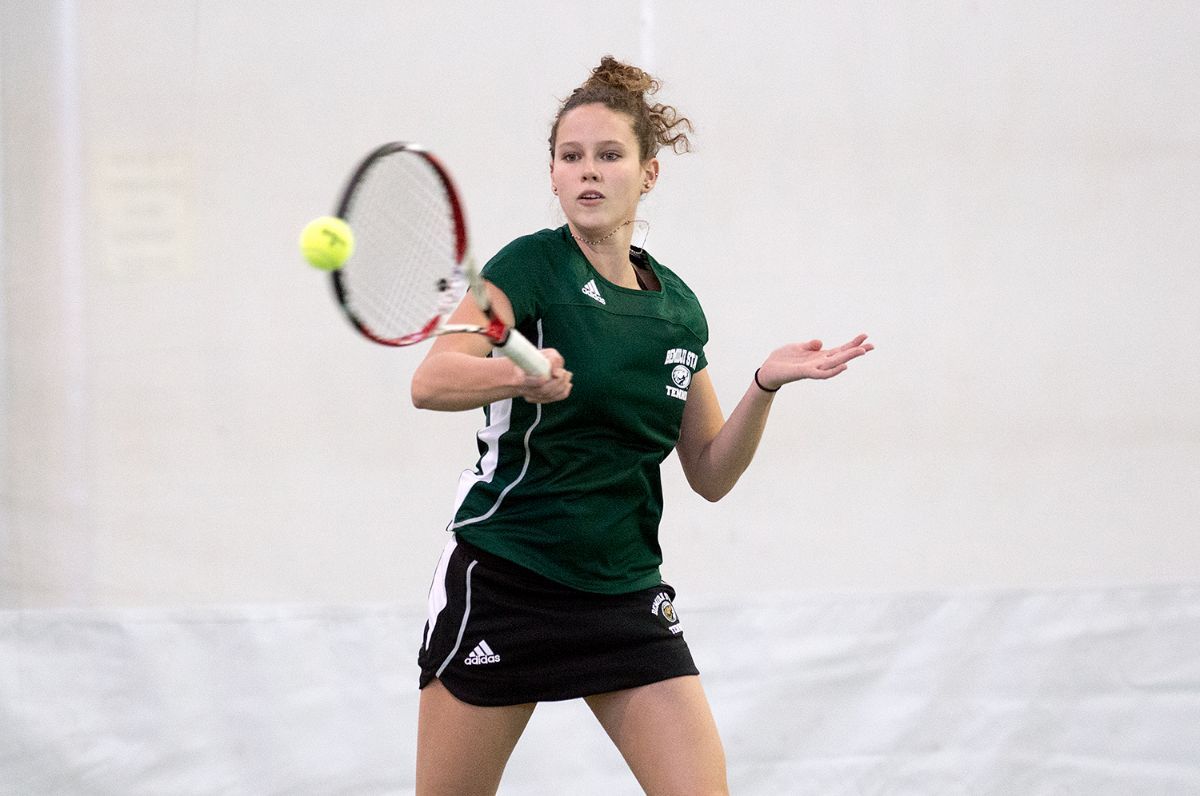 The Bemidji State University tennis team posted a pair of neutral site matches in the final weekend of the 2018 Northern Sun Intercollegiate Conference season. BSU swept Southwest Minnesota State University, 9-0, Friday evening before narrowly edging Minnesota State University, Mankato, 5-4, Saturday.
The two wins give the Beavers a 9-4 overall record and a 7-4 mark versus the NSIC. BSU currently sits fifth in the league standings. With just one day left of the regular season and the top eight teams earning a berth into the NSIC Tournament, the Beavers are poised to make their third consecutive appearance in the league's postseason.
Hannah Alme and Brooke Mimmack posted an 8-1 victory in the No. 2 doubles slot to get the Beavers off to a good start versus the Mustangs Friday in Lakeville, Minn. BSU's No. 1 and No. 3 doubles matches were much more tightly contested. Zoë Lindgren and Ariadna Lopez-Simo needed an extra game to net a 9-7 win in the top double match, while Breann Walsh and Jackie Damberg put the Beavers up 3-0 in the match after an 8-6 victory at No. 3.
BSU used six straight-set wins in singles play to complete the sweep over SMSU. Lindgren made quick work of her No. 1 singles opponent, 6-0, 6-1 to get BSU started and Mimmack completed the run needing tiebreakers to earn a 7-6 (9-7), 7-6 (7-5) victory in the fourth singles match.
Saturday's match in Minnetonka, Minn. was not as cut and dried. The Beavers and Mavericks were caught in a tight match deep into singles play.
Bemidji State's No. 2 and No. 3 doubles pairs posted back-to-back 8-1 victories to put BSU in the lead, 2-1, heading into singles action. Wins by Walsh (6-0, 6-3) and Alme (6-1, 6-1) in the No. 5 and No. 3 matches, respectively, gave the Beavers a 4-1 edge, but MSU victories in the No. 6 and No. 4 singles matches drew the Mavericks to 4-3 with just two matches to go. Lopez-Simo tipped the match in Bemidji State's favor with a 6-3, 6-4 victory at No. 2 and the Beavers would go on to defeat Minnesota State, 5-4.
The Beavers now await their postseason fate. The NSIC Tournament is set for April 21-22 at the Lifetime Fitness Center and Tennis Village in Oakdale, Minn. The top eight teams in the final NSIC standings will be seeded Sunday after all teams have completed play and semifinal matches will be determined.