Beaver Fever Friday – Tommy Geisenhof – Baseball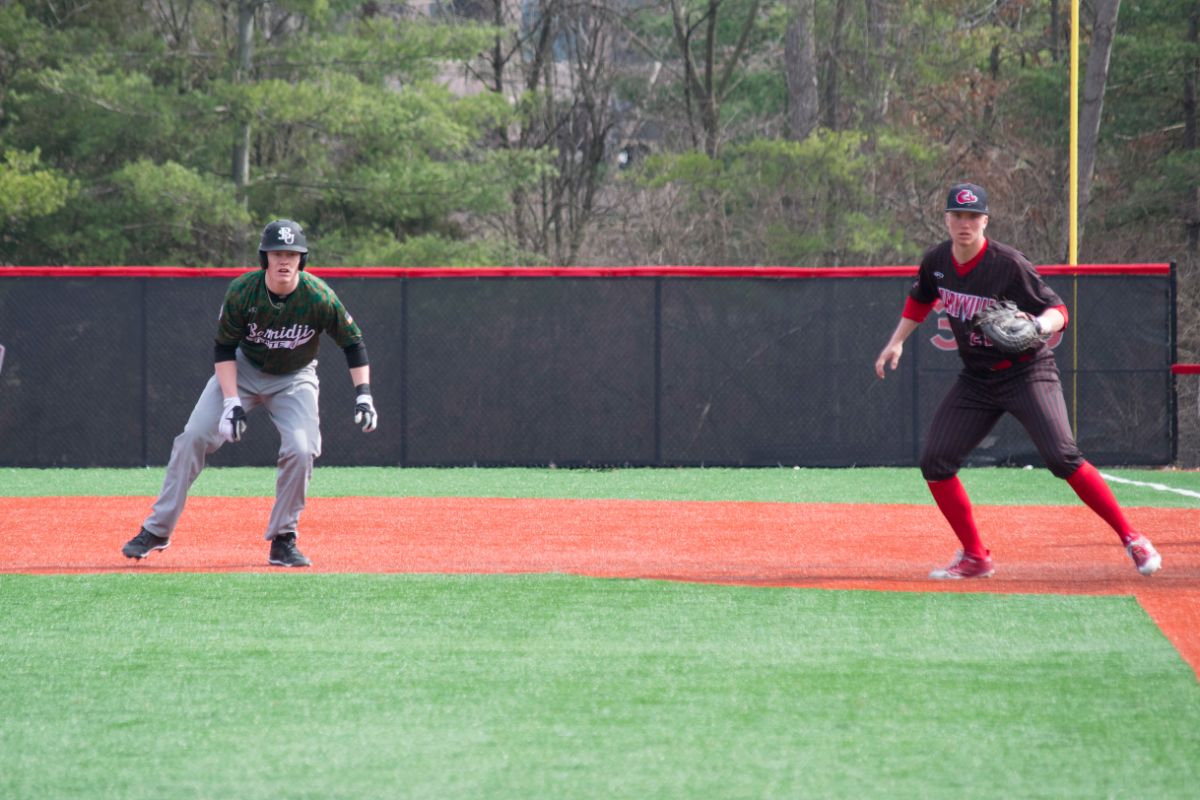 Freshman Caleb Carlson was one of two players for the Bemidji State University baseball team to record a three-hit game Thursday despite loses of 10-5 and 13-7 to Minot State University in Minot, N.D. Carlson reached base five times during game two and seven times on the day as the Beavers fall to 4-26 overall and 2-12 in the Northern Sun Intercollegiate Conference.
Game One – L, 10-5
Bemidji State scored the first four runs of the day against Minot State, led by sophomore Isaiah Grancorvitz who brought in two runs on a single in the top of the third inning. After senior Scott Litchy and Carlson came home, BSU held a 3-0 lead. Freshman Bryce Norby extended the lead to 4-0 in the fourth inning with an RBI single down the left field line.
Minot State followed to score 10 unanswered runs between the fourth and sixth innings to head into the final frame with a 10-4 advantage. Grancorvitz came through late with a two-out single and his third RBI of the before a ground out ended game one.
Grancorvitz led the team with two hits and three RBIs while senior Bazil Zuehlke and Norby also recorded RBIs. Litchy and sophomore Noah Boser hit the only extra-base hits of the day for BSU, each putting up doubles. Senior Connor McNallan (1-6) took the loss after throwing the first 4.1 innings with three strikeouts and five earned runs allowed.
Game Two – L, 13-7
The Beavers of BSU grabbed an early lead in game two with three runs from two hits and one error in the top of the first inning. Grancorvitz earned his fourth RBI of the day during the inning, despite Minot State coming back in the bottom half to score four runs off four hits. MiSU scored another run in the second inning before BSU went on a scoring streak.
Carlson and Litchy led off the top of the third inning with back-to-back singles, which was followed by a sac bunt and a two-RBI single to left field by freshman Matt Kummet. The RBI knock tied the game, 5-5, before Litchy hit a two-out, go-ahead RBI single in the fourth.
Minot State tied the game again in the bottom of the fourth inning, 6-6, ahead of a go-ahead RBI single in the sixth. Bemidji State could only reach four base runners through the final three innings, including leadoff baserunners to start the ninth. Grancorvitz moved over to third base and scored BSU's seventh run on a throwing error by the MiSU catcher. With Kummet on second base and two outs, a ground out ended Bemidji State's chances on an afternoon win.
Kummet concluded the day with a team-high two RBIs and reached base three times. Carlson and Litchy led the way hitting with three hits each, while Carlson also reached base on two walks. Junior pitcher Tommy Geisenhof threw 3.0 innings while allowing just two hits and one run with one strikeout.
Bemidji State officially opens its home schedule Saturday, April 21 with the start of a four-game series against Wayne State College. The Beavers and Wildcats will begin each day at 1 p.m. from BSU Baseball Field in Bemidji, Minn.