Beaver Football Gameday – Game 1 – August 30, 2018 vs Northern State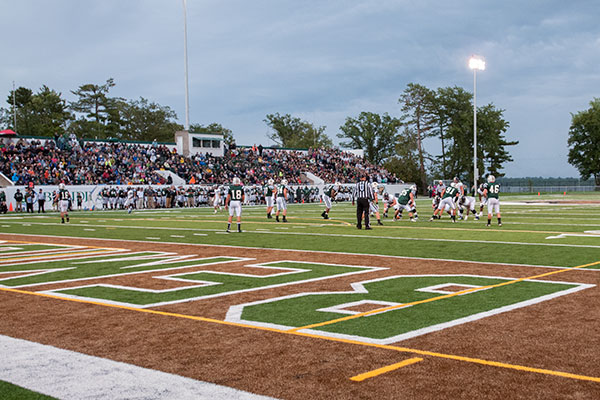 New faces across the offense and defense helped bring the Bemidji State University football program a season-opening 38-17 win against Northern State University Thursday night at Chet Anderson Stadium. A new face, redshirt quarterback Brandon Alt, threw for three touchdowns while senior safety led the veteran BSU secondary and tied a career high with 17 tackles.
Senior running back Andrew Lackowski busted out for a 58-yard touchdown run before entering the fourth quarter where Alt found junior wide receiver Jacob Anderson for his third and final passing score of the night, a 40-yard touchdown reception. Redshirt freshman running back Jalen Frye carried the bulk of the carries on the night, which paid off with a 64-yard touchdown scamper to plateau the Beavers' lead at 38-10.
Two Beavers finished the game with double-digit tackle totals, including Olszewski with 17 and Ames with 13. Ames' tackles set a new career high while he also added 3.0 tackles for a loss, two forced fumbles and one pass break up. Junior corner back Michael Junker brought in the first interception of the season for the BSU defense and finished with seven tackles.
Bemidji State heads back to the field Saturday, Sept. 8 against former Beaver Football offensive coordinator and current University of Mary head coach Craig Bagnell. BSU and U-Mary kicks off at 2 p.m. from NDU Resources Community Bowl in Bismarck, N.D.
Pregame Open Pregame Open
Bemidji State Coach Brent Bolte Pregame Bemidji State Coach Brent Bolte Pregame
Gunner Olszewski Player Profile BSU Player Profile
Bucky's Legends for August 30, 2018 Bucky's Legends
| | | | | | |
| --- | --- | --- | --- | --- | --- |
| | 1st | 2nd | 3rd | 4th | Total |
| Northern | 3 | 0 | 7 | 7 | 17 |
| BSU | 10 | 7 | 7 | 14 | 38 |
First Quarter
BSU FG 10:33 Aanerud 35 Yd
BSU TD 07:30 Jones 71 Yd Pass From Alt (Aanerud kick)
Second Quarter
BSU TD 01:28 Kugmeh 18 Yd Pass From Alt (Aanerud kick)
Third Quarter
NSU TD 05:34 Maxwell 1 Yd Run (Tschakert kick)
BSU TD 00:24 Lackowski 58 Yd Run (Aanerud kick)
Fourth Quarter
BSU TD 12:50 Anderson 40 Yd Pass From Alt (Aanerud kick)
BSU TD 11:02 Frye 64 Yd Run (Aanerud kick)
NSU TD 06:34 Streit 15 Yd Pass From Trautman (Tschakert kick)
Postgame Interviews
Postgame Brent Bolte Postgame
Postgame Andrew Lackowski Postgame