Beaver Volleyball Gets First NSIC Win Since October of 2016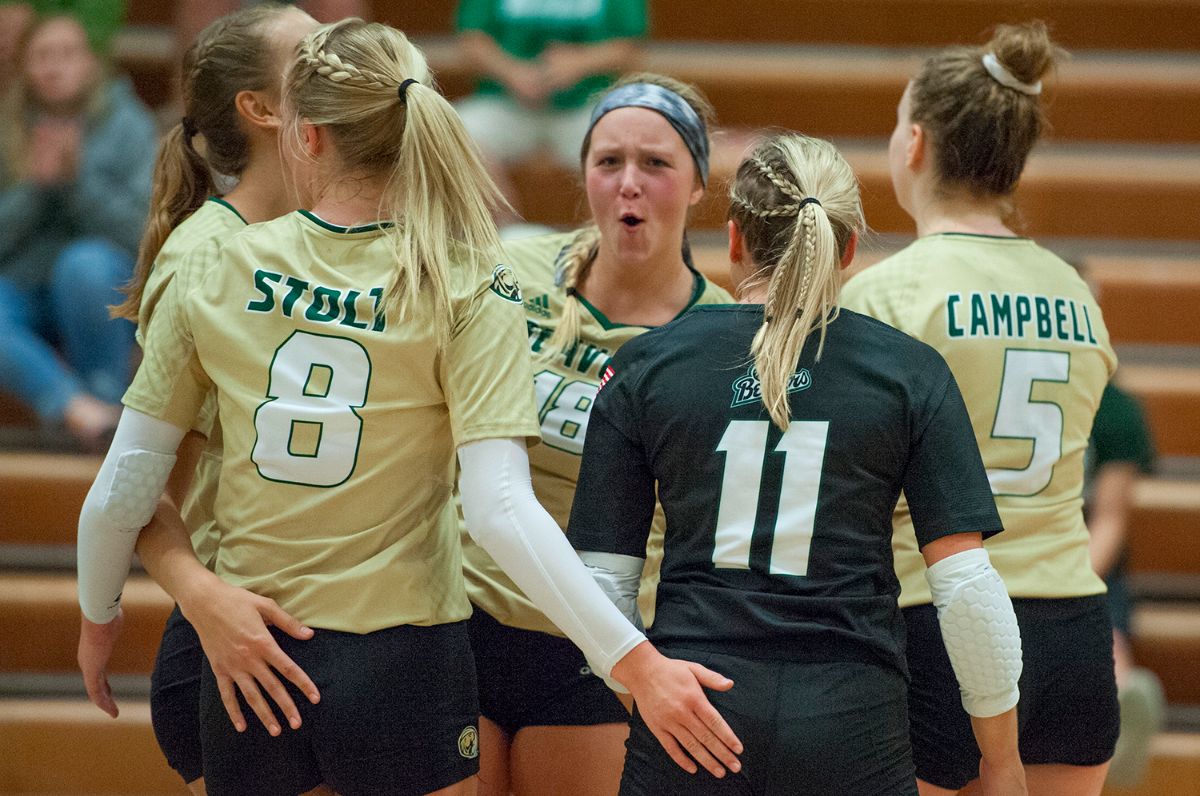 The Bemidji State University volleyball team earned its first Northern Sun Intercollegiate win since 2016 Tuesday night after sweeping University of Minnesota Crookston, 3-0 (25-20, 25-18, 25-23). The Beavers (4-7, 1-2 NSIC) were led by its two middle-blockers in Julie Touchett and Maddie Filipiak who totaled 20 of the teams 37 kills in the match.
With the win, the Beavers snapped a 32-match conference losing streak dating back to Oct. 15, 2016.
"I'm happy we got our first conference win," said head coach Kevin Ulmer. "I proud of their resiliency and how they worked through some of the challenges we've had. The way our middles played tonight and how Mary (Campbell) got them the ball was fantastic. "
Bemidji State went up early on the Golden Eagles outscoring UMC 8-3 early in the first set. The Golden Eagles would pull within one at 20-19 however but took five-out-of-six points to take set one, 25-20. Freshman Greta Paszek led the Beavers in the set by recording five of her seven kills in the match during the set while also hitting at a .400 efficiency.
The second set would prove to be a more even match between the two teams with both teams locked at 15-15 late in the set. Minnesota Crookston would take an 18-15 advantage over the Beavers but a 10-0 run by BSU gave the Beavers the 25-18 win in set two. BSU struggled in the set hitting just .086 efficiency but six service aces including four by junior Emma Hallman led to the Beavers comeback.
Set three would be in favor of the Golden Eagles early on after they jumped to an early 17-10 lead. The Beavers responded however and went on three runs of three points to tie the game at 20-20. Each team traded points until the scores showed 23-23 but two blocks from Filipiak and Paszek sealed the 25-23 victory for the Beavers.
Behind Touchett and Filipiak, who also led the team by hitting .320 and .318 respectively, Paszek added seven kills on .211 hitting and sophomore Becka Cronin added five kills on .105 hitting. Freshman Mary Campbell continued to set the ball for the Beavers and led the match with 31 assists while picking up eight digs defensively.
The Beavers gained a lot of points on the serve and out-served UMC 9-1 in the match while Touchett and Hallmann each totaled four aces. Defensively, Hallmann led the match by earning 15 digs while Cronin added 11. Filipiak led the Beavers with four blocks (1s-3a) while Touchett added three (1s-2a) while BSU out-blocked the Golden Eagles, 7-6.
The Beavers jump back into action this weekend and hit the road to travel to No. 2 Northern State University and Minnesota State University, Moorhead, Sept. 14-15.