Beaver Fever Friday – Soccer – Monet Cairns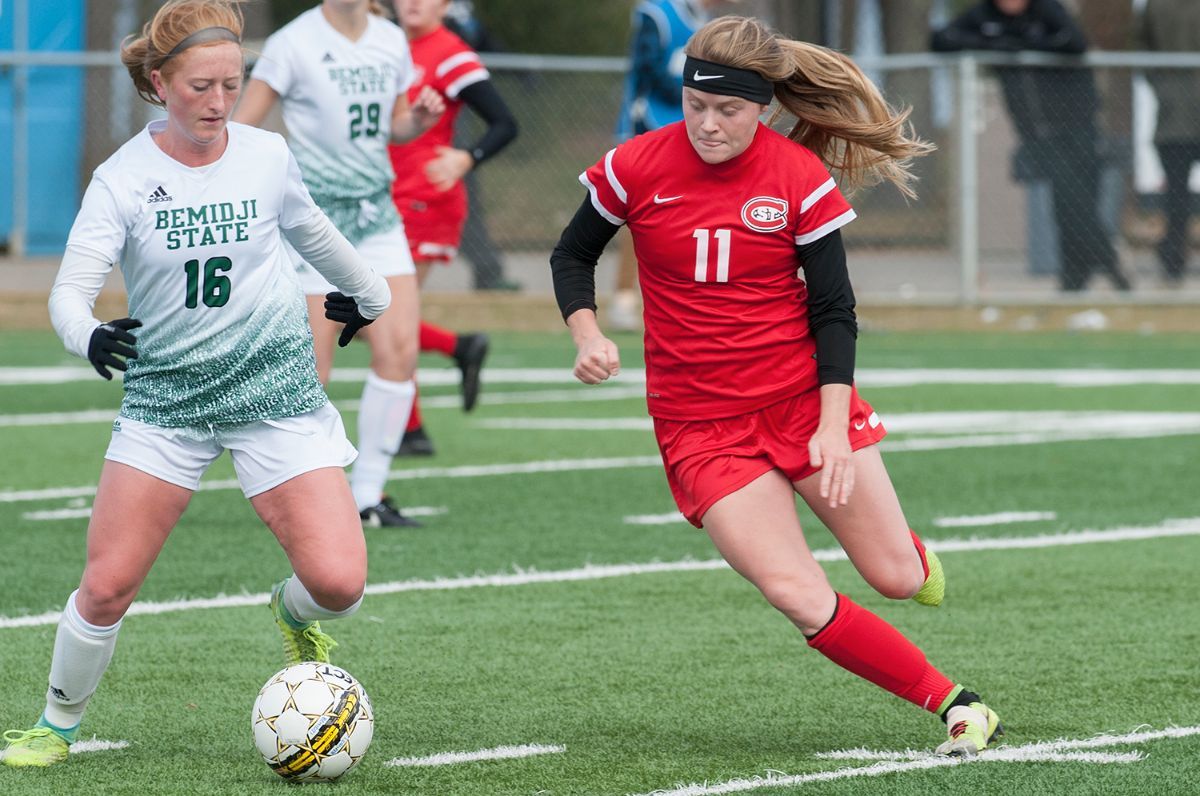 The No. 14 Bemidji State University Soccer team (4-0-0; 1-0-0 NSIC) returns Chet Anderson Stadium this week for a pair of Northern Sun Intercollegiate Conference contests. The Beavers host St. Cloud State University (1-2-1; 1-0-0 NSIC) at 3 p.m. Friday to get the week underway before a 1 p.m. match up with the University of Minnesota Duluth (1-3-0; 0-1-0 NSIC) Sunday.
The Beavers open the week holding down the No. 14 spot in the United Soccer Coaches national poll and are No. 2 in the Central Region. The No. 14 billing matches a program best No. 14 ranking Oct. 31 last fall and marks just the seventh time BSU has appeared in the national coaches poll top 25.
Last week BSU went 3-0-0 earning a 3-0 victory over the University of Minnesota Crookston to open NSIC play Wednesday, a 3-1 non-conference victory over Michigan Tech and a 1-0 win at NCAA Division I University of North Dakota Sunday.
Ally Smith led all BSU players with six points on the week. She logged two goals and two assists, which included matching a career-high with a two-goal, one assist effort in BSU's victory over MTU. Defensively, Anna Fobbe made eight saves to go 3-0-0 on the week, which included a pair of shutouts. In 225 minutes she allowed one goal for a .889 save percentage and a 0.40 goals against average. She made one save in 45 minutes versus UMC, she stopped three-of-4 shot son goal in the win versus MTU Friday and turned aside all four shots versus North Dakota. She now has 25 collegiate wins and 13 career shut outs.
Tia Neuharth helped spearheaded a BSU defensive effort that allowed just one goal in three matches last week and for her efforts, she was named NSIC Defensive Player of the Week. She and the BSU defense held Minnesota Crookston to a total of four shots, and just two on goal, in a 3-0 victory Wednesday and was key to keeping North Dakota off the scoreboard in a 1-0 victory Sunday. In particular, her play versus 2017 Big Sky Player of the Year, Katie Moller, a player who had six goals in the first five matches of the season, was key to the clean sheet. In all, she played 234 of the 270 minutes during the week.
BSU is coming off a 2017 campaign during which it compiled an overall record of 15-1-4 and finished second in the NSIC standings owning a 12-0-3 mark in league play. At the conclusion of the regular season, BSU made its ninth consecutive appearance in the NSIC Tournament and earned a berth into the NCAA Tournament for the first time in program history.
Under Jim Stone, who is in his 17th season at BSU, the Beavers return a roster of 19 including seniors Rachael Norton (20 GP, 14G, 10A, 6GWG, 38 pts), the 2017 NSIC Offensive Player of the Year and all-region selection, and Anna Fobbe, a goalkeeper with a with a career 21-10-2 record to go with 11 shutouts. In addition, reigning NSIC Freshman of the Year, Allyson Smith (20 GP, 9 G, 9 A, 27 pts, 3 GWG) and all-region midfielder Nelson (19 GP, 6G, 4A, 16 pts) are back for 2018, while eight of the team's top 10 scoring threats are back.
Both games this weeked will air on the Beaver Radio Network.