Beaver Women's Hockey Gameday – Game 3 – October 5, 2018 – at Providence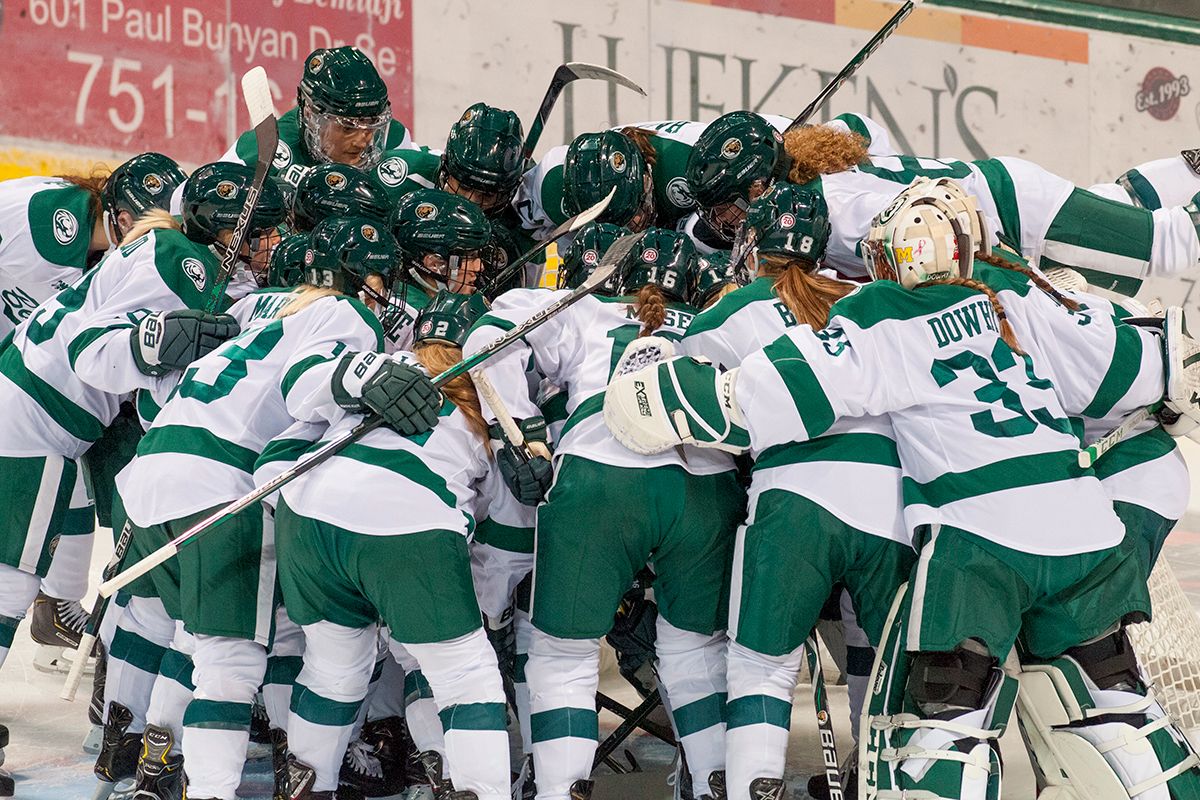 The Bemidji State University women's hockey team spends its first road weekend of the 2018-19 season at Providence College and will play a two-game, non-conference series with the Friars Oct. 5-6. The Beavers travel to face the Friars after dropping both games against No. 1 Clarkson University in their season-opening series.
The Beavers and Friars will meet for just the fifth and sixth times in the two programs' histories and first during the Jim Scanlan era. Bemidji State owns the series record at 2-1-1 with the two teams last met in Providence, R.I. where the Friars defeated the Beavers, 5-1, Oct. 6, 2012.
Pregame Open Pregame Open
Jim Scanlan Pregame Coach Pregame
Clair DeGeorge Pregame Player Pregame
Bemidji State Lines
Paige Beebe – Clair DeGeorge – Emily Bergland
Jacqueline Kaasa – Kiki Radke – Abby Halluska
Lydia Passolt – Lindsey Featherstone – Ellie Moser
Claudia Verkerke – Graysen Myers – Abby Ecker
Extra Skater –
Briana Jorde – Mak Langei
Melissa Hunt – Tina Kampa
Kara Werth – Heather Olson
Kerigan Dowhy
Lauren Bench
Lexi Baker
Opponent Lines
Haeyley Lunny – Neve Van Pelt – Meaghan Rickard
Caroline Peterson – Kathleen McHugh – Emily Landry
Sara Hjalmarsson – Cassidy MacPherson – Maureen Murphy
– –
Chloe Gonsalves – Whitney Dove
Avery Fransoo – Kate Friesen
Ariane Julien – Giana Savastano
Madison Myers
Sandra Abstreiter
Clare Minnerath
Beaver Radio Network Ottertail Power Three Stars
Jim Scanlan Postgame Jim Scanlan Postgame
Listen To / Download Whole Game

Boxscore provided by http://collegehockeystats.net
College Hockey Box Score (Final)
Bemidji State at Providence
Friday, October 5, 2018

| | | | | |
| --- | --- | --- | --- | --- |
| Referees: | John Dunn | | Game Start: | 6:00 |
| | Pavel Kozhokin | | Game End: | 8:01 |
| Linesmen: | Peter Terreri | | Game Length: | 2:01 |
| | Michael Sheeran | | Attendance: | 469 |
| | | | | |
| --- | --- | --- | --- | --- |
| Scoring | 1st | 2nd | 3rd | Final |
| Bemidji State | 0 | 0 | 1 | 1 |
| Providence | 1 | 2 | 1 | 4 |

| | | | | |
| --- | --- | --- | --- | --- |
| Shots on Goal | 1st | 2nd | 3rd | SOG |
| Bemidji State | 8 | 10 | 9 | 27 |
| Providence | 7 | 8 | 10 | 25 |

| | | | | |
| --- | --- | --- | --- | --- |
| | PP | PP % | PIM | SHGF |
| Bemidji State | 0/4 | .000 | 4/8 | 0 |
| Providence | 0/3 | .000 | 4/8 | 0 |
| | | | | | | | | | |
| --- | --- | --- | --- | --- | --- | --- | --- | --- | --- |
| # | Prd | Time | Team | Score | Type | Scored By | Assists | Offense On Ice | Defense On Ice |
| | 1st | 2:51 | PRV | 1-0 | EV | Maureen Murphy (1) | Sara Hjalmarsson/1, Cassidy MacPherson/1 | 15,19,17,7,12,G1 | 3,16,4,20,2,G33 |
| | 2nd | 1:04 | PRV | 2-0 | EV GW | Meaghan Rickard (1) | Hayley Lunny/1, Neve Van Pelt/1 | 9,24,18,5,10,G1 | 8,5,12,11,21,G33 |
| | 2nd | 4:12 | PRV | 3-0 | EV | Hayley Lunny (1) | – | 24,8,12,7,13,G1 | 21,12,8,5,11,G33 |
| | 3rd | 6:40 | BMJ | 1-3 | EV | Abby Halluska (1) | Kara Werth/1, Heather Olson/1 | 21,4,8,12,20,G33 | 28,12,8,7,13,G1 |
| | 3rd | 12:49 | PRV | 4-1 | EV | Cassidy MacPherson (1) | Kate Friesen/1, Maureen Murphy/1 | 17,6,15,19,27,G1 | 26,18,9,14,2,G33 |
##
Bemidji State
G
A
P
PIM
SOG
+/-
2
Mak Langei
0
0
0
0/0
1
-2
3
Lydia Passolt
0
0
0
1/2
0
-1
4
Kara Werth
0
1
1
1/2
2
E
5
Melissa Hunt
0
0
0
0/0
0
-2
6
Claudia Verkerke
0
0
0
0/0
0
E
7
Abby Ecker
0
0
0
0/0
0
E
8
Kiki Radke
0
0
0
0/0
5
-1
9
Emily Bergland
0
0
0
0/0
3
-1
10
Lindsey Featherstone
0
0
0
0/0
1
E
11
Tina Kampa
0
0
0
0/0
1
-2
12
Jacqueline Kaasa
0
0
0
0/0
1
-1
14
Briana Jorde
0
0
0
0/0
1
-1
16
Ellie Moser
0
0
0
0/0
1
-1
18
Paige Beebe
0
0
0
0/0
4
-1
20
Heather Olson
0
1
1
0/0
1
E
21
Abby Halluska
1
0
1
2/4
4
-1
23
Graysen Myers
0
0
0
0/0
0
E
26
Clair DeGeorge
0
0
0
0/0
2
-1
30
G Lexi Baker
Did Not Play
33
G Kerigan Dowhy
0
0
0
0/0
0
-3
35
G Lauren Bench
Did Not Play
Bemidji State Totals
1
2
3
4/8
27
-3

##
Providence
G
A
P
PIM
SOG
+/-
5
Giana Savastano
0
0
0
1/2
0
+1
6
Kate Friesen
0
1
1
0/0
2
+1
7
Whitney Dove
0
0
0
0/0
1
+1
8
Kathleen McHugh
0
0
0
1/2
0
E
9
Meaghan Rickard
1
0
1
0/0
4
+1
10
Neve Van Pelt
0
1
1
0/0
2
+1
12
Chloe Gonsalves
0
0
0
0/0
0
+1
13
Emily Landry
0
0
0
0/0
2
E
15
Maureen Murphy
1
1
2
1/2
3
+2
17
Cassidy MacPherson
1
1
2
0/0
2
+2
18
Ariane Julien
0
0
0
1/2
0
+1
19
Sara Hjalmarsson
0
1
1
0/0
5
+2
24
Hayley Lunny
1
1
2
0/0
3
+2
27
Avery Fransoo
0
0
0
0/0
1
+1
28
Caroline Peterson
0
0
0
0/0
0
-1
1
G Madison Myers
0
0
0
0/0
0
+3
30
G Sandra Abstreiter
Did Not Play
31
G Clare Minnerath
Did Not Play
Providence Totals
4
6
10
4/8
25
+3

| | | | | | | | |
| --- | --- | --- | --- | --- | --- | --- | --- |
| ## | Goaltending | MIN | GA | 1 | 2 | 3 | Saves |
| 33 | Kerigan Dowhy (L, 0-2-0) | 60:00 | 4 | 6 | 6 | 9 | 21 |

| | | | | | | | |
| --- | --- | --- | --- | --- | --- | --- | --- |
| ## | Goaltending | MIN | GA | 1 | 2 | 3 | Saves |
| 1 | Madison Myers (W, 1-0-0) | 60:00 | 1 | 8 | 10 | 8 | 26 |
| | | | | | |
| --- | --- | --- | --- | --- | --- |
| Prd | Player | Team | Min | Infraction | Time |
| 1st | Kara Werth | BMJ | 2 | Hooking | 5:12 |
| 1st | Maureen Murphy | PRV | 2 | Interference | 6:50 |
| 1st | Lydia Passolt | BMJ | 2 | Hooking | 7:47 |
| 1st | Ariane Julien | PRV | 2 | High-Sticking | 8:26 |

| | | | | | |
| --- | --- | --- | --- | --- | --- |
| Prd | Player | Team | Min | Infraction | Time |
| 2nd | Kathleen McHugh | PRV | 2 | Interference | 6:44 |
| 2nd | Giana Savastano | PRV | 2 | Interference | 11:54 |
| 3rd | Abby Halluska | BMJ | 2 | HANDLING PUCK WITH HANDS | 1:51 |
| 3rd | Abby Halluska | BMJ | 2 | Hitting from Behind | 16:02 |
New Records: Providence 1-0-0, Bemidji State 0-3-0

Three Stars: 1. Hayley Lunny (Providence)
2. Maureen Murphy (Providence)
3. Madison Myers (Providence)