Beaver Fever Friday Volleyball Becka Cronin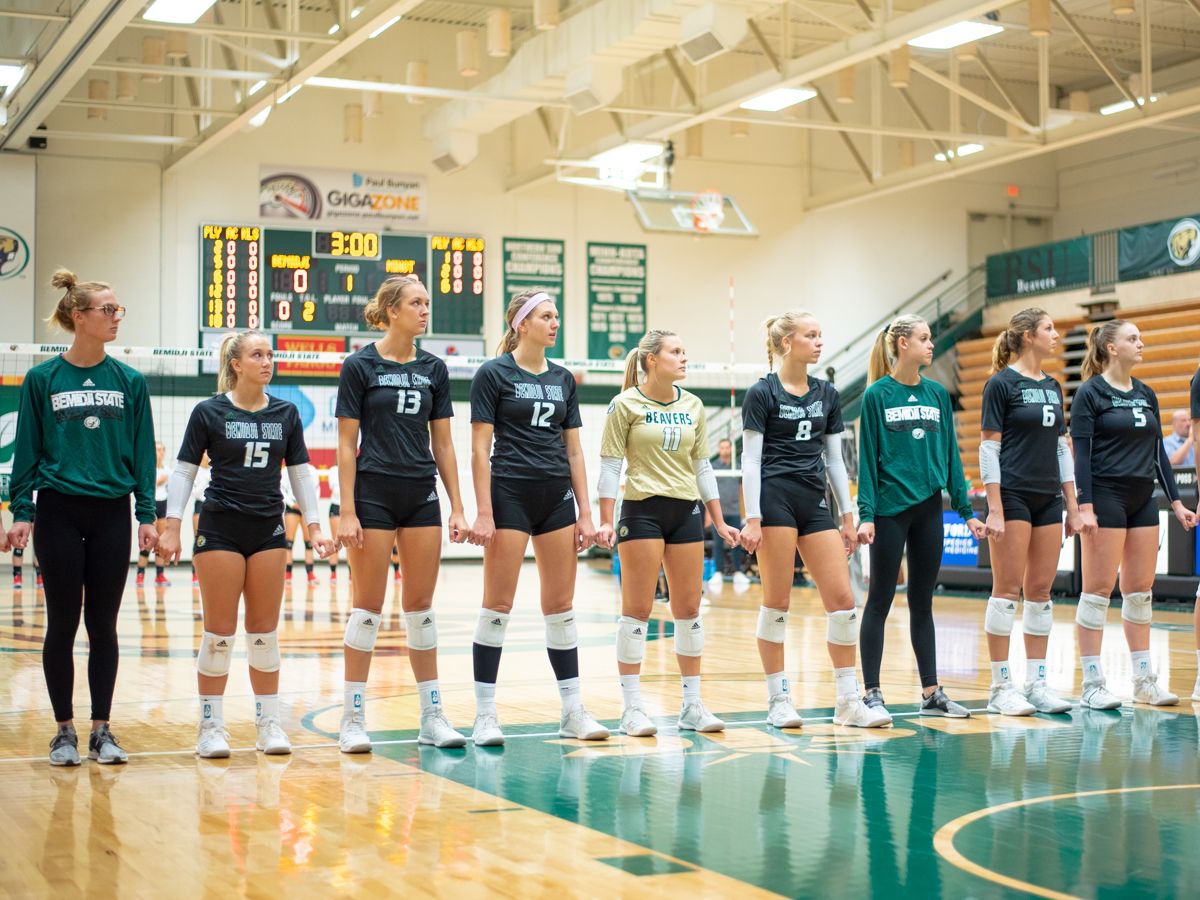 The Bemidji State University volleyball team completes returns home after three matches on the road by hosting No. 4 Concordia University-St. Paul and Minnesota State University, Mankato, Oct. 12-13. The Beavers (5-15, 2-10 NSIC) begin the weekend by facing off with the Golden Bears (17-4, 11-1 NSIC) Friday at 6 p.m., followed by the Mavericks (13-7, 6-6 NSIC) Saturday at 1 p.m.
Breast Cancer Awareness Month
In support of Breast Cancer Awareness Month the Bemidji State volleyball team is honoring survivors by admitting them and a guest to Saturday's match against the Mavericks (10/13), free of charge.
The Series
Concordia-St. Paul: Friday's meeting between the Golden Bears and Beavers will be the 41st of the all-time series dating back to 1972. Concordia-St. Paul holds the all-time series record at 30-9-1 and are on a 30-match winning streak against the Beavers. Bemidji State and Concordia-St. Paul last met a year ago. The Beavers fell to the Golden Bears 3-0 on the road in St. Paul, Minn. Third-year head coach Kevin Ulmer is 0-3 against CSP.
Minnesota State: Saturday's clash with the Mavericks will be the 57th meeting between the two programs with MSU holding a 37-19 edge over the Beavers. Minnesota State has been dominant as of late and have won 18 of the last 19 meetings against BSU. In their last meeting, Minnesota State earned a 3-0 sweep over the Beavers in Mankato, Minn. Bemidji State head coach Kevin Ulmer is 0-3 against the Mavericks.
The Teams
Concordia-St. Paul: The Golden Bears enter the weekend's action ranked fourth in the latest American Volleyball Coaches' Association Poll and second in the Northern Sun Intercollegiate Conference standings. CSP is currently on a three-match winning streak and defeated Minnesota State, 3-1, in their last meeting Tuesday, Oct. 9.
The Golden Bears have three dominant hitters on offense but are led by Brooklyn Lewis who ranks fourth in the conference by averaging 4.00 kills per set and has totaled 296 kills on the season. Hope Schiller and Sara Macek follow Lewis and average 3.14 and 3.07 kills per set, respectively. Macek is the conference leader by hitting at a .417 efficiency and she is followed by Lewis who is hitting at a .357 clip to rank seventh in the NSIC. The Golden Bears' attack is coordinated by the league leader in assists in Elizabeth Mohr who leads the league by averaging 13.11 assists per set.
On defense, the Golden Bears are led by Tori Hanson who averages 4.88 digs per set (361) to rank fifth in the league while Hope Schiller (239) and Erin Fallert (3.18) all have totaled over 200 digs. At the net, CSP is led by Macek who has totaled 51 blocks (6s-45a) while Brooklyn Lewis follows with 37 (2s-35a).
Minnesota State: Minnesota State enters the weekend with a 13-7 overall record and are tied for eighth in the league standings. The Mavericks travel to Bemidji after previously falling to Concordia-St. Paul, 3-1, Tuesday, Oct. 9 and facing Minnesota Crookston, Oct. 12.
The Mavericks have a pair of outstanding hitters in Morgan Olson and Alivia Garbe. Olson leads the team and is second in the conference by averaging 4.42 kills per set (327) while Garbe follows with 3.28 kills per set (243) to stand 10th in the NSIC. Olson is also one of the most efficient hitter in the league and is fifth by hitting at a .390 clip. The Mavericks use a pair of setters to pass the ball to their attackers. Micayla Porter leads the team with 494 assists (6.68 a/s) on the season while Lauren Lowry follows closely with 388 assists (5.24 a/s).
On defense, Minnesota State is led by Mara Quam who averages 4.96 digs per set (367) and is second in the league while Alivia Garbe follows with 202 digs (2.73 d/s). At the net, the Mavericks are led by Ashton Lee who is second in the league by averaging 1.02 blocks per set (12s-51a). She is followed by Anissa Janzig (9s-47a) and Morgan Olson (10s-38a) who each average over 0.50 blocks per set.
Bemidji State: The Beavers enter the weekend tied for 13th in the NSIC with a 2-10 league record and 5-15 overall. Bemidji State visited University of Minnesota Crookston before the weekends action and fell to the Golden Eagles, 3-0. Previously, the Beavers were on the road at Wayne State College (Neb.) and Augustana University (S.D.) and fell to both the Wildcats and Vikings in two 3-0 matches.
The Beavers are led on offense by sophomore Anna Averkamp who has totaled 166 kills (2.44 k/s) on 450 attacks while also hitting at a .178 clip. She is followed by Julie Touchett who has totaled 135 kills (1.82 k/s) while freshman Greta Paszek follows closely with 130 kills (1.97 k/s). Senior Maddie Filipiak is the other lone Beaver to tally over 100 kills on the season so far and totals 118 kills (1.59 k/s) in 74 sets. Fiplipiak also leads the Beavers' hitters by hitting at a .321 efficiency. Bemidji State's attack is coordinated by freshman Mary Campbell who has stepped in to fill setting position after Maddie Mackinac went down with injury. Since taking over the setting duties, Campbell has come on to average 7.84 assists per set and now leads the team with 356 assists.
On the defensive backcourt, BSU is led by junior Emma Hallmann and sophomore Becka Cronin. Hallmann paces the Beavers with 266 digs (3.59 d/s) while Cronin follows with 150 digs (2.08 d/s). At the net, the Beavers are led by Maddie Filipiak who has totaled 53 blocks (6s-47a) while Julie Touchett follows with 49 blocks (15s-34a).