Beaver Fever Friday Mens Hockey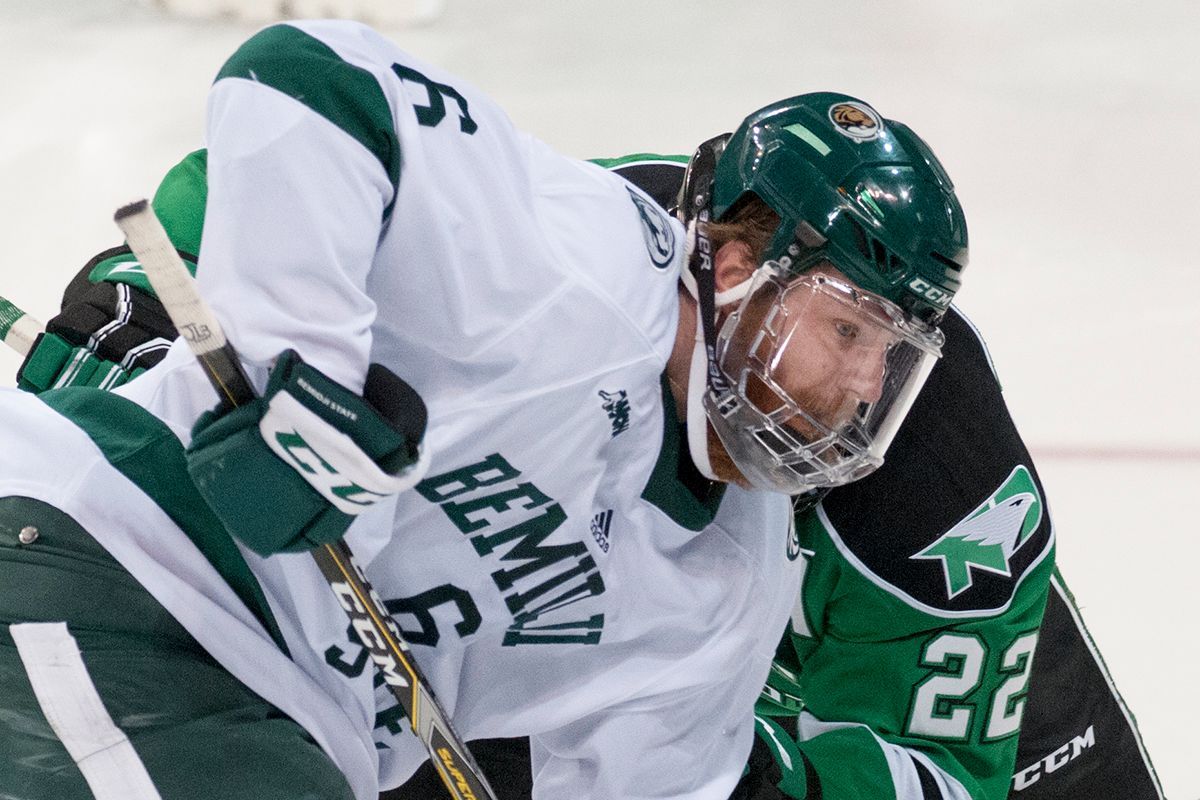 Mens Hockey battles North Dakota in non-conference, home-and-home series to open season
The Bemidji State University men's ice hockey team officially opens its 2018-19 season Friday as it hosts the University of North Dakota for the front half of a non-conference, home-and-home series. The Beavers, who have won their last four season-opening games, including a 5-1 victory over UND to open the 2014-15 campaign, seek a chance to get off on the right foot again this season.
The Beavers come into the new season on the heels of a 2017-18 campaign during which they went 16-14-8 overall with a 13-9-6-4 mark in Western Collegiate Hockey Association play to finish fourth. While BSU will feature 10 new faces this season, the team returns 57-percent of its scoring and four of its top five goal scorers. Jay Dickman returns for his senior season after logging a team- and career-best 15 goals a year ago. He also led the team with six power-play goals. Junior Adam Brady also returns after posting 26 points (8g-18a) to finish second on the team in scoring.
While BSU's Head Coach Tom Serratore will have the luxury of sprinkling in newcomers along side veteran leadership in his defensive corps and forward lines, he will look for his goaltenders to step up and claim time in the crease. Combined, BSU's three goalies, Jack Burgart, Henry Johnson and Zach Driscoll, have three collegiate appearances in BSU green. However, Driscoll played his freshman season at St. Cloud State University in 2016-17 and posted a 6-6-1 record with a 3.18 goals against average and a .888 save percentage.
The Fighting Hawks are coming off a 17-13-10 season in which they finished fourth in the National Collegiate Hockey Conference with a 8-10-6 record. The UND lineup features the return of two of its top four scorers, which includes a 30-point man in senior Nick Jones (5g-15a), who led the team with 15 goals. Junior defender Colton Poolman is back as the team's top assist man after recording 22 a year ago.
In the net, UND is also relatively inexperienced as sophomore Peter Thome will anchor the group as the veteran after seeing time in just 12 games a year ago and posting a 5-4-3 record to go with a 2.31 goals against average and .910 save percentage.
In a series that dates back to 1970, North Dakota holds a 31-3-5 advantage over BSU. The Beavers are 1-10-2 when hosting UND in Bemidji, Minn., while they are 2-21-3 on UND's home ice in Grand Forks, N.D., which includes a 5-1 BSU victory to open the 2014-15 season at Ralph Engelstad Arena. Despite the win-loss differential, nine of the last 15 meetings have been decided by one goal or less. BSU is 2-3-4 in those games
Tom Serratore (Bemidji State '86) is in his 18th season as BSU's head coach and has an overall record of 282-270-78. Serratore's teams have won CHA regular-season championships five times since 2003-04, a 2016-17 WCHA regular-season title and made trips to the NCAA Tournament in 2005, 2006, 2009 and 2010, with a 2009 appearance in the Frozen Four. He is the reigning WCHA Coach of the Year, a five-time CHA Coach of the Year recipient and was Spencer Penrose National Coach of the Year Runner-up in 2009.
Brad Berry is in his fourth season as head coach of North Dakota and 13th season on the UND bench. A graduate of UND, Berry became the sixth former player to take the reins of the program in 2015. Barry wasted no time contributing to the Fighting Hawks' tradition of success leading UND to the NCAA Division I Championship in his first season (2016). A four-year letterwinner for Gino Gasparini, he totaled 74 points for UND from 1983-86 before embarking on his professional hockey career, during which he played 241 games over eight years with Winnipeg, Minnesota and Dallas.