Beaver Fever Friday – Womens Hockey – Ellie Moser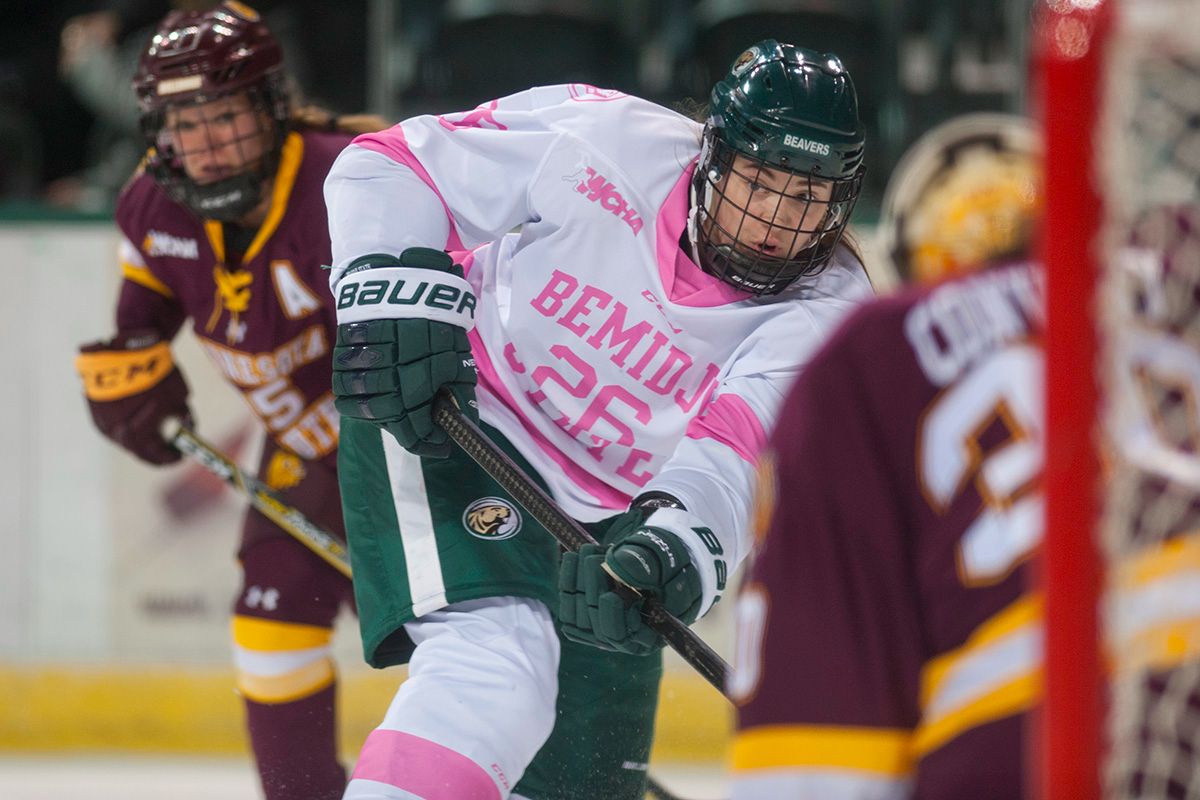 Beavers eye WCHA Opening series at No. 5 UMD
The Bemidji State University women's hockey team begins Western Collegiate Hockey Association play by traveling to No. 5 University of Minnesota Duluth, Friday-Saturday. The Beavers (0-4-0, 0-0-0-0 WCHA) are eager to begin conference play after going 0-4-0 in non-conference series against No. 1 Clarkson University and Providence College.
The Beavers and Bulldogs have clashed for 90 meetings during the two program's histories and Minnesota Duluth dominates the all-time series record at 69-17-4. The Beavers and Bulldogs met a total of eight times during the 2017-18 season including meeting for the first round of the WCHA Playoffs. Bemidji State downed Minnesota Duluth in three-of-five regular season match-ups and upset the three-seeded Bulldogs, 2-1, in their playoff series. Goaltender Kerigan Dowhy stole the show in the Beavers' playoff series with UMD posting two wins in the crease with a 1.76 goals against average and .929 save percentage including a 3-0 shutout in the series clinching game. Senior Emily Bergland has played the most games against the Bulldogs amongst active skaters and in 18 games, she has posted nine points on four goals and five assists. Junior Haley Mack follows with eight points (4g-4a) in 12 games while sophomore Clair DeGeorge trails with five points (2g-3a) in eight games.
A Look At The Bulldogs
Minnesota Duluth enters the weekend's action ranked fifth in the USCHO.com and USA Today/USA Hockey Magazine weekly polls. The Bulldogs have one of the toughest starts to the season in all of Division I by hosting No. 6 Boston College, No. 3 University of Minnesota and traveling to No. 2 University of Wisconsin. The Bulldogs began the season by sweeping the No. 6 Eagles and went 0-1-0-1 with a shootout win against the No. 3 Gophers. Minnesota Duluth was swept by the second-ranked Badgers on the road in its latest action falling by scores of 4-2 and 3-1.
The Bulldogs come into the weekend averaging 2.17 goals per game to stand fifth in the league while allowing 2.83 goals against per game to also rank fifth. Minnesota Duluth is the most penalized team in the WCHA and through six games, average 10.2 penalty minutes per game. Minnesota Duluth's special teams have been active to start the season and rank third and fifth, respectively, on the power play and penalty kill. UMD has converted on four-of-15 power play chances for a .267 percentage while killing off 16-of-21 of their opponent's power plays for a .762 penalty kill percentage.
Minnesota Duluth is led on offense by junior Ryleigh Houston and freshman Gabbie Hughes who have each tallied three goals and two assists in the team's first six games. The pair is followed by junior Sydney Brodt who has a goal and three assists while Anna Klein, Lizi Norton, Maggie Flaherty, Kailee Skinner and Anneke Linser each have three points. In net, the Bulldogs are led by Olympic gold medalist, junior Maddie Rooney. Rooney has started every game for the Bulldogs and has posted a 2-3-1 record with a 2.81 goals against average and .925 save percentage.