Beaver Women's Hockey Gameday – Game 7 – October 26, 2018 – vs Minnesota State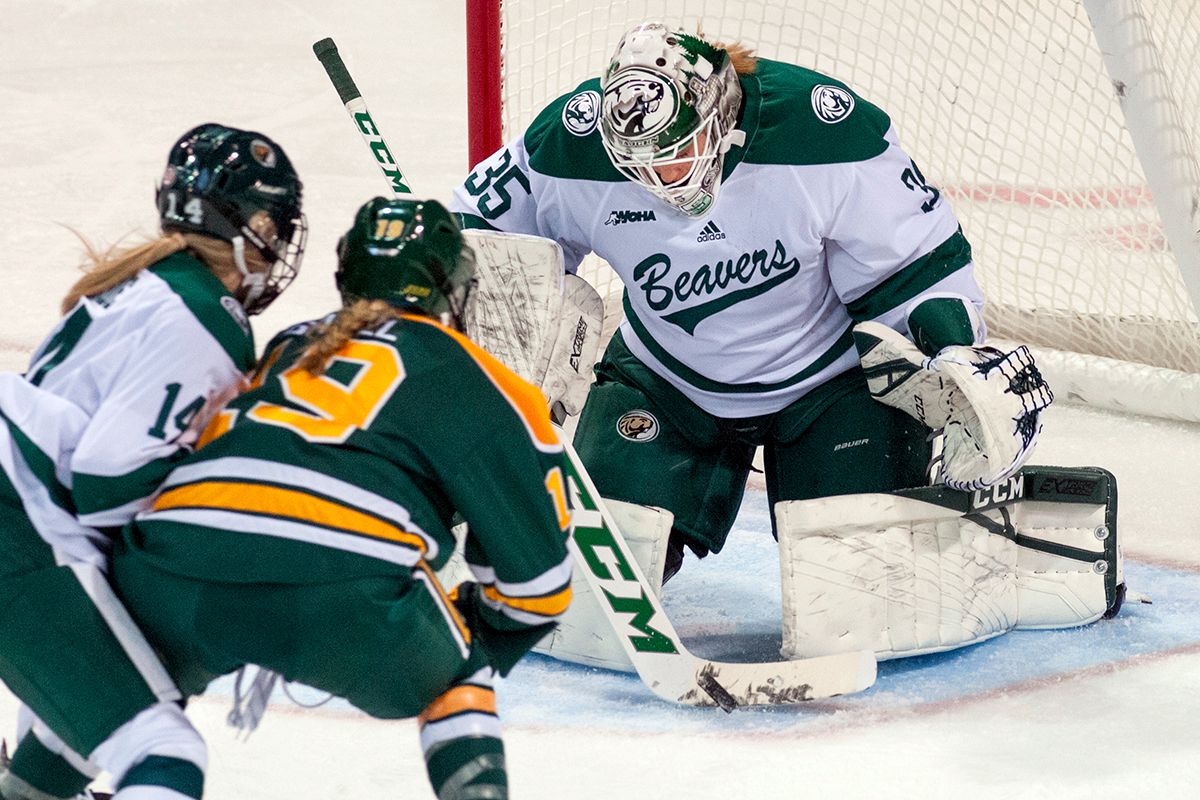 The Bemidji State University women's hockey team hosts its first Western Collegiate Hockey Association series by facing Minnesota State University, Mankato at Sanford Center. The Beavers (0-6-0, 0-2-0-0 WCHA) and Mavericks (3-3-0, 1-3-0-0 WCHA) clash for the two-game series Oct. 26-27. Puck drop for game one is scheduled for 6:07 p.m. Friday followed by 3:07 p.m. puck drop, Saturday.
Tune in to KPMI 1300 AM The Legends beginning 30 minutes prior to each face-off.
Pregame Open Pregame Open
Jim Scanlan Pregame Coach Pregame
Lauren Bench Pregame Player Pregame
Bemidji State Lines
Paige Beebe – Clair DeGeorge – Emily Bergland
Jacqueline Kaasa – Kiki Radke – Abby Halluska
Haley Mack – Lindsey Featherstone – Lydia Passolt
Ellie Moser – Sylvia Marolt – Abby Ecker
Extra Skater – Graysen Myers
Briana Jorde – Mak Langei
Melissa Hunt – Tina Kampa
Kara Werth – Heather Olson
Lauren Bench
Kerigan Dowhy
Lexi Baker
Opponent Lines
Jordan McLaughlin – Corbin Boyd – Rebekah Kolstad
Emily Antony – Brittyn Flemind – Brooke Bryant
Madison Oelkers – Mariah Gardner – Claire Butorac
Taylor Gulenchyn – Sofia Poinar – Demi Gardner
Leila Kilduff – Megan Hinze
Anna Wilgren – Tristen Truax
Jordan Jackson – McKenzie Sederberg
Abigail Levy
Chloe Crosby
Kathryn Bidulka
Beaver Radio Network Ottertail Power Three Stars
Jim Scanlan Postgame Jim Scanlan Postgame
Listen To / Download Whole Game

Boxscore provided by http://collegehockeystats.net
College Hockey Box Score (Final)
Minnesota State at Bemidji State
Friday, October 26, 2018

| | | | | |
| --- | --- | --- | --- | --- |
| Referees: | Mike Kaehler | | Game Start: | 6:07 |
| | Kevin Capocasa | | Game End: | 8:00 |
| Linesmen: | Ron Laituri | | Game Length: | 1:53 |
| | Josh Brown | | Attendance: | 313 |
| | | | | |
| --- | --- | --- | --- | --- |
| Scoring | 1st | 2nd | 3rd | Final |
| Minnesota State | 0 | 1 | 3 | 4 |
| Bemidji State | 1 | 0 | 0 | 1 |

| | | | | |
| --- | --- | --- | --- | --- |
| Shots on Goal | 1st | 2nd | 3rd | SOG |
| Minnesota State | 9 | 7 | 7 | 23 |
| Bemidji State | 6 | 13 | 12 | 31 |

| | | | | |
| --- | --- | --- | --- | --- |
| | PP | PP % | PIM | SHGF |
| Minnesota State | 0/2 | .000 | 2/4 | 0 |
| Bemidji State | 0/2 | .000 | 2/4 | 0 |
| | | | | | | | | | |
| --- | --- | --- | --- | --- | --- | --- | --- | --- | --- |
| # | Prd | Time | Team | Score | Type | Scored By | Assists | Offense On Ice | Defense On Ice |
| | 1st | 14:38 | BMJ | 1-0 | EV | Kara Werth (1) | Emily Bergland/2, Clair DeGeorge/1 | 4,9,26,18,5,G35 | 17,13,26,19,4,G39 |
| | 2nd | 18:40 | MNS | 1-1 | EV | Corbin Boyd (2) | Jordan McLaughlin/3, Rebekah Kolstad/3 | 11,6,22,18,13,G39 | 26,18,9,11,2,G35 |
| | 3rd | 4:08 | MNS | 2-1 | EV GW | Rebekah Kolstad (3) | Jordan McLaughlin/4, Sofia Poinar/1 | 22,6,15,13,18,G39 | 8,21,16,2,14,G35 |
| | 3rd | 18:45 | MNS | 3-1 | EV EN | Rebekah Kolstad (4) | Corbin Boyd/3, Jordan McLaughlin/5 | 22,11,6,21,9,G39 | 9,3,5,14,19,11 |
| | 3rd | 19:40 | MNS | 4-1 | EV EN | Mariah Gardner (2) | Madison Oelkers/3, Anna Wilgren/3 | 16,8,5,22,18,G39 | 9,2,19,26,8,16 |
##
Minnesota State
G
A
P
PIM
SOG
+/-
2
Jessica Kondas
0
0
0
0/0
0
E
4
Emily Antony
0
0
0
0/0
0
-1
5
Anna Wilgren
0
1
1
1/2
2
+1
6
Jordan McLaughlin
0
3
3
0/0
1
+3
7
Claire Butorac
0
0
0
0/0
2
E
8
Madison Oelkers
0
1
1
0/0
2
+1
9
McKenzie Sederberg
0
0
0
0/0
0
+1
10
Taylor Gulenchyn
0
0
0
0/0
0
E
11
Corbin Boyd
1
1
2
0/0
3
+2
13
Leila Kilduff
0
0
0
0/0
1
+1
14
Demi Gardner
0
0
0
0/0
0
E
15
Sofia Poinar
0
1
1
0/0
1
+1
16
Mariah Gardner
1
0
1
1/2
2
+1
17
Brooke Bryant
0
0
0
0/0
2
-1
18
Megan Hinze
0
0
0
0/0
2
+3
19
Brittyn Fleming
0
0
0
0/0
1
-1
21
Jordan Jackson
0
0
0
0/0
0
+1
22
Rebekah Kolstad
2
1
3
0/0
2
+4
26
Tristen Truax
0
0
0
0/0
2
-1
31
G Chloe Crosby
Did Not Play
34
G Kathryn Bidulka
Did Not Play
39
G Abigail Levy
0
0
0
0/0
0
+3
Minnesota State Totals
4
8
12
2/4
23
+3

##
Bemidji State
G
A
P
PIM
SOG
+/-
2
Mak Langei
0
0
0
0/0
1
-3
3
Lydia Passolt
0
0
0
0/0
3
-1
4
Kara Werth
1
0
1
0/0
2
+1
5
Melissa Hunt
0
0
0
0/0
1
E
7
Abby Ecker
0
0
0
1/2
0
E
8
Kiki Radke
0
0
0
0/0
3
-2
9
Emily Bergland
0
1
1
0/0
5
-2
10
Lindsey Featherstone
0
0
0
0/0
1
E
11
Tina Kampa
0
0
0
1/2
0
-2
12
Jacqueline Kaasa
0
0
0
0/0
0
E
13
Sylvia Marolt
0
0
0
0/0
0
E
14
Briana Jorde
0
0
0
0/0
0
-2
16
Ellie Moser
0
0
0
0/0
0
-2
18
Paige Beebe
0
0
0
0/0
5
E
19
Haley Mack
0
0
0
0/0
2
-2
20
Heather Olson
0
0
0
0/0
2
E
21
Abby Halluska
0
0
0
0/0
4
-1
23
Graysen Myers
0
0
0
0/0
0
E
26
Clair DeGeorge
0
1
1
0/0
2
-1
30
G Lexi Baker
Did Not Play
33
G Kerigan Dowhy
Did Not Play
35
G Lauren Bench
0
0
0
0/0
0
-1
Bemidji State Totals
1
2
3
2/4
31
-3

| | | | | | | | |
| --- | --- | --- | --- | --- | --- | --- | --- |
| ## | Goaltending | MIN | GA | 1 | 2 | 3 | Saves |
| 39 | Abigail Levy (W, 4-3-0) | 60:00 | 1 | 5 | 13 | 12 | 30 |

##
Goaltending
MIN
GA
1
2
3
Saves
35
Lauren Bench (L, 0-4-0)
58:35
2
9
6
4
19
Empty Net
1:25
2
| | | | | | |
| --- | --- | --- | --- | --- | --- |
| Prd | Player | Team | Min | Infraction | Time |
| 1st | Abby Ecker | BMJ | 2 | Tripping | 9:50 |
| 2nd | Tina Kampa | BMJ | 2 | Interference | 5:31 |

| | | | | | |
| --- | --- | --- | --- | --- | --- |
| Prd | Player | Team | Min | Infraction | Time |
| 2nd | Mariah Gardner | MNS | 2 | Hooking | 8:40 |
| 3rd | Anna Wilgren | MNS | 2 | Hooking | 9:18 |
New Records: Minnesota State 4-3-0, Bemidji State 0-7-0

Three Stars: 1. Abigail Levy (Minnesota State)
2. Rebekah Kolstad (Minnesota State)
3. Corbin Boyd (Minnesota State)