Beaver Fever Friday – November 1, 2018 – @BSUBeaversMHKY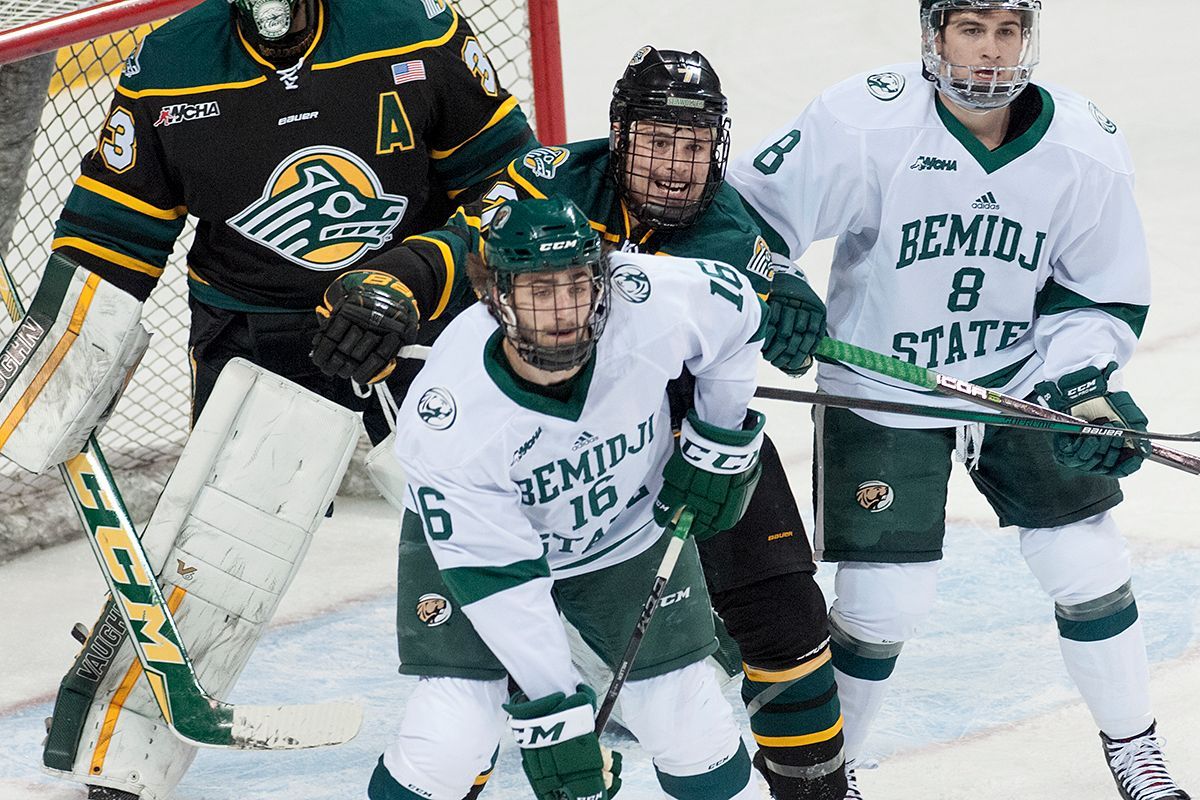 Bemidji State wraps up four-game road swing at Alaska-Anchorage
The Bemidji State University Men's Hockey Team wraps up its four-game road swing this weekend when it travels to Anchorage, Alaska for a two-game series at the University of Alaska-Anchorage. The teams drop the puck on the series at 10:07 p.m. (CST) Friday from Sullivan Arena with a 7:07 p.m. opening face off set for the series finale, Saturday.
BSU has won nine of its last 10 match ups with the Seawolves, which includes the last three straight. Since the series got its start in 2010 when the Beavers joined the WCHA, the Beavers are 14-2-4 versus UAA and are 5-1-2 all-time in Sullivan Arena.
Bemidji State notables:
Bemidji State (2-1-1; 1-1-0-0 WCHA) split a WCHA road series at Northern Michigan Oct. 26-27. After dropping a 3-0 decision to open the league slate, the Beavers battled back to earn a 2-1 victory in a buzzer-beater Saturday.
BSU is 3-4-2 in WCHA openers since moving to the WCHA for the 2010-11 season and is 2-2-1 when opening the league season on the road.
Last season BSU was 13-9-6-4 in WCHA play, which included a pair of ties with NMU, for 49 points and fourth place.
Prior to Friday night's shutout loss, the Beavers had scored in 11 consecutive games. BSU last failed to score Feb. 3, 2018.
Aaron Miller scored both BSU goals in Saturday's victory marking the third multi-point game of his career and the first multi-goal performance of the sophomore's career.
•Freshman Darby Gula recorded his first collegiate point Saturday, adding an assist on Miller-game-tying second period goal. He is tied with Owen Sillinger to lead BSU's rookie class in scoring with 1 point, while he is tied with Justin Baudry (0-1=1) atop BSU's defenseman scoring list.
Since the beginning of the 2015-16 season, BSU is now 6-2-0 after being shutout and has averaged 3.10 goals per game compared to allowing 2.07 goals per game.
With just five goals through the first four games of the season (1.25 GPG), BSU is well behind its scoring average of a year ago. With 101 goals in 38 games last season, BSU averaged 2.71 goals per game, its highest mark since netting 3.46 in 2009-10.
The BSU goaltenders have also allowed just four goals, while its opponents have averaged 1.50 goals per game after a pair of empty-net goals. While it is early, projected over the season, the 1.47 GAA would be a BSU Division I-era record.
Through his first two collegiate starts, sophomore Henry Johnson is 1-1-0 with a 1.01 GAA and a .964 save percentage with 53 saves and two goals allowed in 119:05 minutes between the pipes.
His counterpart, Zach Driscoll is 1-0-1 and has allowed just two goals and has collected 55 saves in two starts (125 minutes). He has a .964 save percentage and 0.96 GAA.
The BSU penalty-kill unit was 6-for-7 at NMU Oct. 26-27 and to pushed its streak of penalties killed to open the season to 11 before allowing a power-play goal Saturday. The Beavers picked up right where they left off in 2017-18. BSU was fifth in the nation in PK efficiency at .865. At 87-of-98 (.888), the Beavers led the WCHA during the regular season.
BSU went 3-for-4 on the PK Saturday to finish the weekend at 15-for-16 on the year (.938).
BSU was 0-for-6 at Northern Michigan and is now 1-for-10 on the season and has not scored on the man advantage in its last nine opportunities. BSU's last PPG came off the stick of Adam Brady in the season-opener Oct. 12.
BSU was .217 (31/143) in 2017-18, which was good for tops at BSU since moving to Division I for the 1999-00 season. The Beavers finished the season third in the WCHA at 27-for-111 (.207).
Adam Brady led all BSU players with 14 power-play points (4g-10a) in 2017-18. His power-play goal in the 2018-19 opener puts him right back on top in man-advantage scoring, along with Aaron Miller and Brendan Harris, who each have an assist.
BSU has been out shot in each game this season and has averaged just 19.0 shots per game. Since 1999-2000, BSU is 26-47-6 when failing to register 20 shots on goal.
BSU hits the road again this week for a two-game series at Alaska-Anchorage. The Beavers are 14-2-4 all-time versus UAA and are 5-1-2 at Sullivan Arena.
The Beavers have won eight of the last meetings (8-1-0) with the Seawolves and have not lost to UAA since Dec. 30, 2016.
Jay Dickman leads all current BSU player in scoring success versus UAA. He has seven points (4g-3a) in 11 career games versus the Seawolves, which includes a game-winning goal.
BSU was 8-6-4 on the road a year ago and averaged 2.61 goals per game, while allowing 2.33. Its penalty-kill unit was also 56-for-65 (.862) and its power-play unit was 15-for-71 (.211).
Since Jan. 2016, BSU is 9-3-1 on Olympic ice sheets, which includes a 1-1-0 mark this season. Four of BSU's next sic games will take place on the 200-by-100-foot ice surface.
The Beavers were 8-6-4 (.556) on the road a year ago. BSU averaged 2.61 goals per road contest, while surrendering 2.33. The Beavers power-play unit connected on 15-of-71 (.211) chances on opponennts' ice, while its PK unit was 56-of-65 (.862).