Beaver Women's Hockey Gameday – Game 10 – November 3, 2018 – vs Minnesota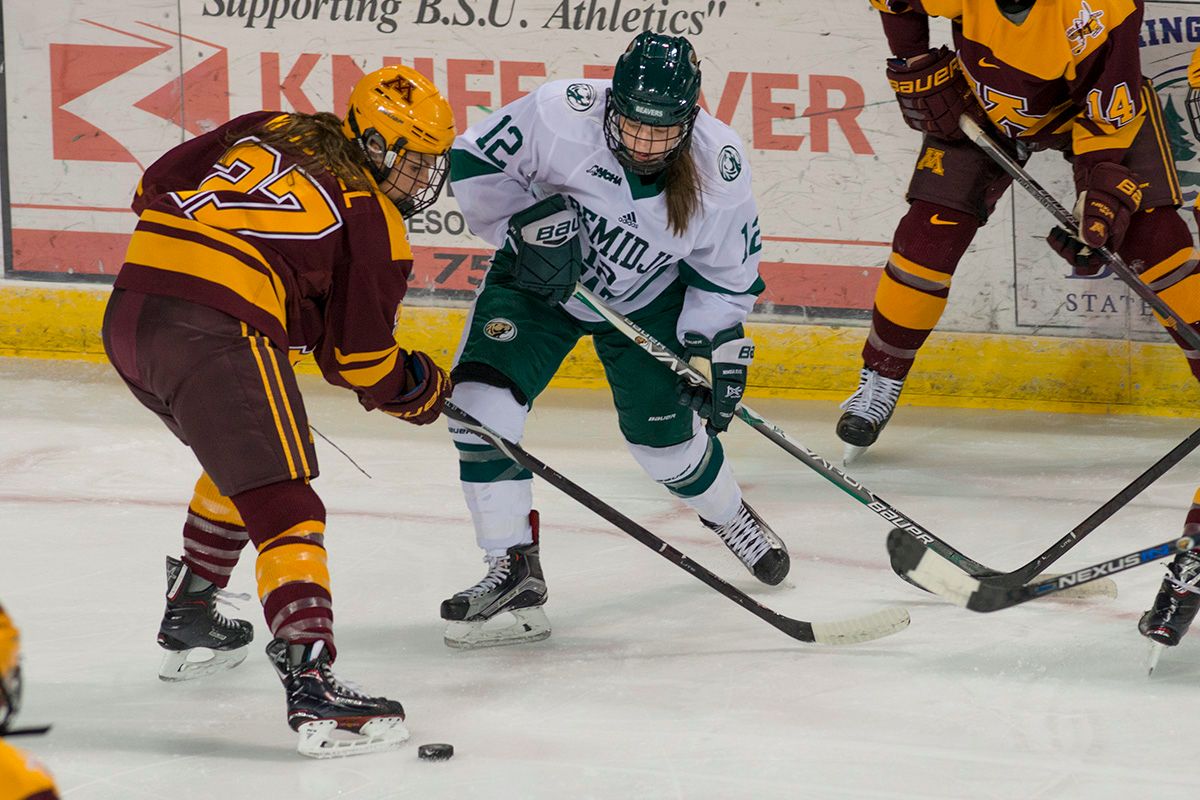 Sophomore Clair DeGeorge scored two goals to give the Bemidji State University women's hockey team 1-0 and 3-2 leads in the first period over No. 2 University of Minnesota but the Gophers (8-2-1, 6-2-1-0 WCHA) scored four-unanswered goals in the second and third periods to complete the comeback with a 6-3 win over the Beavers (0-8-1, 0-4-1-0 WCHA).
DeGeorge opened the game with her second goal of the season at 5:31 of the first period and senior Emily Bergland put the Beavers up 2-0 just a minute later with second goal of the season as well. Minnesota answered back however, and at 15:38 and 16:54, Emily Oden and Grace Zumwinkle evened the score at two. The Beavers wouldn't hang their heads and with just 1:44 remaining in the opening period, DeGeorge scored her second of the game, third of the season, while on a BSU power play to head into the locker room leading the second-ranked Gophers 3-2.
Bemidji State had two chances on the power play and converted on one of them thanks to DeGeorge with her first power-play goal of the season while the Beavers' penalty kill killed off two of three chances by the Gophers.
Redshirt sophomore Lauren Bench stopped 31 shots the game for her second consecutive game with 30 or more saves but earned the loss and falls to 0-5-1 on the season.
Behind DeGeorge's two goals, sophomore Paige Beebe followed with two assists while Bergland (1g) and Jacqueline Kaasa (1a) each recorded a point.
The Beavers and Gophers are back in action Saturday for the series finale at Ridder Arena. Puck drop for game two is scheduled for 4:07 p.m. Tune in to our broadcast 37 minutes before the face-off for our pregame show on KPMI AM 1300 The Legends.
Pregame Open Pregame Open
Jim Scanlan Pregame Coach Pregame
Clair DeGeorge Pregame Player Pregame
Bemidji State Lines
Jacqueline Kaasa – Emily Bergland – Paige Beebe
Lydia Passolt – Kiki Radke – Abby Halluska
Haley Mack – Clair DeGeorge – Ellie Moser
Graysen Myers – Lindsey Featherstone – Abby Ecker
Extra Skater –
Briana Jorde – Mak Langei
Melissa Hunt – Tina Kampa
Kara Werth – Heather Olson
Kerigan Dowhy
Lauren Bench
Lexi Baker
Opponent Lines
Nicole Schammel – Taylor Wente – Grace Zumwinkle
Emily Oden – Taylor Heise – Amy Potomak
Taylor Williamson – Catie Skaja – Alex Woken
Kippin Keller – Abigail Boreen – Jackie Pieper
Emily Brown – Olivia Knowles
Sophie Skarzynski – Patti Marshall
Gracie Ostertag – Crystalyn Hengler
Alex Gulstene
Emma May
Beaver Radio Network Ottertail Power Three Stars
Jim Scanlan Postgame Jim Scanlan Postgame
Listen To / Download Whole Game

Boxscore provided by http://collegehockeystats.net
College Hockey Box Score (Final)
Bemidji State at Minnesota
Saturday, November 3, 2018

| | | | | |
| --- | --- | --- | --- | --- |
| Referees: | Craig Hedlund | | Game Start: | 4:07 |
| | Alicia Hanrahan | | Game End: | 6:06 |
| Linesmen: | Aaron Neville | | Game Length: | 1:59 |
| | Eric Arndt | | Attendance: | 2097 |
| | | | | |
| --- | --- | --- | --- | --- |
| Scoring | 1st | 2nd | 3rd | Final |
| Bemidji State | 0 | 1 | 0 | 1 |
| Minnesota | 1 | 0 | 1 | 2 |

| | | | | |
| --- | --- | --- | --- | --- |
| Shots on Goal | 1st | 2nd | 3rd | SOG |
| Bemidji State | 7 | 8 | 11 | 26 |
| Minnesota | 13 | 6 | 8 | 27 |

| | | | | |
| --- | --- | --- | --- | --- |
| | PP | PP % | PIM | SHGF |
| Bemidji State | 0/4 | .000 | 3/6 | 0 |
| Minnesota | 1/2 | .500 | 5/10 | 0 |
| | | | | | | | | | |
| --- | --- | --- | --- | --- | --- | --- | --- | --- | --- |
| # | Prd | Time | Team | Score | Type | Scored By | Assists | Offense On Ice | Defense On Ice |
| | 1st | 11:52 | MIN | 1-0 | EV | Taylor Williamson (4) | Catie Skaja/2 | 7,3,2,20,24,G29 | 3,4,8,20,21,G33 |
| | 2nd | 7:26 | BMJ | 1-1 | EV | Jacqueline Kaasa (1) | – | 12,2,9,14,18,G33 | 16,21,24,2,9,G29 |
| | 3rd | 5:06 | MIN | 2-1 | PP GW | Grace Zumwinkle (6) | Emily Brown/5, Taylor Wente/3 | 12,2,7,25,28,G29 | 9,11,20,26,G33 |
##
Bemidji State
G
A
P
PIM
SOG
+/-
2
Mak Langei
0
0
0
0/0
2
+1
3
Lydia Passolt
0
0
0
0/0
3
-1
4
Kara Werth
0
0
0
0/0
1
-1
5
Melissa Hunt
0
0
0
0/0
1
E
7
Abby Ecker
0
0
0
0/0
0
E
8
Kiki Radke
0
0
0
0/0
1
-1
9
Emily Bergland
0
0
0
0/0
2
+1
10
Lindsey Featherstone
0
0
0
0/0
1
E
11
Tina Kampa
0
0
0
0/0
1
E
12
Jacqueline Kaasa
1
0
1
0/0
1
+1
14
Briana Jorde
0
0
0
0/0
2
+1
16
Ellie Moser
0
0
0
1/2
1
E
18
Paige Beebe
0
0
0
1/2
4
+1
19
Haley Mack
0
0
0
0/0
2
E
20
Heather Olson
0
0
0
1/2
0
-1
21
Abby Halluska
0
0
0
0/0
2
-1
23
Graysen Myers
0
0
0
0/0
1
E
26
Clair DeGeorge
0
0
0
0/0
1
E
30
G Lexi Baker
Did Not Play
33
G Kerigan Dowhy
0
0
0
0/0
0
E
35
G Lauren Bench
Did Not Play
Bemidji State Totals
1
0
1
3/6
26
E

##
Minnesota
G
A
P
PIM
SOG
+/-
2
Emily Brown
0
1
1
2/4
2
E
3
Catie Skaja
0
1
1
0/0
0
+1
5
Sophie Skarzynski
0
0
0
1/2
1
E
6
Gracie Ostertag
0
0
0
0/0
2
E
7
Taylor Williamson
1
0
1
1/2
1
+1
8
Kippin Keller
0
0
0
0/0
0
E
9
Taylor Heise
0
0
0
0/0
3
-1
12
Grace Zumwinkle
1
0
1
0/0
4
E
13
Crystalyn Hengler
0
0
0
0/0
2
E
15
Jackie Pieper
0
0
0
0/0
0
E
16
Amy Potomak
0
0
0
0/0
0
-1
18
Katie Robinson
0
0
0
0/0
0
E
20
Alex Woken
0
0
0
0/0
0
+1
21
Emily Oden
0
0
0
0/0
1
-1
22
Abigail Boreen
0
0
0
0/0
2
E
24
Olivia Knowles
0
0
0
0/0
0
E
25
Nicole Schammel
0
0
0
0/0
6
E
27
Patti Marshall
0
0
0
0/0
1
E
28
Taylor Wente
0
1
1
1/2
2
E
29
G Alex Gulstene
0
0
0
0/0
0
E
31
G Emma May
Did Not Play
Minnesota Totals
2
3
5
5/10
27
E

##
Goaltending
MIN
GA
1
2
3
Saves
33
Kerigan Dowhy (L, 0-4-0)
58:34
2
12
6
7
25
Empty Net
1:26
0

| | | | | | | | |
| --- | --- | --- | --- | --- | --- | --- | --- |
| ## | Goaltending | MIN | GA | 1 | 2 | 3 | Saves |
| 29 | Alex Gulstene (W, 7-0-0) | 60:00 | 1 | 7 | 7 | 11 | 25 |
| | | | | | |
| --- | --- | --- | --- | --- | --- |
| Prd | Player | Team | Min | Infraction | Time |
| 2nd | Sophie Skarzynski | MIN | 2 | Tripping | 0:38 |
| 2nd | Ellie Moser | BMJ | 2 | Roughing | 13:09 |
| 2nd | Taylor Wente | MIN | 2 | Tripping | 13:09 |
| 2nd | Emily Brown | MIN | 2 | Roughing | 13:09 |

| | | | | | |
| --- | --- | --- | --- | --- | --- |
| Prd | Player | Team | Min | Infraction | Time |
| 3rd | Taylor Williamson | MIN | 2 | Tripping | 2:12 |
| 3rd | Heather Olson | BMJ | 2 | Hooking | 4:55 |
| 3rd | Paige Beebe | BMJ | 2 | Roughing | 7:31 |
| 3rd | Emily Brown | MIN | 2 | Cross-Checking | 14:07 |
New Records: Minnesota 9-2-1, Bemidji State 0-9-1

Three Stars: 1. Grace Zumwinkle (Minnesota)
2. Alex Gulstene (Minnesota)
3. Taylor Williamson (Minnesota)