Beaver Fever Friday – Vamougne Kanneh – @BSUBeaversFB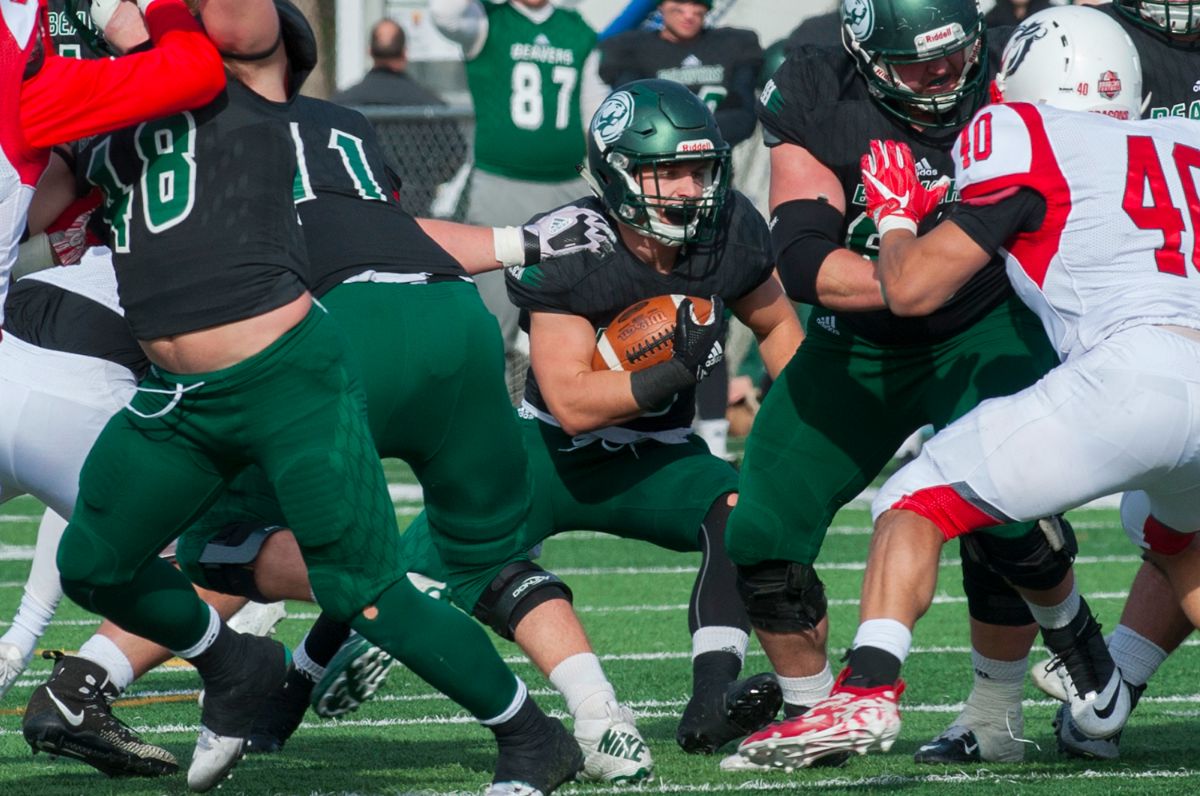 Senior Day concludes 2018 Beaver Football schedule
Bemidji State University will attempt to end the 2018 season with a win Saturday, Nov. 10 while extending a 15-game winning streak against Minot State University. BSU and MiSU will kick off the 20th game of the series at 1 p.m. from Chet Anderson Stadium.
The Series
Bemidji State leads the all-time series against Minot State, 18-1.
BSU has won 15 straight against MiSU, including a 40-14 win Oct. 14 2017 in Minot, N.D.
Minot State's only win came Sept, 7, 2002 in Bemidji, Minn.
The series began Sept. 4, 1999, a 28-7 win by BSU in Bemidji.
THE TEAMS
Bemidji State
Bemidji State fell in the Battle for the Axe to MSU Moorhead, 31-26, after recovering an onside kick for a potential game-winning drive late in the game.
The Beavers rallied from a 28-13 deficit to trail, 31-26, with 2:12 left in the fourth quarter. Freshman quarterback Alec Ogden was strip-sacked for the game's only turnover to seal the win for the Dragons.
Senior wide receiver Landon Jones became the first Beaver to grab three touchdown receptions since Brian Leonhardt in 2009.
BSU and MSUM have alternated wins over the past five seasons, each winning the other's home turf.
The "Gang Green" defense continues to lead the Northern Sun Intercollegiate Conference in turnover margin (1.20), red zone offense (90%), red zone defense (65%) and average punt return (18.2).
Sophomore linebacker Gabe Ames ranks ninth in the league with 79 total tackles and eighth with 12.0 tackles for a loss.
The Beavers are one of the most efficient red zone teams in the country, ranking eighth with a red zone offense of 90 percent. BSU has scored 26 touchdowns and 10 field goals in 40 red zone trips this season.
The "Gang Green" defense ranks seventh in the nation in red zone defense at 61.9 percent. BSU ranks second in the nation with 18 interceptions, two shy of the team's total in 2017. Junior defensive back Michael Junker and Vogeler rank second in the NSIC with four interceptions each.
Fourteen Beavers seniors will be recognized on senior day including: kicker/punter Isaac Aanerud, offensive lineman Parker Blakeslee, defensive lineman Dylan Ellingson, defensive lineman Jeff Harris, wide receiver Landon Jones, linebacker Vamougne Kanneh, running back Andrew Lackowski, defensive back Gunner Olszewski, offensive lineman Zach Sinnen, linebacker Justin Van Houtan, defensive back John Vogeler, defensive back Andrew Walock, wide receiver Jameson White and defensive back Maurice Willis.
Aanerud finishes his career as BSU's all-time leader in field goals, entering the season finale with 43 made field goals on 61 attempts, a .705 field goal percentage. All-time at BSU, Aanerud ranks first in points scored by kicking with 250 points, second with 121 point-after kicks and fourth with 164 punts.
Blakeslee transferred to BSU in 2017 and has started every game at center for the Beavers. The offensive lineman helped drive BSU to average at least 35 points per game in 2017 and 2018.
Ellingson has played in 41 career games, including 21 starts over the past two seasons. He enters his final game with 81 total tackles, 7.5 tackles for a loss and 5.5 sacks.
Harris has played in 38 games for the Beavers while entering Saturday's game with 63 career tackles, 18.0 tackles for a loss and 9.5 sacks.
Jones made the most of his lone season at BSU, leading the team with 654 receiving yards on 31 catches with eight receiving touchdowns. His average of 21.1 yards per reception leads the NSIC among athletes with at least 30 receptions.
Kanneh transferred to BSU in 2017 and enters the weekend with 41 career tackles, 4.5 tackles for a loss and 2.5 sacks.
Lackowski transferred to BSU in 2017 and ranks ninth among all BSU running backs with 1,798 career rushing yards. His nine 100-yard rushing games ranks sixth all-time in program history.
Olszewski finished his career second in BSU history with 923 career punt return yards and tied for second with 13 career interception. He holds the program's all-time record with 183 solo tackles and ranks seventh all-time at BSU with 308 total tackles.
Sinnen has played in 24 games over the past three seasons on the Bemidji State offensive line. He helped lead the program to its first-ever postseason victory after playing in nine games during the 2016 season.
Van Houtan enters his final game with 42 career tackles, 6.5 tackles for a loss, 4.0 sacks and two forced fumbles.
Vogeler recorded nine career interceptions over the past two seasons, including a BSU all-time record four interceptions returned for a touchdown. He also ranks second all-time with 179 interception return yards. Vogeler currently has 107 tackles and 20 passes defended.
Walock has totaled 33 tackles, three pass defenses, 2.0 tackles for a loss and one interception since joining BSU in 2017.
White enters Saturday's game with 11 career receptions for 173 yards with three touchdowns. He has scored all three touchdowns on nine catches this season.
Willis has played in 20 games since joining the program in 2017, entering the final weekend with 37 total tackles, 3.0 tackles for a loss and one forced fumble.
Minot State
Minot State fell to 1-9 while finishing its home schedule in a 30-23 loss to St. Cloud State University.
The Beavers have lost seven straight games, earning its only win of the season Sept. 16 against University of Mary, 41-28.
MiSU ranks among the bottom three teams of the NSIC in scoring offense and defense, and in total offense and total defense. The Beavers have faced higher success against the pass than the rush, entering Saturday's game ninth in the league with 226.5 passing yards allowed per game and 16th with 280.2 rushing yards allowed per game.
Kywan Owens ranks third among all NSIC student-athletes with 93 tackles this season followed by Chris Rivers in 11th with 77 tackles.