Beaver Women's Hockey Gameday – Game 16 – November 30, 2018 – vs St. Cloud State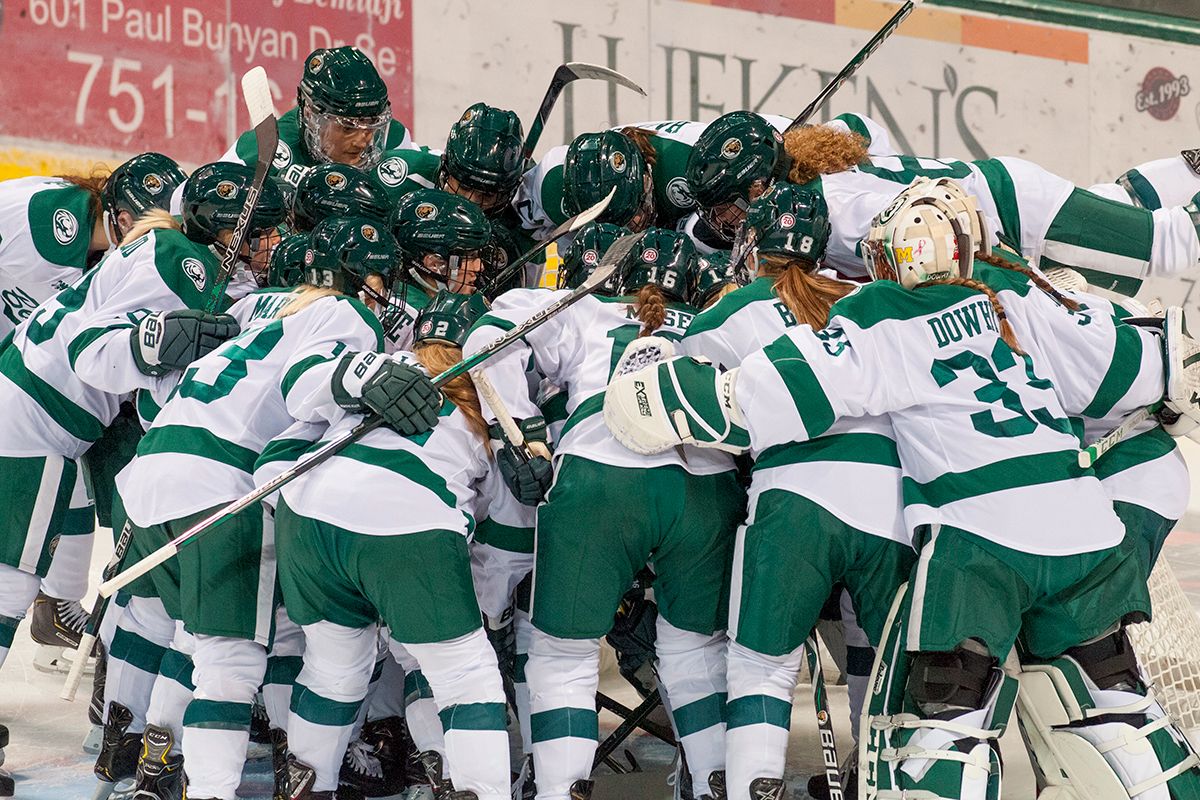 After having the previous weekend off for Thanksgiving break, the Bemidji State University women's hockey team returns home to Sanford Center seeking league points against St. Cloud State University. The Beavers (2-12-1, 2-7-1-0 WCHA) face-off with the Huskies (5-11-1, 2-8-0-0 WCHA) 10 days after the two teams met at the U.S. Hockey Hall of Fame Museum Face-Off Classic in Brainerd, Minn. BSU was held scoreless in the game after Janine Alder posted a 36-save shutout for her first shutout of the season.
Bemidji State and St. Cloud State will play a two-game series beginning Friday, Nov. 30 at 6:07 p.m. followed by game two Saturday, Dec. 1 at 3:07 p.m. Tune into 1300 AM or 94.3 FM The Legends beginning at 5:30 p.m. for the pregame coverage followed by the opening face off at 6:07 p.m. on the Beaver Radio Network.
Pregame Open Pregame Open
Jim Scanlan Pregame Coach Pregame
Tina Kampa Pregame Player Pregame
Bemidji State Lines
Abby Halluska – Emily Bergland – Paige Beebe
Haley Mack – Clair DeGeorge – Lydia Passolt
Jacqueline Kaasa – Kiki Radke – Ellie Moser
Graysen Myers – Lindsey Featherstone – Sylvia Marolt
Extra Skater – Abby Ecker
Briana Jorde – Mak Langei
Melissa Hunt – Tina Kampa
Kara Werth – Heather Olson
Lauren Bench
Kerigan Dowhy
Lexi Baker
Opponent Lines
Hallie Theodosopoulos – Janna Haeg – Hannah Potrykus
Suvi Ollikainen – – Julia Tylke
Laura Kluge – Kayla Friesen – Megan Roe
Ivy Dynek – Brook Kudirka – Dana Rasmussen
Kenzie Wylie – Abby Thiessen
Taytum Geier – Hannah Bates
Rachel Herzog – Taylor Wemple
Janine Alder
Emma Polusny
Karlie Ries
Beaver Radio Network Ottertail Power Three Stars
1 – Haley Mack
2 – Clair DeGeorge
3 – Lydia Passolt
Jim Scanlan Postgame Jim Scanlan Postgame
Listen To / Download Whole Game

Boxscore provided by http://collegehockeystats.net
College Hockey Box Score (Final)
St. Cloud State at Bemidji State
Friday, November 30, 2018

| | | | | |
| --- | --- | --- | --- | --- |
| Referees: | Mike Kaehler | | Game Start: | 6:07 |
| | Taylor Bauer | | Game End: | 8:04 |
| Linesmen: | Ron Laituri | | Game Length: | 1:57 |
| | Josh Brown | | Attendance: | 353 |
| | | | | |
| --- | --- | --- | --- | --- |
| Scoring | 1st | 2nd | 3rd | Final |
| St. Cloud State | 0 | 0 | 0 | 0 |
| Bemidji State | 1 | 1 | 1 | 3 |

| | | | | |
| --- | --- | --- | --- | --- |
| Shots on Goal | 1st | 2nd | 3rd | SOG |
| St. Cloud State | 4 | 3 | 4 | 11 |
| Bemidji State | 15 | 17 | 11 | 43 |

| | | | | |
| --- | --- | --- | --- | --- |
| | PP | PP % | PIM | SHGF |
| St. Cloud State | 0/2 | .000 | 5/10 | 0 |
| Bemidji State | 1/4 | .250 | 3/6 | 0 |
| | | | | | | | | | |
| --- | --- | --- | --- | --- | --- | --- | --- | --- | --- |
| # | Prd | Time | Team | Score | Type | Scored By | Assists | Offense On Ice | Defense On Ice |
| | 1st | 11:29 | BMJ | 1-0 | EV GW | Haley Mack (2) | Lydia Passolt/2, Clair DeGeorge/3 | 19,3,26,14,2,G35 | 26,19,5,23,15,G1 |
| | 2nd | 19:16 | BMJ | 2-0 | EV | Haley Mack (3) | Lydia Passolt/3, Clair DeGeorge/4 | 19,3,26,2,11,G35 | 23,26,19,5,28,G1 |
| | 3rd | 18:46 | BMJ | 3-0 | PP | Haley Mack (4) | Clair DeGeorge/5, Emily Bergland/5 | 19,26,9,2,11,G35 | 20,12,8,15,G1 |
##
St. Cloud State
G
A
P
PIM
SOG
+/-
2
Julia Tylke
0
0
0
3/6
0
E
4
Dana Rasmussen
0
0
0
0/0
2
E
5
Janna Haeg
0
0
0
0/0
0
-2
8
Brooke Kudirka
0
0
0
0/0
0
E
9
Megan Roe
0
0
0
0/0
0
E
12
Taylor Wemple
0
0
0
0/0
1
E
15
Rachel Herzog
0
0
0
0/0
0
-1
16
Taytum Geier
0
0
0
1/2
0
E
17
Laura Kluge
0
0
0
0/0
1
E
18
Ivy Dynek
0
0
0
0/0
0
E
19
Kenzie Wylie
0
0
0
0/0
0
-2
20
Suvi Ollikainen
0
0
0
0/0
0
E
22
Kayla Friesen
0
0
0
1/2
1
E
23
Hannah Potrykus
0
0
0
0/0
3
-2
24
Hannah Bates
0
0
0
0/0
1
E
26
Hallie Theodosopoulos
0
0
0
0/0
1
-2
28
Abby Thiessen
0
0
0
0/0
0
-1
44
Olivia Hanson
0
0
0
0/0
0
E
81
Jenniina Nylund
0
0
0
0/0
1
E
1
G Janine Alder
0
0
0
0/0
0
-2
30
G Karlie Ries
Did Not Play
32
G Emma Polusny
Did Not Play
St. Cloud State Totals
0
0
0
5/10
11
-2

##
Bemidji State
G
A
P
PIM
SOG
+/-
2
Mak Langei
0
0
0
0/0
2
+2
3
Lydia Passolt
0
2
2
1/2
3
+2
4
Kara Werth
0
0
0
0/0
2
E
5
Melissa Hunt
0
0
0
1/2
1
E
7
Abby Ecker
0
0
0
0/0
0
E
8
Kiki Radke
0
0
0
0/0
3
E
9
Emily Bergland
0
1
1
0/0
3
E
10
Lindsey Featherstone
0
0
0
0/0
1
E
11
Tina Kampa
0
0
0
0/0
1
+1
12
Jacqueline Kaasa
0
0
0
0/0
0
E
13
Sylvia Marolt
0
0
0
0/0
0
E
14
Briana Jorde
0
0
0
0/0
3
+1
16
Ellie Moser
0
0
0
0/0
5
E
18
Paige Beebe
0
0
0
0/0
2
E
19
Haley Mack
3
0
3
0/0
11
+2
20
Heather Olson
0
0
0
0/0
2
E
21
Abby Halluska
0
0
0
1/2
2
E
23
Graysen Myers
0
0
0
0/0
0
E
26
Clair DeGeorge
0
3
3
0/0
2
+2
30
G Lexi Baker
Did Not Play
33
G Kerigan Dowhy
Did Not Play
35
G Lauren Bench
0
0
0
0/0
0
+2
Bemidji State Totals
3
6
9
3/6
43
+2

##
Goaltending
MIN
GA
1
2
3
Saves
1
Janine Alder (L, 2-8-1)
59:19
3
14
16
10
40
Empty Net
0:41
0

| | | | | | | | |
| --- | --- | --- | --- | --- | --- | --- | --- |
| ## | Goaltending | MIN | GA | 1 | 2 | 3 | Saves |
| 35 | Lauren Bench (W, 1-5-1) | 60:00 | 0 | 4 | 3 | 4 | 11 |
| | | | | | |
| --- | --- | --- | --- | --- | --- |
| Prd | Player | Team | Min | Infraction | Time |
| 1st | Taytum Geier | STC | 2 | Tripping | 3:55 |
| 2nd | Abby Halluska | BMJ | 2 | Tripping | 0:47 |
| 2nd | Julia Tylke | STC | 2 | Roughing | 6:19 |
| 2nd | Lydia Passolt | BMJ | 2 | Roughing | 6:19 |

| | | | | | |
| --- | --- | --- | --- | --- | --- |
| Prd | Player | Team | Min | Infraction | Time |
| 2nd | Julia Tylke | STC | 2 | Checking | 15:29 |
| 3rd | Julia Tylke | STC | 2 | Hooking | 7:31 |
| 3rd | Melissa Hunt | BMJ | 2 | Tripping | 14:58 |
| 3rd | Kayla Friesen | STC | 2 | Checking | 18:13 |
New Records: Bemidji State 3-12-1, St. Cloud State 5-12-1

Three Stars: 1. Haley Mack (Bemidji State)
2. Lydia Passolt (Bemidji State)
3. Clair DeGeorge (Bemidji State)