Beaver Men's Hockey Gameday – Game 14 – December 1, 2018 – at Michigan Tech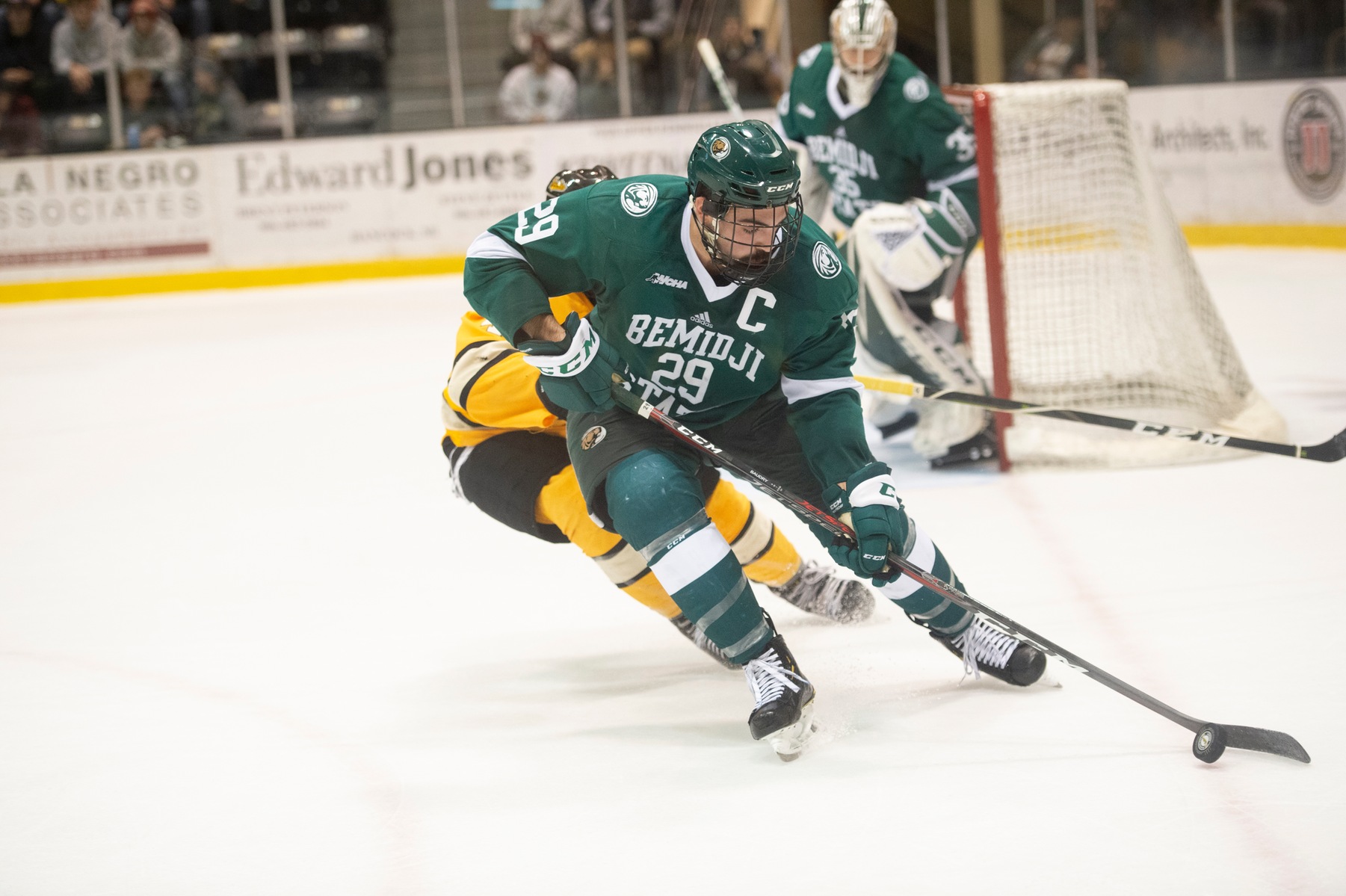 (Photo from michigantechhuskies.com)
The Beaver Mens Hockey team wraps up their WCHA series in Houghton tonight taking ont he Michigan Tech Huskies. Our pregame coverage begins at 5:30pm CDT, with the faceoff set for 6:07pm tonight on Mix 103.7 and online at beaverradionetwork.com.
In game one of the series on Friday night, BSU and MTU officially tied 3-3, with Tech winning in the 3-on-3 second overtime.
Goal scorers Friday night included Adam Brady and Charlie Combs. Combs had two goals.
Pregame Open Pregame Open
Tom Serratore Pregame Coaches Pregame
Charlie Combs Pregame Pregame
Bucky's Legends #1 Bucky
Bucky's Legends #2 Bucky
Bemidji State Lines
Adam Brady – Owen Sillinger – Charlie Combs
Ethan Somoza – Ross Armour – Nick Cardelli
Jay Dickman – Connor Brown-Maloski – Aaron Miller
Mike Soucier – Tyler Kirkup – Alex Adams
Extra Skater – Tyler Vold
Tommy Muck – Dan Billett
Justin Baudry – Dillon Eichstadt
Tyler Jubenvill – Brad Johnson
Zach Driscoll
Henry Johnson
Opponent Lines
Jake Lucchini – Dylan Steman – Gavin Gould
Alec Broetzman – Alex Smith – Brian Halonen
Raymond Brice – Andrew Bellant – Justin Misiak
Tommy Parrottino – Greyson Reitmeier – Thomas Beretta
Seamus Donohue – Tyler Rockwell
Keegan Ford – Colin Swoyer
Cooper Watson – Eric Gotz
Matt Jurusik
Robbie Beydoun
Devin Kero
Beaver Radio Network Ottertail Power Three Stars
Boxscore provided by http://collegehockeystats.net
College Hockey Box Score (Final)
Bemidji State at Michigan Tech
Saturday, December 1, 2018

| | | | | |
| --- | --- | --- | --- | --- |
| Referees: | Brady Johnson | | Game Start: | 7:07 |
| | Bobby Lukkason | | Game End: | 9:27 |
| Linesmen: | Matt Hampton | | Game Length: | 2:20 |
| | Eric Froberg | | Attendance: | 3027 |
| | | | | |
| --- | --- | --- | --- | --- |
| Scoring | 1st | 2nd | 3rd | Final |
| Bemidji State | 0 | 0 | 2 | 2 |
| Michigan Tech | 2 | 4 | 1 | 7 |

| | | | | |
| --- | --- | --- | --- | --- |
| Shots on Goal | 1st | 2nd | 3rd | SOG |
| Bemidji State | 7 | 2 | 19 | 28 |
| Michigan Tech | 5 | 21 | 7 | 33 |

| | | | | |
| --- | --- | --- | --- | --- |
| | PP | PP % | PIM | SHGF |
| Bemidji State | 0/5 | .000 | 5/13 | 0 |
| Michigan Tech | 1/4 | .250 | 6/12 | 1 |
| | | | | | | | | | |
| --- | --- | --- | --- | --- | --- | --- | --- | --- | --- |
| # | Prd | Time | Team | Score | Type | Scored By | Assists | Offense On Ice | Defense On Ice |
| | 1st | 2:44 | MTU | 1-0 | EV | Alex Smith (2) | Tyler Rockwell/4 | 20,22,12,6,29,G30 | 13,25,18,15,27,G33 |
| | 1st | 17:32 | MTU | 2-0 | EV | Tommy Parrottino (5) | Thomas Beretta/1, Greyson Reitmeier/4 | 9,13,18,6,19,G30 | 25,27,29,20,13,G33 |
| | 2nd | 9:07 | MTU | 3-0 | EV GW | Dylan Steman (2) | Gavin Gould/2 | 8,14,15,22,2,G30 | 12,25,2,19,3,G33 |
| | 2nd | 9:31 | MTU | 4-0 | EV | Alec Broetzman (4) | Tyler Rockwell/5, Seamus Donohue/9 | 29,22,2,20,12,G30 | 27,25,29,28,22,G33 |
| | 2nd | 12:16 | MTU | 5-0 | EV | Alex Smith (3) | Brian Halonen/6, Eric Gotz/3 | 20,12,19,6,29,G30 | 19,11,22,12,29,G35 |
| | 2nd | 14:14 | MTU | 6-0 | PP | Thomas Beretta (2) | Keegan Ford/6, Alec Broetzman/2 | 13,7,29,8,19,G30 | 12,28,2,3,G35 |
| | 3rd | 7:22 | BMJ | 1-6 | EV | Nick Cardelli (4) | – | 26,22,9,27,18,G35 | 20,24,29,12,7,G30 |
| | 3rd | 12:49 | MTU | 7-1 | SH | Dylan Steman (3) | TJ Polglaze/1, Seamus Donohue/10 | 8,16,2,7,G30 | 11,16,6,25,19,G35 |
| | 3rd | 16:06 | BMJ | 2-7 | EV | Owen Sillinger (4) | Ross Armour/2, Dillon Eichstadt/5 | 12,17,20,25,22,G35 | 17,22,4,23,2,G30 |
##
Bemidji State
G
A
P
PIM
SOG
+/-
2
Dan Billett
0
0
0
0/0
1
-1
3
Tommy Muck
0
0
0
0/0
3
-1
6
Jay Dickman
0
0
0
0/0
5
-1
9
Ethan Somoza
0
0
0
0/0
2
+1
11
Charlie Combs
0
0
0
0/0
2
-2
12
Owen Sillinger
1
0
1
0/0
3
-1
13
Mike Soucier
0
0
0
0/0
0
-2
15
Tyler Jubenvill
0
0
0
0/0
1
-1
16
Aaron Miller
0
0
0
2/4
1
-1
17
Ross Armour
0
1
1
0/0
0
+1
18
Brad Johnson
0
0
0
0/0
1
E
19
Adam Brady
0
0
0
0/0
3
-3
20
Dillon Eichstadt
0
1
1
1/5
1
E
22
Tyler Vold
0
0
0
0/0
0
E
25
Alex Adams
0
0
0
0/0
0
-4
26
Nick Cardelli
1
0
1
0/0
4
+1
27
Tyler Kirkup
0
0
0
0/0
0
-2
28
Connor Brown-Maloski
0
0
0
0/0
0
-1
29
Justin Baudry
0
0
0
2/4
1
-3
33
G Zach Driscoll
0
0
0
0/0
0
-4
35
G Henry Johnson
0
0
0
0/0
0
E
Bemidji State Totals
2
2
4
5/13
28
-4

##
Michigan Tech
G
A
P
PIM
SOG
+/-
2
Seamus Donohue
0
2
2
0/0
2
+2
4
Andrew Bellant
0
0
0
2/4
1
-1
6
Cooper Watson
0
0
0
0/0
1
+3
7
Keegan Ford
0
1
1
1/2
0
E
8
Dylan Steman
2
0
2
0/0
3
+2
9
Tommy Parrottino
1
0
1
0/0
3
+1
12
Brian Halonen
0
1
1
0/0
0
+2
13
Thomas Beretta
1
1
2
0/0
2
+1
14
Gavin Gould
0
1
1
0/0
3
+1
15
Jake Lucchini
0
0
0
1/2
2
+1
16
TJ Polglaze
0
1
1
0/0
1
+1
17
Justin Misiak
0
0
0
1/2
3
-1
18
Greyson Reitmeier
0
1
1
0/0
1
+1
19
Eric Gotz
0
1
1
0/0
3
+2
20
Alex Smith
2
0
2
0/0
2
+2
22
Tyler Rockwell
0
2
2
1/2
0
+2
23
Raymond Brice
0
0
0
0/0
2
-1
24
Colin Swoyer
0
0
0
0/0
2
-1
29
Alec Broetzman
1
1
2
0/0
2
+2
30
G Matt Jurusik
0
0
0
0/0
0
+4
31
G Devin Kero
Did Not Play
35
G Robbie Beydoun
Did Not Play
Michigan Tech Totals
7
12
19
6/12
33
+4

##
Goaltending
MIN
GA
1
2
3
Saves
33
Zach Driscoll (L, 3-2-1)
29:31
4
3
11
0
14
35
Henry Johnson
30:18
3
0
6
6
12
Empty Net
0:11
0

| | | | | | | | |
| --- | --- | --- | --- | --- | --- | --- | --- |
| ## | Goaltending | MIN | GA | 1 | 2 | 3 | Saves |
| 30 | Matt Jurusik (W, 6-2-0) | 60:00 | 2 | 7 | 2 | 17 | 26 |
| | | | | | |
| --- | --- | --- | --- | --- | --- |
| Prd | Player | Team | Min | Infraction | Time |
| 1st | Tyler Rockwell | MTU | 2 | Tripping | 12:59 |
| 1st | Aaron Miller | BMJ | 2 | Hooking | 17:48 |
| 2nd | Justin Baudry | BMJ | 2 | Checking from Behind | 13:16 |
| 2nd | Justin Baudry | BMJ | 2 | Cross-Checking | 18:40 |
| 2nd | Dillon Eichstadt | BMJ | 5 | FACEMASKING | 18:40 |
| 2nd | Jake Lucchini | MTU | 2 | Roughing | 18:40 |

| | | | | | |
| --- | --- | --- | --- | --- | --- |
| Prd | Player | Team | Min | Infraction | Time |
| 3rd | Aaron Miller | BMJ | 2 | Hooking | 4:20 |
| 3rd | Andrew Bellant | MTU | 2 | Hooking | 12:37 |
| 3rd | Keegan Ford | MTU | 2 | Hooking | 13:53 |
| 3rd | Andrew Bellant | MTU | 2 | Hooking | 18:12 |
| 3rd | Justin Misiak | MTU | 2 | Hooking | 19:57 |
New Records: Michigan Tech 8-5-1, Bemidji State 6-6-2