Beaver Fever Friday – Clair DeGeorge – @BSUBeaversWHKY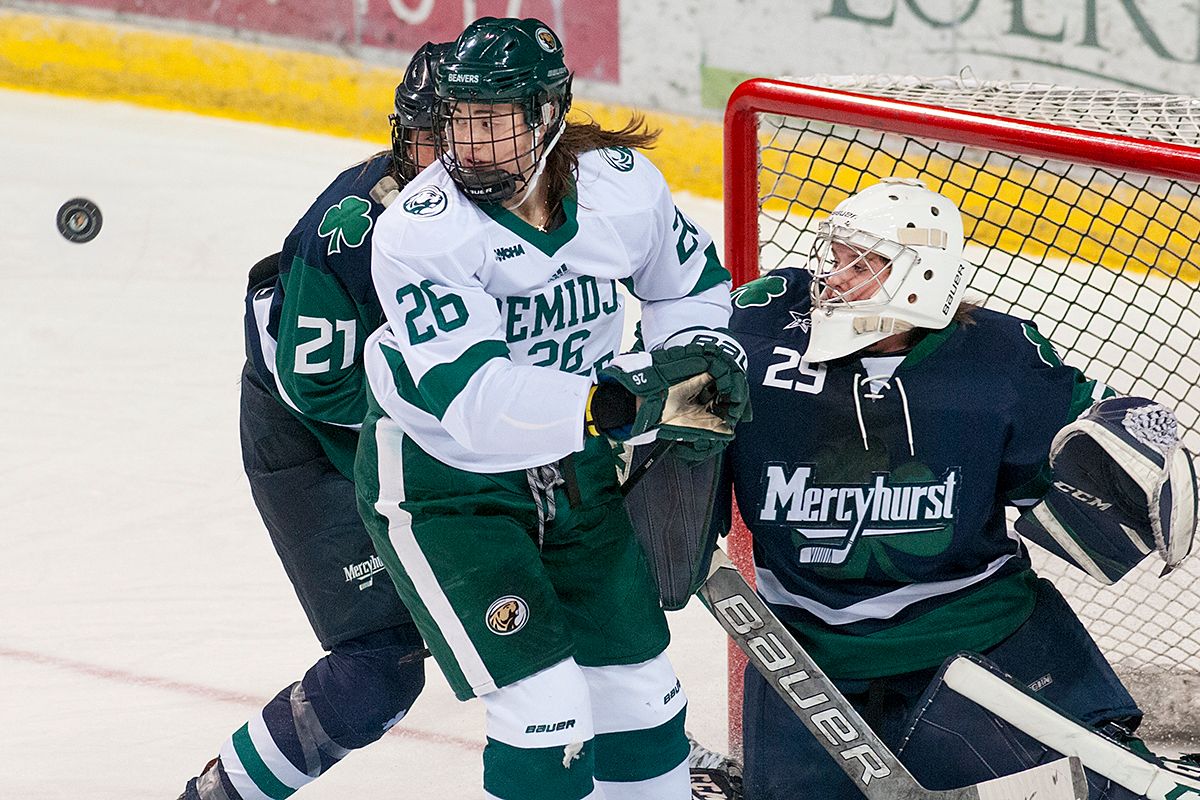 Beavers travel for non-conference series before Holiday Break
The Bemidji State women's hockey team will look to build upon its two-game winning streak heading into the Holiday Break by traveling to Erie, Pa., to face Mercyhurst College for a non-conference series. The Beavers (4-12-1, 4-7-1-0 WCHA), fresh off a series sweep of St. Cloud State University, faceoff with the Lakers (7-6-2, 6-2-0 CHA) for a two-game, non-conference series Dec. 7-8 at Mercyhurst Ice Center.
The Beavers and Lakers meet for just the 17th and 18th meetings in the all-time series dating back to 2001. Mercyhurst has dominated play against Bemidji State early in the all-time series and now boast a 11-3-2 record against the Beavers. BSU and Mercyhurst met a total of 14 times between 2001-2010 but after seven seasons apart, face each other in back-to-back seasons. The Beavers and Lakers split last season's series at Sanford Center. Bemidji State took game one, 2-1, after Emily Bergland scored the game-winning goal two minutes into overtime but the Lakers bounced back with a 2-1 victory in game two to even the series.
Bergland posted two goals in the series including the game-winning goal while sophomore Kara Werth recorded two assists to lead all active skaters in points against Mercyhurst. Lauren Bench stopped 17-of-18 shots by the Lakers to earn the game one victory and is the lone active goaltender to see time against Mercyhurst. Head coach Jim Scanlan is 1-1-0 in his five seasons against the Lakers while 19-year head coach Michael Sisti is 11-3-2 against BSU.
Fresh off a series sweep of St. Cloud State, the Beavers enter the final series of 2018 with a 4-12-1 overall record and fourth in the Western Collegiate Hockey Association standings with 13 points and a league record of 4-12-1. Bemidji State held the Huskies scoreless in both games of its home series, outscoring SCSU 5-0 in the series. Junior Haley Mack scored four of the team's five goals in the series including her first collegiate hat trick in Friday's 3-0 win. Redshirt sophomore Lauren Bench posted back-to-back shutouts and earned WCHA Goaltender of the Week honors after the two win, 36-save weekend.
Bemidji State has had a tough start to the season by going up against the fourth strongest strength of schedule in Division I. The Beavers have struggled to find the back of the net so far and are last in the WCHA with a 1.47 goals per game average and have been kept off the scoreboard five games this season. BSU is also last in the league on defense by allowing 3.06 goals per game but two consecutive shutouts by the Beaver defense has helped dip that average. The Beavers are one of the least penalized teams in the conference and average just 6.1 penalty minutes per game for sixth in the WCHA. Their penalty kill has been hot as of late and have killed 16 consecutive power plays spanning six games and dating back to Nov. 10 against Ohio State University. They have killed 40-of-45 power plays on the season and are fourth in the WCHA and tied for 10th in the nation at .889 percent. The Beavers' power play has scored on 5-of-46 (.109) chances this season for sixth in the conference but are 1-for-11 in their last five games.
Bemidji State is led on offense by sophomore Clair DeGeorge who has posted nine points (4g-5a) in 17 games including a three-point weekend this past weekend. Senior Emily Bergland follows with eight points (2g-6a) while junior Haley Mack leads the Beavers in scoring with five goals (5g-1a). In the crease, the Beavers have split time between sophomores Lauren Bench and Kerigan Dowhy. Dowhy leads the team with nine games played compared to eight for Bench while each have posted two wins. Bench leads the team with a 2.37 goals against average and .905 save percentage while Dowhy follows closely with a 3.31 GAA and .895 save percentage. Bench has compiled a 2-5-1 record this season while Dowhy is 2-7-0.