Beaver Fever Friday – Ross Armour – @BSUBeaversMHKY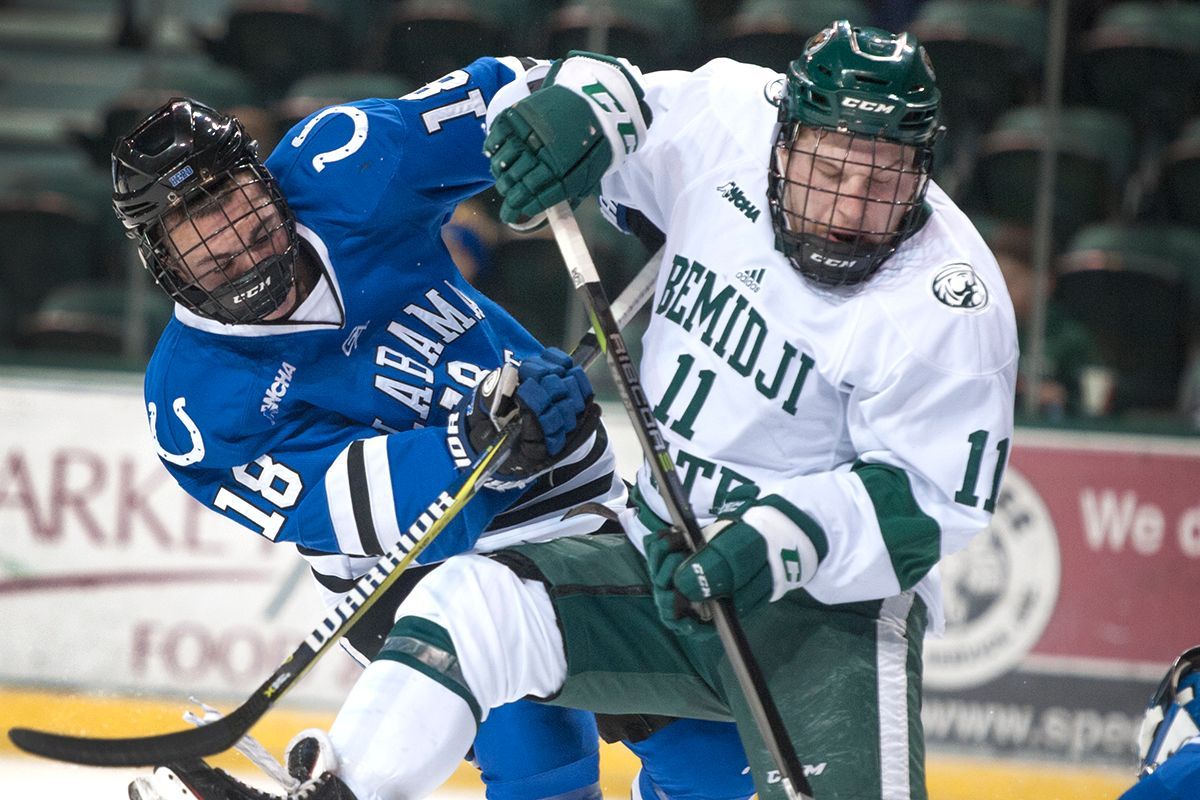 BSU opens four-game homestand with Alabama-Huntsville
The Bemidji State University men's ice hockey team (6-6-2; 4-3-1-0 WCHA) is back at Sanford Center this weekend when it hosts long-time rival University of Alabama-Huntsville (1-13-0; 0-7-1-0 WCHA) in a two-game Western Collegiate Hockey Association series. The Beavers look to extend their dominance in a rivalry dating back to the NCAA Division II ranks and where they have lost just four times since 2008 (26-4-2).
The Beavers, who are 1-5-1 in their last seven contests after opening the season 5-1-1, aim to get back on the winning track this weekend as they open a four-game homestand versus WCHA competition before the holidays. BSU exhibited a balanced scoring attack through 14 games. Eighteen of the Beavers' 24 skaters have recorded at least a point this season, with a quartet leading the way with eight points apiece. Aaron Miller paces the team with five goals, while Charlie Combs comes in as the hot hand having recorded four points (2g-2a) in BSU's last three games. Brendan Harris, who has missed BSU's last three games due to injury, continues to lead the team with seven assists already matching his freshman season total through just 11 games played.
Defensively, BSU goaltenders Zach Driscoll and Henry Johnson have shared the goaltending duties. Each have accounted for three of the Beavers' victories and have been among the top ten goaltenders nationally in goals against average. Johnson enters the weekend with a team-best 1.99 goals against average and .921 save percentage.
Alabama-Huntsville arrives at Sanford Center after being swept by Bowling Green a week ago. The Chargers are 1-13-0 overall and enter the weekend seeking their second win in league play. Jack Jeffers (4g-1a), Madison Dunn (2g-3a) and Christian Rajic lead UAH in scoring with five points, while Jeffers, a freshman, has a team-best four goals.
Mark Sinclair and Jake Theut have split time in net this season. Sinclair, a sophomore who traditionally gets the start to open the series, leads the team with a 1-8-0 record, a .919 save percentage and a 2.81 goals against average.
The Bemidji State/Alabama-Huntsville rivalry got its start March 11, 1994. The Beavers hold a 50-31-5 lead in the all-time series including a dominant 37-6-3 mark versus the Chargers since Mar. 3, 2006. The Beavers enter this weekend's series unbeaten by UAH in 26 of the last 30 meetings (25-4-1) and went 3-1-0 versus the Chargers in 2017-18, including a sweep (3-1 and 4-1) of a series in Bemidji, Minn., Dec. 29-30.
In addition to being current members of the WCHA and charter members of College Hockey America (1999-2009), these teams have a long-standing, bitter rivalry dating back to the NCAA Division II days. The Chargers and Beavers met in the national tournament on four occasions with BSU defeating UAH for NCAA Division II titles in 1994 and at the John S. Glas Fieldhouse in 1997.