Beaver Men's Hockey Gameday – Game 19 – December 29, 2018 – at Air Force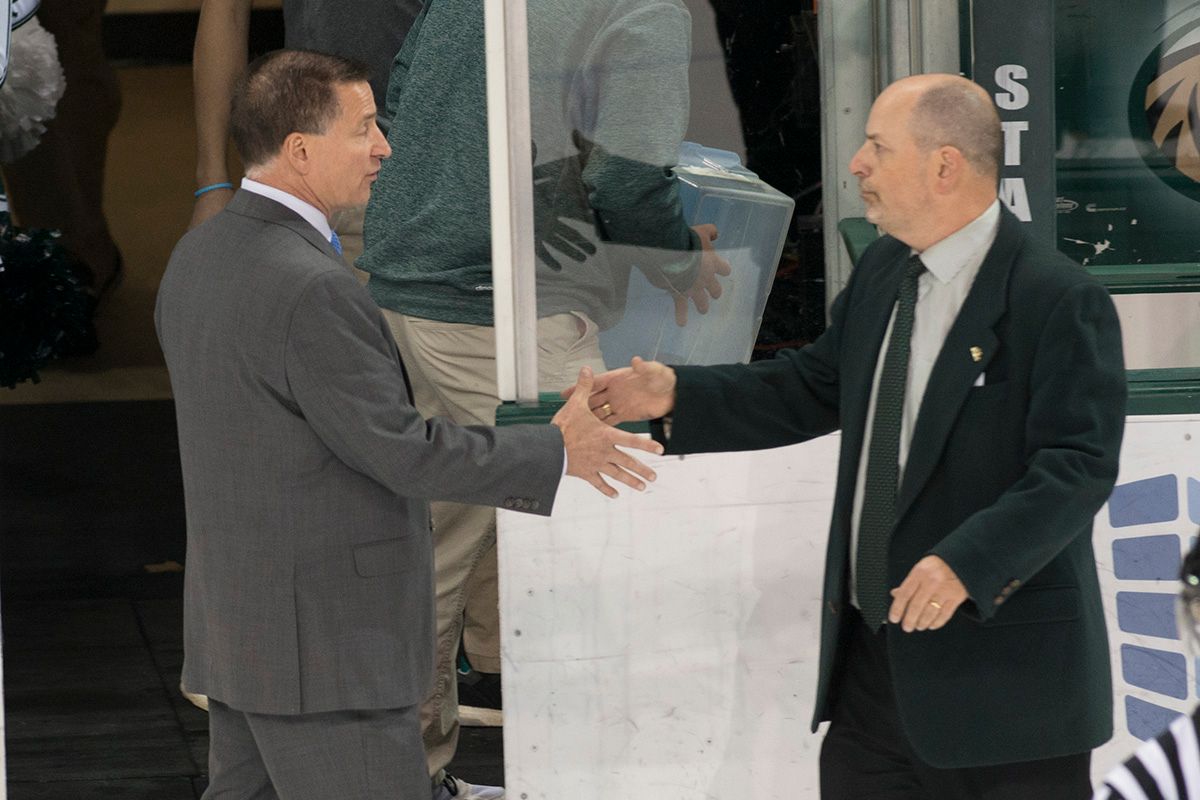 The Beaver Mens Hockey team will open the second half of the season on the road at Air Force. BSU is 8-8-2 on the year, Air Force is 9-7-0 Our pregame coverage begins at 7:30pm CST, with the faceoff set for 8:05pm tonight on Mix 103.7 and online at beaverradionetwork.com.
Last year the two teams split a series in Bemidji.
Pregame Open Pregame Open
Tom Serratore Pregame Coaches Pregame
Dan Billett Pregame Pregame
Bemidji State Lines
Jay Dickman – Brendan Harris – Charlie Combs
Ethan Somoza – Ross Armour – Aaron Miller
Adam Brady – Owen Sillinger – Nick Cardelli
Alex Ierullo – Tyler Kirkup – Alex Adams
Extra Skater – Tyler Vold
Tommy Muck – Dan Billett
Justin Baudry – Dillon Eichstadt
Tyler Jubenvill – Brad Johnson
Henry Johnson
Zach Driscoll
Opponent Lines
Matt Pulver – Evan Feno – Kieran Durgan
Pierce Pluemer – Erich Jaeger – Joe Tyran
Walker Sommer – Kyle Haak – Trevor Stone
Evan Giesler – Brady Tomlak – Marshall Bowery
Dan Bailey – Carter Ekberg
Alex Mehnert – Jake Levin
Matt Koch – Zack Mirageas
Billy Christopoulos
Zack LaRocque
Alex Schilling
Beaver Radio Network Ottertail Power Three Stars
1 – Justin Baudry
2 – Owen Sillinger
3 – Hank Johnson
Tom Serratore Postgame Tom Serratore Postgame
Listen To / Download Whole Game

Boxscore provided by http://collegehockeystats.net
College Hockey Box Score (Final)
Bemidji State at Air Force
Saturday, December 29, 2018

| | | | | |
| --- | --- | --- | --- | --- |
| Referees: | Michael Schubert | | Game Start: | 7:05 |
| | Chris Ciamaga | | Game End: | 9:35 |
| Linesmen: | Seth Mukai | | Game Length: | 2:30 |
| | Chase McGee | | Attendance: | 2231 |
| | | | | | |
| --- | --- | --- | --- | --- | --- |
| Scoring | 1st | 2nd | 3rd | OT | Final |
| Bemidji State | 1 | 1 | 1 | 0 | 3 |
| Air Force | 1 | 1 | 1 | 0 | 3 |

| | | | | | |
| --- | --- | --- | --- | --- | --- |
| Shots on Goal | 1st | 2nd | 3rd | OT | SOG |
| Bemidji State | 9 | 13 | 10 | 0 | 32 |
| Air Force | 7 | 10 | 10 | 6 | 33 |

| | | | | |
| --- | --- | --- | --- | --- |
| | PP | PP % | PIM | SHGF |
| Bemidji State | 0/4 | .000 | 5/10 | 0 |
| Air Force | 1/5 | .200 | 4/8 | 0 |
| | | | | | | | | | |
| --- | --- | --- | --- | --- | --- | --- | --- | --- | --- |
| # | Prd | Time | Team | Score | Type | Scored By | Assists | Offense On Ice | Defense On Ice |
| | 1st | 10:24 | BMJ | 1-0 | EV | Aaron Miller (8) | Justin Baudry/13 | 16,20,27,14,29,G35 | 88,22,7,74,18,G44 |
| | 1st | 14:01 | AFA | 1-1 | EV | Joe Tyran (1) | Pierce Pluemer/2, Erich Jaeger/1 | 17,22,26,74,7,G44 | 19,18,26,12,15,G35 |
| | 2nd | 3:58 | AFA | 2-1 | PP | Walker Sommer (3) | Evan Giesler/5, Kyle Haak/3 | 42,20,15,16,6,G44 | 27,2,3,14,G35 |
| | 2nd | 18:45 | BMJ | 2-2 | EV | Justin Baudry (2) | Alex Adams/1, Tyler Kirkup/1 | 29,25,27,14,20,G35 | 8,74,15,7,28,G44 |
| | 3rd | 4:09 | AFA | 3-2 | EV | Kieran Durgan (7) | Matt Koch/11, Zack Mirageas/7 | 88,28,74,21,7,G44 | 19,12,26,29,20,G35 |
| | 3rd | 15:58 | BMJ | 3-3 | EV GT | Owen Sillinger (5) | Charlie Combs/6 | 12,6,11,15,18,G35 | 22,26,17,3,6,G44 |
##
Bemidji State
G
A
P
PIM
SOG
+/-
2
Dan Billett
0
0
0
0/0
0
E
3
Tommy Muck
0
0
0
0/0
4
E
6
Jay Dickman
0
0
0
1/2
0
+1
9
Ethan Somoza
0
0
0
0/0
2
E
11
Charlie Combs
0
1
1
0/0
5
+1
12
Owen Sillinger
1
0
1
0/0
2
-1
14
Alex Ierullo
0
0
0
0/0
1
+2
15
Tyler Jubenvill
0
0
0
0/0
0
E
16
Aaron Miller
1
0
1
0/0
5
+1
17
Ross Armour
0
0
0
1/2
1
E
18
Brad Johnson
0
0
0
0/0
1
E
19
Adam Brady
0
0
0
0/0
2
-2
20
Dillon Eichstadt
0
0
0
2/4
0
+1
21
Brendan Harris
0
0
0
0/0
2
E
22
Tyler Vold
0
0
0
0/0
1
E
25
Alex Adams
0
1
1
0/0
2
+1
26
Nick Cardelli
0
0
0
1/2
1
-2
27
Tyler Kirkup
0
1
1
0/0
1
+2
29
Justin Baudry
1
1
2
0/0
2
+1
33
G Zach Driscoll
Did Not Play
35
G Henry Johnson
0
0
0
0/0
0
+1
Bemidji State Totals
3
4
7
5/10
32
+1

##
Air Force
G
A
P
PIM
SOG
+/-
3
Jake Levin
0
0
0
0/0
1
-1
6
Alex Mehnert
0
0
0
0/0
1
-1
7
Matt Koch
0
1
1
0/0
0
E
8
Marshall Bowery
0
0
0
1/2
0
-1
9
Trevor Stone
0
0
0
0/0
3
E
10
Keegan Mantaro
0
0
0
0/0
0
E
15
Evan Giesler
0
1
1
0/0
1
-1
16
Kyle Haak
0
1
1
0/0
3
E
17
Joe Tyran
1
0
1
0/0
3
E
18
Evan Feno
0
0
0
0/0
2
-1
20
Dan Bailey
0
0
0
0/0
2
E
21
Matt Pulver
0
0
0
0/0
2
+1
22
Pierce Pluemer
0
1
1
0/0
0
-1
25
Carter Ekberg
0
0
0
0/0
0
E
26
Erich Jaeger
0
1
1
2/4
2
E
28
Brady Tomlak
0
0
0
0/0
0
E
42
Walker Sommer
1
0
1
1/2
4
E
74
Zack Mirageas
0
1
1
0/0
2
E
88
Kieran Durgan
1
0
1
0/0
7
E
31
G Zack LaRocque
Did Not Play
33
G Alex Schilling
Did Not Play
44
G Billy Christopoulos
0
0
0
0/0
0
-1
Air Force Totals
3
6
9
4/8
33
-1

| | | | | | | | | |
| --- | --- | --- | --- | --- | --- | --- | --- | --- |
| ## | Goaltending | MIN | GA | 1 | 2 | 3 | OT | Saves |
| 35 | Henry Johnson (T, 5-4-2) | 65:00 | 3 | 6 | 9 | 9 | 6 | 30 |

##
Goaltending
MIN
GA
1
2
3
OT
Saves
44
Billy Christopoulos (T, 7-5-1)
64:39
3
8
12
9
0
29
Empty Net
0:21
0
| | | | | | |
| --- | --- | --- | --- | --- | --- |
| Prd | Player | Team | Min | Infraction | Time |
| 1st | Nick Cardelli | BMJ | 2 | Hooking | 3:30 |
| 1st | Marshall Bowery | AFA | 2 | Tripping | 19:48 |
| 2nd | Ross Armour | BMJ | 2 | Slashing | 1:59 |
| 2nd | Jay Dickman | BMJ | 2 | Tripping | 8:53 |
| 2nd | Walker Sommer | AFA | 2 | Tripping | 12:50 |

| | | | | | |
| --- | --- | --- | --- | --- | --- |
| Prd | Player | Team | Min | Infraction | Time |
| 2nd | Erich Jaeger | AFA | 2 | Slashing | 16:31 |
| 3rd | Dillon Eichstadt | BMJ | 2 | Slashing | 6:17 |
| 3rd | Erich Jaeger | AFA | 2 | Slashing | 9:09 |
| OT | Dillon Eichstadt | BMJ | 2 | Slashing | 3:28 |
New Records: Air Force 9-7-1, Bemidji State 8-8-3