Beaver Men's Hockey Gameday – Game 20 – December 30, 2018 – at Air Force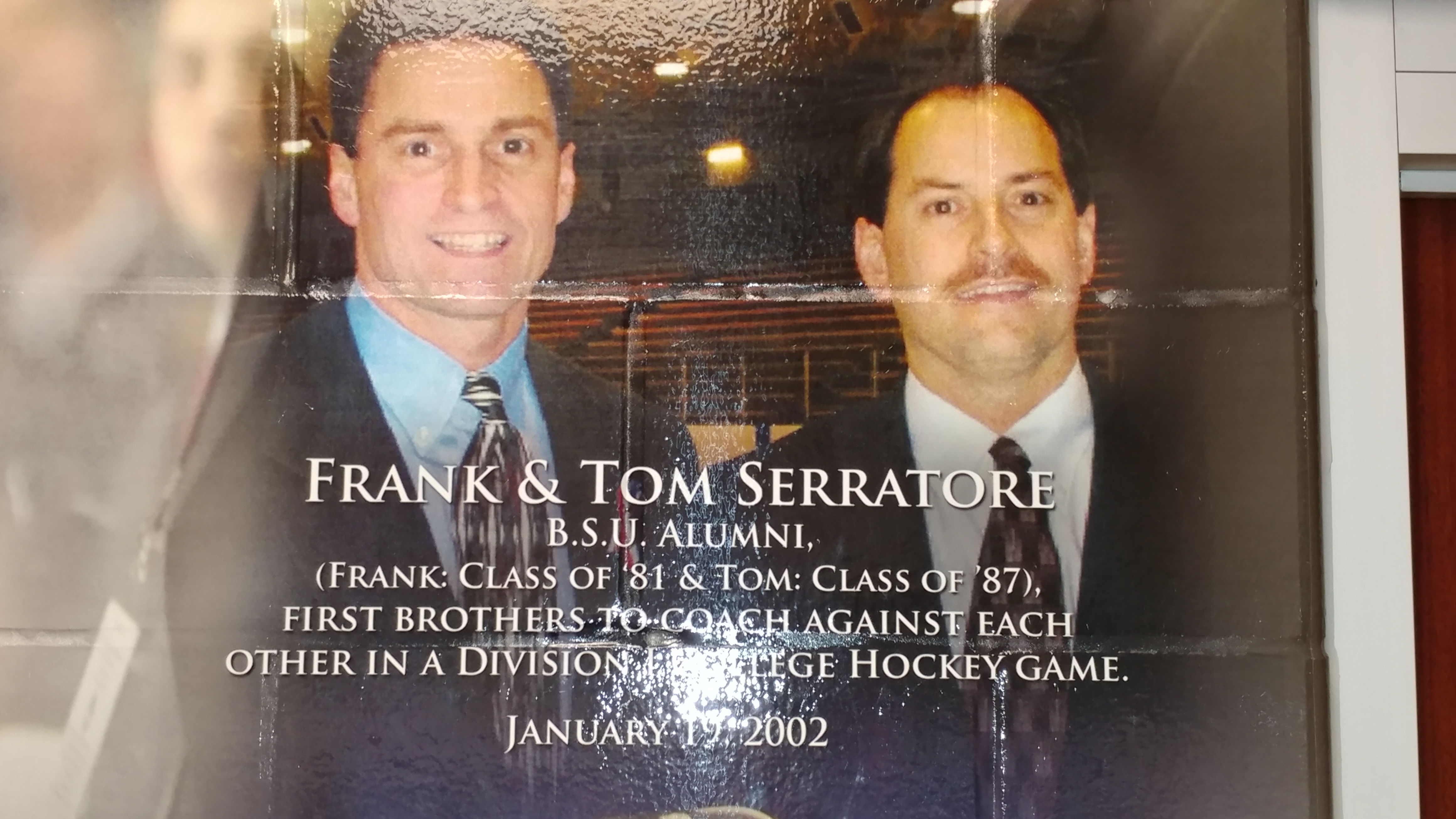 The Beaver Mens Hockey team thought they had won the game in overtime. Replay said otherwise. Then, Air Force thought they would win in overtime. Hank Johnson said otherwise!
Looking back, a tie was a fitting result. Neither team deserved to lose. Welcome to college hockey!
Our pregame coverage begins at 5:30pm CST, with the faceoff set for 6:05pm tonight on Mix 103.7 and online at beaverradionetwork.com.
Last year the two teams split a series in Bemidji.
Pregame Open Pregame Open
Tom Serratore Pregame Coaches Pregame
Tommy Muck Pregame Pregame
Bucky's Legends #1 Bucky
Bucky's Legends #2 Bucky
Bemidji State Lines
Jay Dickman – Brendan Harris – Charlie Combs
Ethan Somoza – Ross Armour – Aaron Miller
Adam Brady – Owen Sillinger – Nick Cardelli
Alex Ierullo – Tyler Kirkup – Alex Adams
Extra Skater – Tyler Vold
Tommy Muck – Dan Billett
Justin Baudry – Dillon Eichstadt
Tyler Jubenvill – Brad Johnson
Henry Johnson
Zach Driscoll
Opponent Lines
Matt Pulver – Evan Feno – Kieran Durgan
Shawn Knowlton – Erich Jaeger – Joe Tyran
Walker Sommer – Kyle Haak – Trevor Stone
Evan Giesler – Brady Tomlak – Marshall Bowery
Dan Bailey – Carter Ekberg
Alex Mehnert – Jake Levin
Matt Koch – Zack Mirageas
Billy Christopoulos
Zack LaRocque
Alex Schilling
Beaver Radio Network Ottertail Power Three Stars
1 – Brady Tomlak
2 – Billy Christopoulos
3 – Aaron Miller
Tom Serratore Postgame Tom Serratore Postgame
Listen To / Download Whole Game

Boxscore provided by http://collegehockeystats.net
College Hockey Box Score (Final)
Bemidji State at Air Force
Sunday, December 30, 2018

| | | | | |
| --- | --- | --- | --- | --- |
| Referees: | Michael Schubert | | Game Start: | 5:05 |
| | Chris Ciamaga | | Game End: | 7:21 |
| Linesmen: | Michael Trzeciak | | Game Length: | 2:16 |
| | Jon Shaw | | Attendance: | 2261 |
| | | | | |
| --- | --- | --- | --- | --- |
| Scoring | 1st | 2nd | 3rd | Final |
| Bemidji State | 1 | 2 | 0 | 3 |
| Air Force | 2 | 2 | 2 | 6 |

| | | | | |
| --- | --- | --- | --- | --- |
| Shots on Goal | 1st | 2nd | 3rd | SOG |
| Bemidji State | 13 | 12 | 9 | 34 |
| Air Force | 7 | 6 | 13 | 26 |

| | | | | |
| --- | --- | --- | --- | --- |
| | PP | PP % | PIM | SHGF |
| Bemidji State | 1/7 | .143 | 3/6 | 0 |
| Air Force | 1/3 | .333 | 7/14 | 0 |
| | | | | | | | | | |
| --- | --- | --- | --- | --- | --- | --- | --- | --- | --- |
| # | Prd | Time | Team | Score | Type | Scored By | Assists | Offense On Ice | Defense On Ice |
| | 1st | 4:32 | AFA | 1-0 | EV | Marshall Bowery (1) | Brady Tomlak/4 | 8,28,15,10,20,G44 | 19,20,12,26,29,G35 |
| | 1st | 17:30 | AFA | 2-0 | EV | Brady Tomlak (3) | Jake Levin/6, Zack Mirageas/8 | 28,3,21,17,6,G44 | 16,12,2,19,3,G35 |
| | 1st | 18:23 | BMJ | 1-2 | EV | Alex Ierullo (4) | – | 14,25,20,27,29,G35 | 28,29,17,21,6,G44 |
| | 2nd | 1:00 | BMJ | 2-2 | EV | Ethan Somoza (2) | Aaron Miller/6, Ross Armour/6 | 9,16,20,17,29,G35 | 8,74,28,7,15,G44 |
| | 2nd | 6:34 | AFA | 3-2 | PP | Kyle Haak (6) | Evan Giesler/6, Matt Koch/12 | 16,15,88,18,7,G44 | 20,12,9,2,G35 |
| | 2nd | 8:47 | BMJ | 3-3 | PP | Aaron Miller (9) | Charlie Combs/7, Adam Brady/6 | 16,11,19,29,21,G35 | 3,88,29,6,G44 |
| | 2nd | 11:52 | AFA | 4-3 | EV GW | Dan Bailey (1) | Brady Tomlak/5, Evan Giesler/7 | 20,10,8,15,28,G44 | 6,2,12,11,3,G35 |
| | 3rd | 8:25 | AFA | 5-3 | EV | Joe Tyran (2) | Alex Mehnert/6, Shawn Knowlton/2 | 17,6,29,3,26,G44 | 2,27,25,14,3,G33 |
| | 3rd | 17:20 | AFA | 6-3 | EV EN | Matt Pulver (4) | – | 21,16,17,74,7,G44 | 11,6,20,19,29,16 |
##
Bemidji State
G
A
P
PIM
SOG
+/-
2
Dan Billett
0
0
0
1/2
3
-3
3
Tommy Muck
0
0
0
0/0
1
-3
6
Jay Dickman
0
0
0
0/0
0
-2
9
Ethan Somoza
1
0
1
0/0
1
+1
11
Charlie Combs
0
1
1
1/2
0
-2
12
Owen Sillinger
0
0
0
0/0
1
-3
14
Alex Ierullo
1
0
1
0/0
2
E
15
Tyler Jubenvill
0
0
0
0/0
0
E
16
Aaron Miller
1
1
2
0/0
5
-1
17
Ross Armour
0
1
1
0/0
1
+1
18
Brad Johnson
0
0
0
0/0
1
E
19
Adam Brady
0
1
1
0/0
6
-3
20
Dillon Eichstadt
0
0
0
0/0
0
E
21
Brendan Harris
0
0
0
0/0
0
E
22
Tyler Vold
0
0
0
0/0
0
E
25
Alex Adams
0
0
0
0/0
1
E
26
Nick Cardelli
0
0
0
1/2
8
-1
27
Tyler Kirkup
0
0
0
0/0
2
E
29
Justin Baudry
0
0
0
0/0
2
E
33
G Zach Driscoll
0
0
0
0/0
0
-1
35
G Henry Johnson
0
0
0
0/0
0
-1
Bemidji State Totals
3
4
7
3/6
34
-3

##
Air Force
G
A
P
PIM
SOG
+/-
3
Jake Levin
0
1
1
0/0
3
+2
6
Alex Mehnert
0
1
1
0/0
1
+1
7
Matt Koch
0
1
1
2/4
0
E
8
Marshall Bowery
1
0
1
0/0
1
+1
9
Trevor Stone
0
0
0
0/0
0
E
10
Keegan Mantaro
0
0
0
0/0
0
+2
15
Evan Giesler
0
2
2
0/0
0
+1
16
Kyle Haak
1
0
1
0/0
4
+1
17
Joe Tyran
1
0
1
0/0
2
+2
18
Evan Feno
0
0
0
1/2
3
E
20
Dan Bailey
1
0
1
1/2
3
+2
21
Matt Pulver
1
0
1
1/2
2
+1
25
Carter Ekberg
0
0
0
0/0
1
E
26
Erich Jaeger
0
0
0
0/0
1
+1
28
Brady Tomlak
1
2
3
1/2
2
+1
29
Shawn Knowlton
0
1
1
0/0
1
E
42
Walker Sommer
0
0
0
0/0
1
E
74
Zack Mirageas
0
1
1
1/2
1
E
88
Kieran Durgan
0
0
0
0/0
0
E
31
G Zack LaRocque
Did Not Play
33
G Alex Schilling
Did Not Play
44
G Billy Christopoulos
0
0
0
0/0
0
+3
Air Force Totals
6
9
15
7/14
26
+3

##
Goaltending
MIN
GA
1
2
3
Saves
35
Henry Johnson (L, 5-5-2)
31:52
4
5
2
0
7
33
Zach Driscoll
26:47
1
0
2
11
13
Empty Net
1:21
1

| | | | | | | | |
| --- | --- | --- | --- | --- | --- | --- | --- |
| ## | Goaltending | MIN | GA | 1 | 2 | 3 | Saves |
| 44 | Billy Christopoulos (W, 8-5-1) | 60:00 | 3 | 12 | 10 | 9 | 31 |
| | | | | | |
| --- | --- | --- | --- | --- | --- |
| Prd | Player | Team | Min | Infraction | Time |
| 1st | Matt Pulver | AFA | 2 | Tripping | 12:30 |
| 1st | Zack Mirageas | AFA | 2 | Slashing | 12:36 |
| 1st | Nick Cardelli | BMJ | 2 | Slashing | 14:49 |
| 2nd | Dan Billett | BMJ | 2 | Hooking | 6:26 |
| 2nd | Dan Bailey | AFA | 2 | Holding | 7:39 |

| | | | | | |
| --- | --- | --- | --- | --- | --- |
| Prd | Player | Team | Min | Infraction | Time |
| 2nd | Matt Koch | AFA | 2 | Cross-Checking | 12:08 |
| 2nd | Brady Tomlak | AFA | 2 | Holding | 16:30 |
| 2nd | Evan Feno | AFA | 2 | THROWING THE PUCK | 16:32 |
| 2nd | Charlie Combs | BMJ | 2 | Holding | 17:30 |
| 3rd | Matt Koch | AFA | 2 | Interference | 11:15 |
New Records: Air Force 10-7-1, Bemidji State 8-9-3