Days 8, 9 and 10 to Bowling Green and Bemidji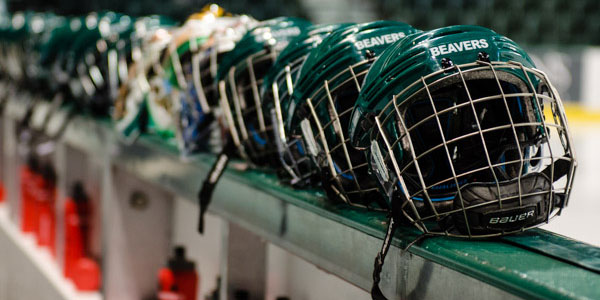 Sorry I didn't get to this post yesterday. Game days are all pretty standard leading up to the game. Wake up call, breakfast, pregame skate, record Tom's pregame interview, setup equipment, lunch, nap, leave for the rink, sit around and wait til game time!
That wasn't much different yesterday.
Today? Much of the same. I know, really exciting!
Today for lunch, I got to go out with "Bob in Ohio" who email's the Paul Bunyan Net Mailbag every game. He lives about a half an hour from Bowling Green and he and I get together for lunch each year. We normally do lunch right next to our hotel. Since we haven't had much luck here lately, I decided to find a new spot for us. It's actually not new. The team eats all of their meals at this place called Sam B's. They've been good to us over the years, so Bob and I went there for lunch. I had a really good horseradish Swiss burger.
After the game tonight, we will all board the bus, and head back to Bemidji. It's a modified sleeper bus from Minnesota Coaches in Fergus Falls. We use this bus on the really long trips. The regular seats fold out into bunks. Seniors get their own bunk…everyone else (other than coaches and staff…and me) doubles up in a bunk.
Sleep is important. A 14 hour bus ride in a regular bus isn't comfortable AT ALL! You can at least lay flat and get some sleep on this bus. Plus, Bill (the bus driver) is a good dude. He drives us on all the sleeper bus trips. A driver you don't have to tell where to turn and when to be places is a big benefit too!
Trust me, a 14 hour bus ride is better than waiting until tomorrow to get on a plane in Detroit to fly back to Minneapolis only to ride a bus four hours back to Bemidji. At least this way we are in constant motion!
See you all back in Bemidji tomorrow! Go Beavers!